The cryptocurrency industry witnessed a series of setbacks during 2022, with numerous companies, from Celsius to FTX, experiencing downfalls. 2022 is likely to be remembered as one of the most challenging years in cryptocurrency history. Nevertheless, there may be a glimmer of hope on the horizon for the crypto lender Celsius's customers, as its reorganization plan has now received approval from its creditors.
According to a voting declaration filing submitted by restructuring expert Stretto, creditors of Celsius have cast their votes. This was done in favor of a plan that aims to provide them with a reimbursement ranging from 67% to 85% of their holdings. This proposal is presently pending final approval from the court. Nevertheless, it's worth noting that objections to this agreement have arisen, notably from the U.S. Trustee.
However, the majority of the categories within the bankruptcy claim received overwhelming support. More than 98% of votes are in favor of the reorganization plan. This plan also includes the sale of assets to the cryptocurrency consortium known as Fahrenheit Holdings. Fahrenheit Holdings successfully secured the bid to acquire the financially troubled Celsius Network in May 2023. It comprises Arrington Capital and the mining company U.S. Bitcoin Corp.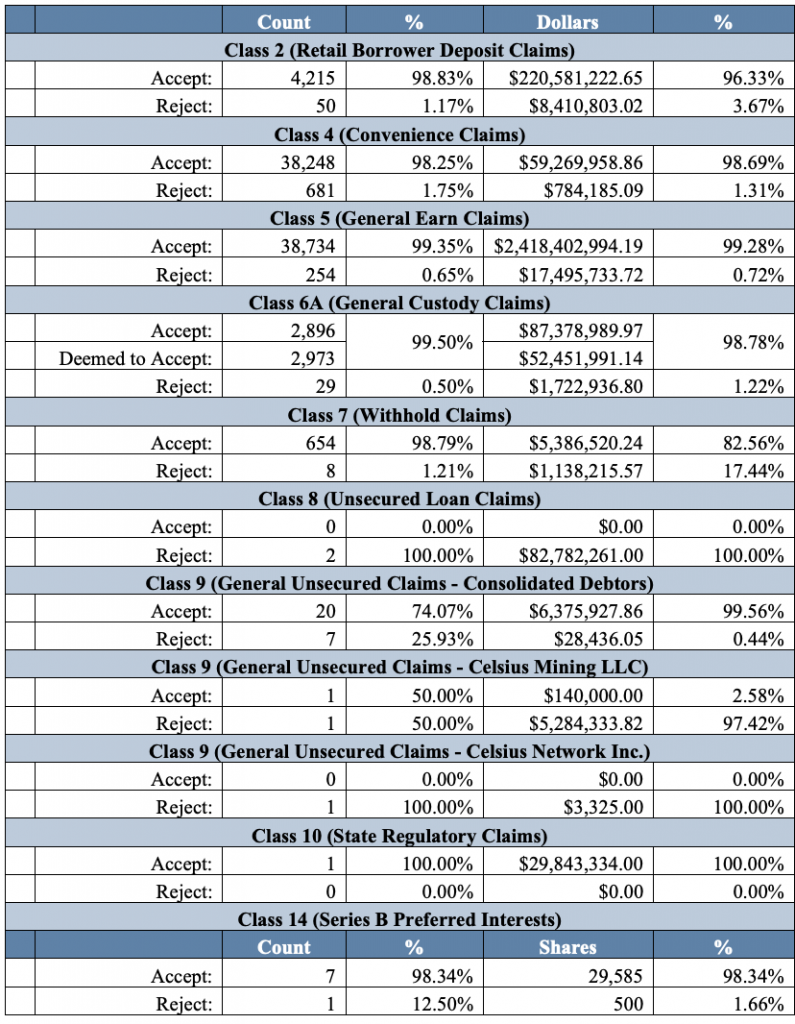 Furthermore, the confirmation hearing for final approval will take place on Oct. 2 at the U.S. Bankruptcy Court for the Southern District of New York. The judge presiding over the case had granted approval for the voting process back in August 2023.
Also Read: Fahrenheit To Acquire Assets of Bankrupt Crypto Lender Celsius
The SEC's pushback against Celsius's reorganization plan
During the ongoing discussion about the reorganization, the Securities and Exchange Commission [SEC] expressed apprehensions regarding Coinbase offering services to Celsius. The SEC lodged a partial objection to Celsius Network's bankruptcy and reorganization scheme. This objection arises because certain documents included in the plan supplement are inconsistent and raise issues related to federal securities laws. Notably, the SEC specifically voiced concerns about the participation of Coinbase in the bankruptcy proceedings. These factors are likely to pop up during the final approval that is scheduled to take place in October.
Also Read: Coinbase Faces Regulatory Scrutiny as SEC Objects to Celsius Restructuring