October seemed to be ending on a good note for the crypto market. Several assets were seen pocketing major gains over the weekend. While Dogecoin's [DOGE] rally was ticked off by Elon Musk's Twitter takeover, all the other assets followed suit. Chainlink [LINK] was one among them. It seemed like LINK's latest rally was influenced by the movement of significant funds over the weekend.
As per recent data curated by on-chain data firm Santiment, Chainlink's whale transactions recorded a prominent surge. This metric went on to hit a 4-month high.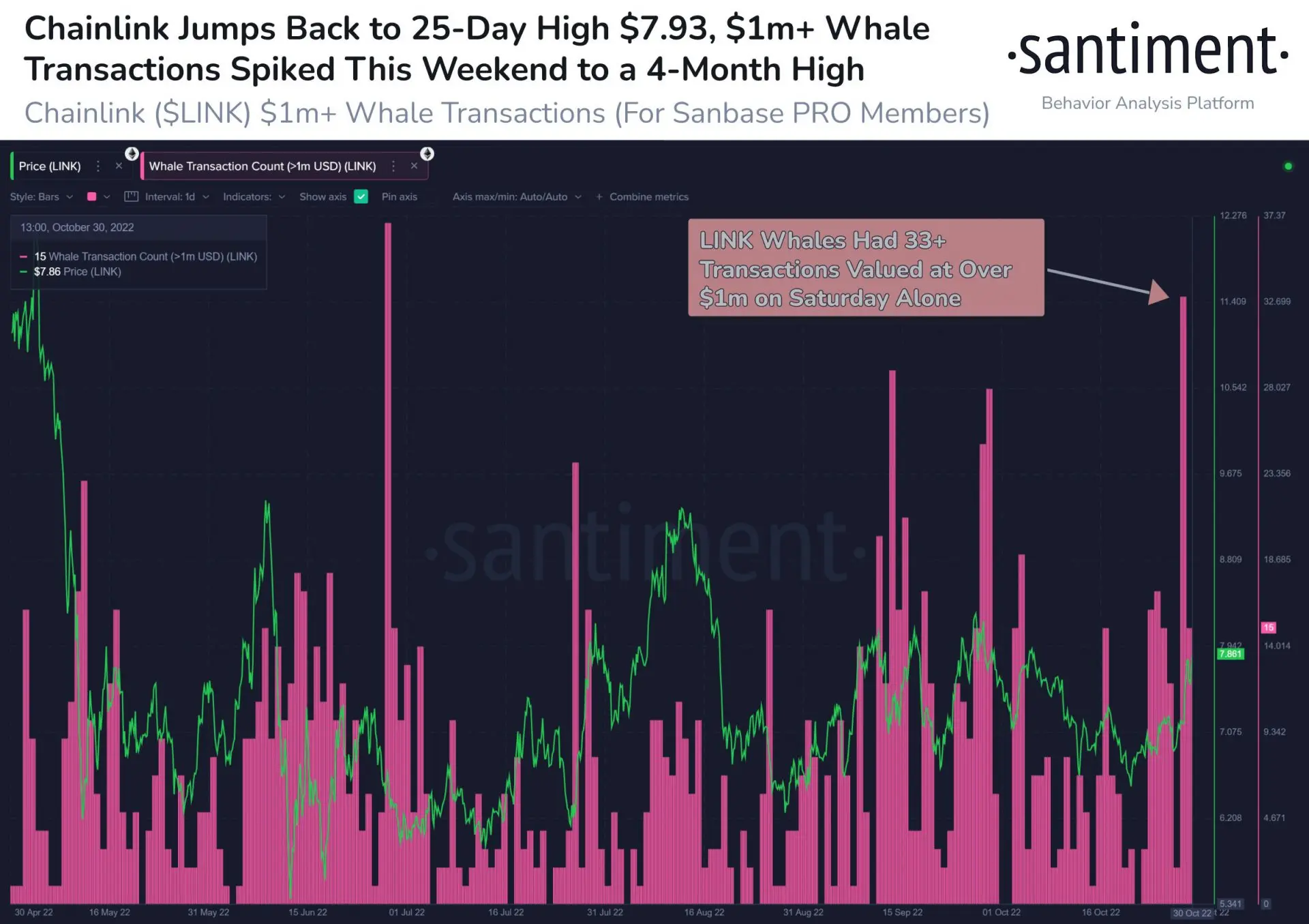 Santiment tweeted,
"Chainlink whales have gotten quite active this weekend as market prices have teased the $8 level a few times. Saturday saw 33 different $LINK transactions exceeding a value of $1 million. This was the highest whale activity day since June 27th."
Ever since then the altcoin went on to inch close to $8 multiple times. LINK surged to a high of $7.99. However, failed to hit $8. During press time, LINK was trading for $7.88 with a 2.51 percent daily surge.
It should be noted that over the last couple of days, LINK managed to pocket gains worth 14.44 percent. Despite this, the asset failed to move close to its 90-day high of $9.44.
In the meantime, the whales were optimistic about Chainlink which further prompted them to bag LINK over the weekend.
Here's why whales could be on a Chainlink purchase spree
It seems like LINK will continue to shine through the week as well. It was brought to light that LINK was one of the most used smart contracts by the 1000 biggest ETH whales
LINK has been trying to boost its adoption through multiple means. Just two weeks ago, there were a total of 12 integrations of 3 Chainlink services across Arbitrum, Avalanche, BNB Chain, Ethereum as well as Polygon. This could have urged these whales to go on a LINK buying spree.
These numbers were further bolstered last week. According to the network's latest tweet,
"there were 15 integrations of 3 Chainlink services across 5 different chains: #Arbitrum, #Avalanche, #BNBChain, #Ethereum, and #Polygon."