Chainlink has been in the news this week after it revealed that it will not support the potential forked versions of Ethereum. Justifying its stance, the oracle protocol's recent blog post outlined that its call was well-aligned with, both, the Ethereum Foundation and the broader Ethereum community's decision.
Read More: Chainlink is supporting 'The Merge' but not Ethereum hardfork. Why?
Price-wise also, LINK has been making north-bound strides. And as a result, the community has gotten another reason to talk about Chainlink. At press time, the protocol's native token was up by 12% over the past day, making it the top gainer among the 25 largest cryptos. On the weekly also, LINK was up by a similar figure [13%].
What caused Chainlink's pump?
On the mid-term timeframe, Chainlink's demand has been rising. Analytics platform Santiment revealed that LINK's supply on exchanges has been dropping over the past 7 weeks. A drop in the exchange supply resonates with outflows and usually hints at bubbling buying pressure.
Alongside, it is interesting to note that LINK's mean dollar invested age had drastically dropped around the same time when the buying spree was initiated. As the age of dollars become younger, it is usually inferred that dormant coins have started moving, disrupting the broader accumulation trend. That isn't essentially a welcoming sign.
However, as observed below, the said metric started inclining right after, setting the tune for LINK to continue rallying.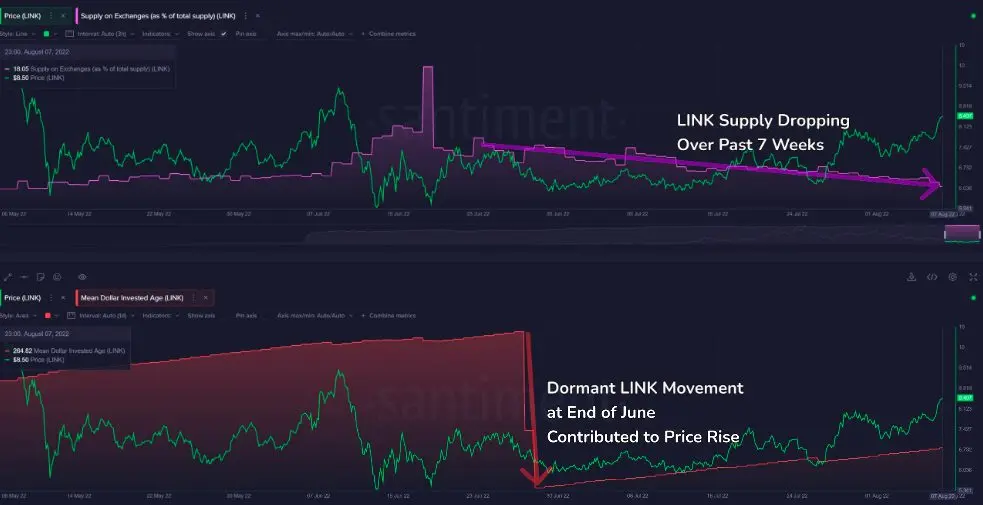 Alongside, ITB's data brought to light that Chainlink's address activity has been getting refined. The said metric has noted a 10.7% incline over the past week, indicating the escalated activity of market participants.
Levels to keep an eye out on
Since May, Chainlink has been mostly been consolidating under $8. Only on a couple of instances in June, did it manage to surge above the said level. Now that liquidity has been collected, and the accumulation trend is on, LINK has a high chance to jump to $11.2 over the next few days if the momentum remains favorable. The same would translate to a 28% price incline. However, It would be tested around $9.2 by bears before being allowed to proceed ahead.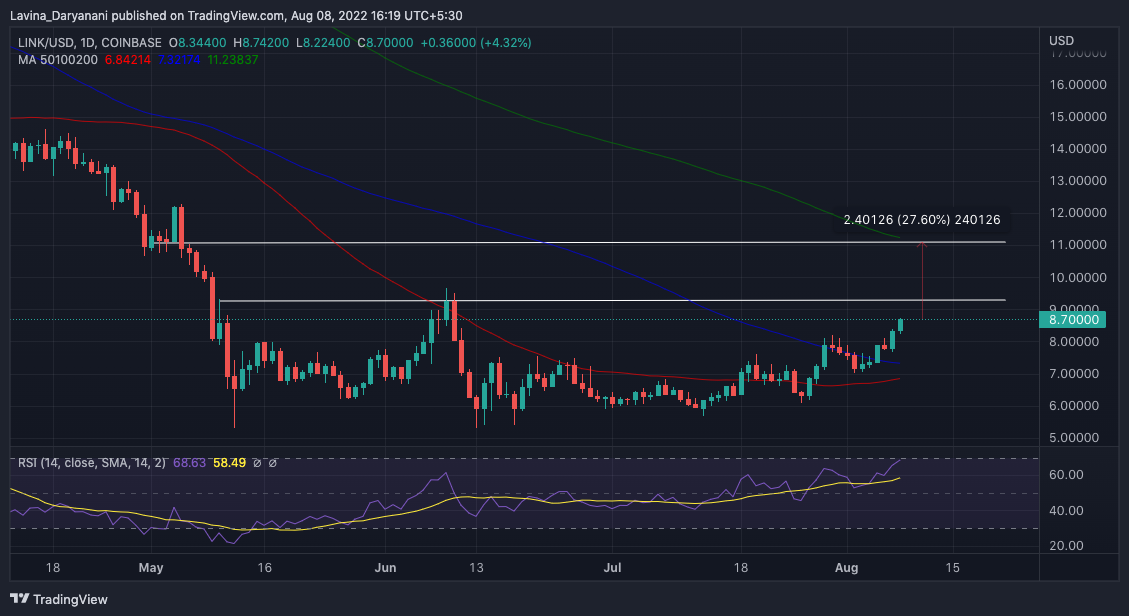 If the market becomes overheated, and profit-booking takes place, then the immediate supports of $7.3 and $6.8 will come into play. And if no improvement is registered thereon, then the doors for Chainlink to drop to its 2022 lows around $5 would open.