As the weekend approached, most large-mid cap cryptocurrencies flashed mixed signals following the mid-week burst. However, Chainlink seemed to be building its own narrative.
While most crypto's rallied on the back of Bitcoin's move above $42K during the week, LINK defied the broader market yet again by choosing an alternative path. Instead, LINK was unsettled by a 16% correction and held out to its 20 (red) and 50 (yellow) SMA's. Nonetheless, a buy signal on the MACD and a key development on the RSI showed that bulls were ready to march on forward. At the time of writing, LINK traded at $26.2, up by 2.5% over the last 24 hours.
Chainlink 4-hour Chart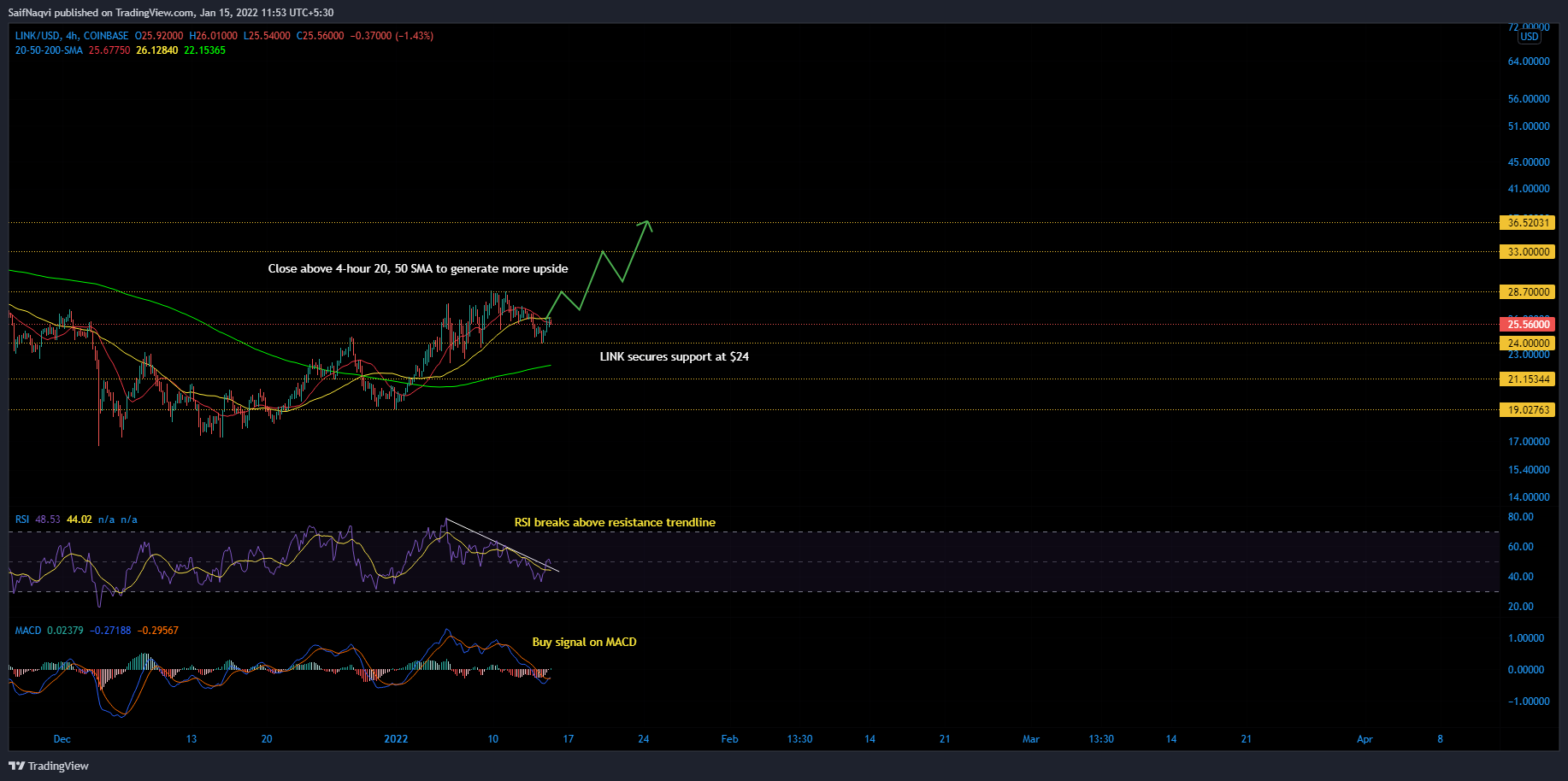 LINK's correction was not as alarming as it sounded after taking into account a 51% price surge between 1-10 January. Such a sporadic increase in a short duration is often followed by a round of profit-taking. In fact, drawdowns are important as they flush out weak sellers and reintroduce new longs in the market, leading to more organic growth.
Similarly, LINK was looking favorable once again after establishing support around $24. The defensive region was also significant as it coincided with the daily 50-SMA (not shown). Once some near-term woes are overcome at the 4-hour 20 (red) and 50 (yellow) SMA's which functioned as resistance, LINK would be ready to advance by another 10% and revisit its high at $28.7. If a double-top setup is avoided, LINK's next point of contact would be made between $32-$33 and then at $36.5.
Meanwhile, a lower low below $24 could delay such an outcome. The 4-hour 200-SMA (green) would then become a crucial recovery point. LINK's bullish thesis would be lost if the price closes below a demand zone of $16.7-$17.2.
Indicators
LINK's MACD responded to the recent correction by setting up a bullish crossover below the half-line. The early buy signal would generate more interest for LINK although some might take safer bets after the index recovers above equilibrium.
Meanwhile, the RSI was all set to overcome its downtrend after penetrating its resistance trendline. Expect more buyers to enter the market once the RSI makes headway above 55-60.
Conclusion
Chainlink prepared for its next leg forward after securing support at $24 and the daily 50-SMA (not shown). Buy signals on the MACD and RSI further backed the bullish thesis.