With several nations raising concerns about the U.S. dollar, the de-dollarization narrative has been getting stronger in 2023. Multiple industry accolades including 2024 Presidential candidate Donald Trump, believe that China's yuan will likely displace the U.S. dollar as the number one currency. In fact, according to the Swiss asset manager, Pictet Asset Management SA, the yuan could rally 5.5% against the dollar this year.
Also Read – China's Yuan Will Likely Displace U.S. Dollar as the Number One Currency: Trump
Sabrina Jacobs, a Senior Client Portfolio Manager of Pictet's emerging-markets fixed-income fund reportedly said that the yuan may rise to 6.5 per dollar with the help of the nation's "robust current account surplus." At press time, $1 U.S. dollar was worth 6.87 Chinese yuan.
Jacobs said that she is "biased toward short dollar." The U.S. Dollar Index, DXY, is currently trading at levels at par with Q2 2022. In fact, as shown below, it is down by more than 11% from its September peak in 2022.
Towards the beginning of this year, the U.S. Dollar Index initiated a recovery. However, it couldn't prolong the same. In fact, it continues to be on a downtrend, nullifying the aforementioned recovery registered.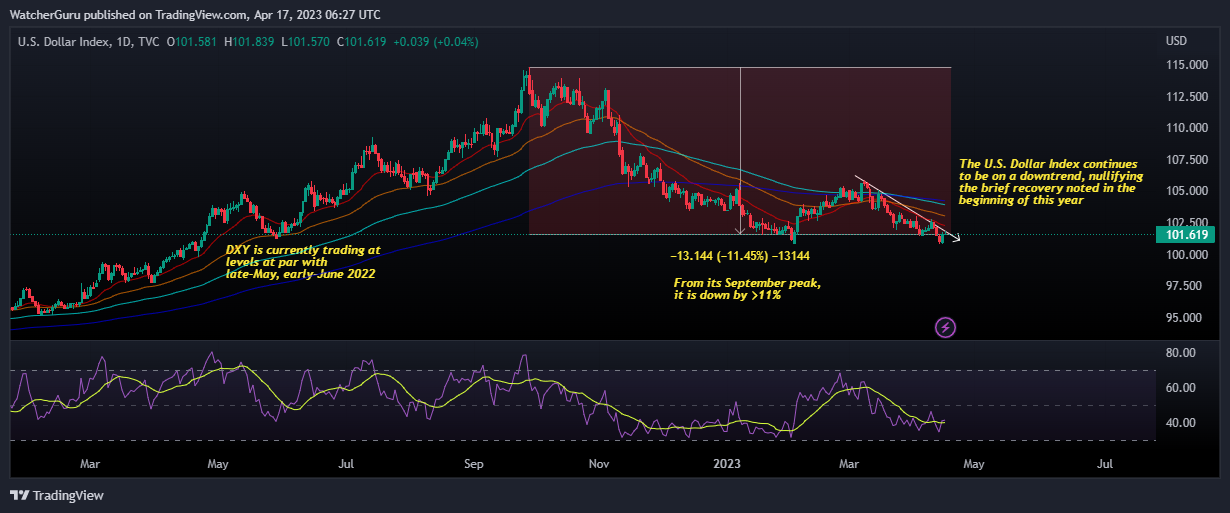 Also Read – Iran to Reduce U.S. Dollar's Influence on Regional, Int'l Trade
Can China's yuan indeed compete with the U.S. dollar?
People from the industry have been outrightly opining about the same. Crypto investor and influencer Lark Davis recently took to Twitter to claim,
"No global reserve currency has ever lasted the test of time. The US Dollar will be no different."
In fact, he questioned that instead of "replacing" it with the yuan, can't we just "fast forward" to the part where Bitcoin becomes the "global standard." Here, it is worth noting that just a day back, Trump re-asserted that China pushing the world off the U.S. dollar currency standard is equivalent to America losing a world war.
It should be noted that a recent Bloomberg article pointed out that the de-dollarization talks will likely not proceed very far. The report pointed out that the U.S. has the "world's deepest and most liquid financial market."
The dollar is estimated to foster 88% of all international transactions, while the euro stands next at 31%, far from offering it tough competition. It should be borne in mind that since a transaction may involve two currencies, the total may exceed 100%. As far as yuan is considered, the report highlighted that it ain't a strong contender for a global reserve currency. According to Bloomberg,
"The yuan is estimated at only 7% of that total of international transactions, and China seems unwilling to open up its capital markets, as that could lead to rapid capital outflows and possibly a financial crisis. But without open capital markets, the yuan is not a strong contender for a global reserve currency."
Also Read – As BRICS Moves Away from Dollar, Will the Middle Class be Crushed?