Bitcoin [BTC] the world's largest cryptocurrency had to struggle for years to fend off its association with the dark web. Despite all its efforts, certain governments continued expressing hostility towards the crypto industry in general. The lack of regulatory clarity in certain parts of the world slowed adoption. However, a recently released chart pointed out that there has been significant progress in crypto regulations.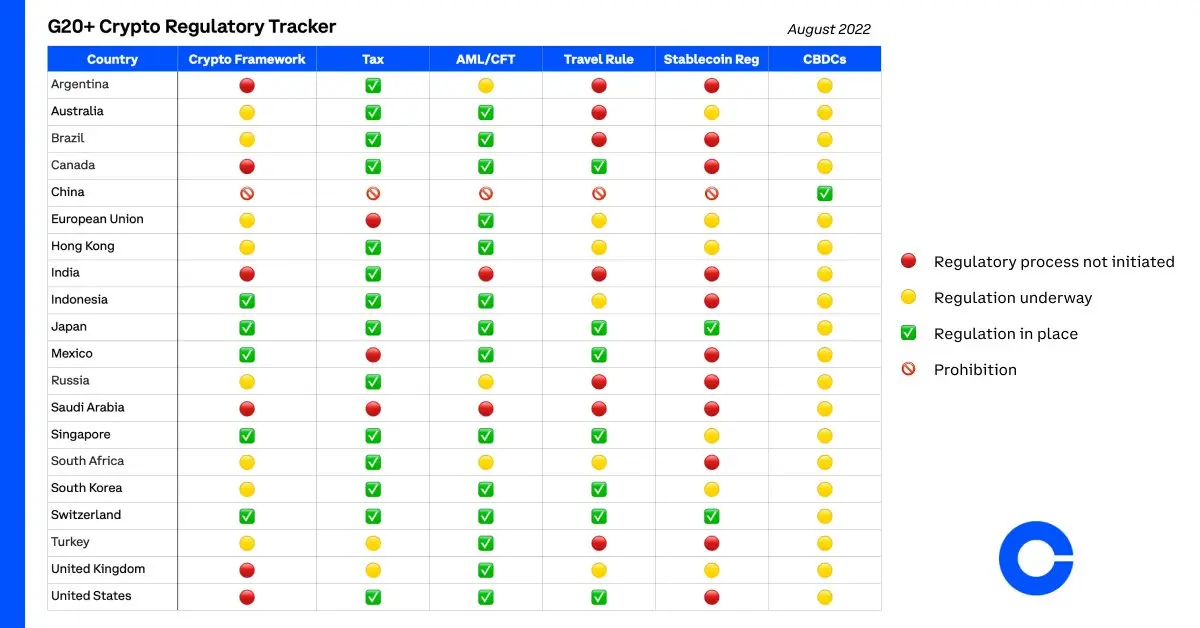 In a recent tweet Brian Armstrong, the CEO of Coinbase pointed out how crypto regulatory clarity had advanced in just the last year.
As per the above image, countries like Switzerland and Japan had checked off most boxes on the list. Both the countries had regulations in place in terms of crypto framework, tax, AML/CFT, travel rule, and stablecoin regulations. Their Central Bank Digital Currency [CBDC] laws were still underway.
In addition to these, it was noted how prominent countries like the United States, Canada, and the United Kingdom did not have any sort of crypto regulatory framework in place. Nevertheless, the fact that most of the table was painted in green and yellow as "regulation in place" and "regulation underway" was comforting to many.
Furthermore, the latest increase in regulatory clarity majorly comes from the downfall of an array of crypto projects over the last couple of months. The dramatic collapse of Terra instilled fear in many, forcing them to roll out regulations at the earliest.
Will Bitcoin thrive without proper regulations?
Bitcoin managed to emerge as a prominent currency without much regulatory oversight. The adoption of crypto witnessed a significant spike. However, this is most likely to progress with more regulatory clarity. With retail investors veering into the market, regulations are considered to be pertinent.
Regulations are expected to bring about financial stability without curbing innovation. Market manipulation with expected to be dodged if stringent regulations are in place. In addition to this, fraudulent projects and scammy cryptocurrencies would be sidelined, while prominent ones like Bitcoin, Ethereum [ETH], and others take the front stage. All of these would make the crypto market a safe place which would further urge retail investors to dive into the market.
Coinbase's CEO added,
"Emerging consensus will drive much greater adoption."