The crypto-based blockchain gaming industry saw a sharp rise in investments in the month of July. According to a report by DappRadar, the blockchain gaming industry received $297 million worth of investments last month, after bleak June investments of $68 million, a rise of 336.7%.
However, July investments are still lower than the months prior to June. According to DappRadar, investments in crypto-based blockchain gaming surpassed $400 million for the months of March, April, and May.
Also Read: Crypto: Blockchain Gaming Industry to Reach $300 Billion by 2030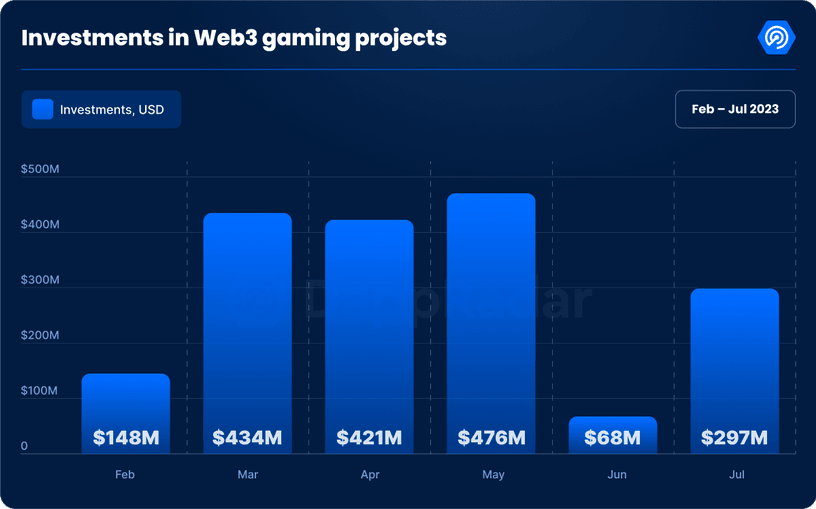 Despite the drop in investments, blockchain gaming continues to dominate the Dapp (decentralized application) industry. According to the report, gaming makes up about 41% of all dapps. Moreover, the sector has 712,611 dUAW (daily unique active wallets).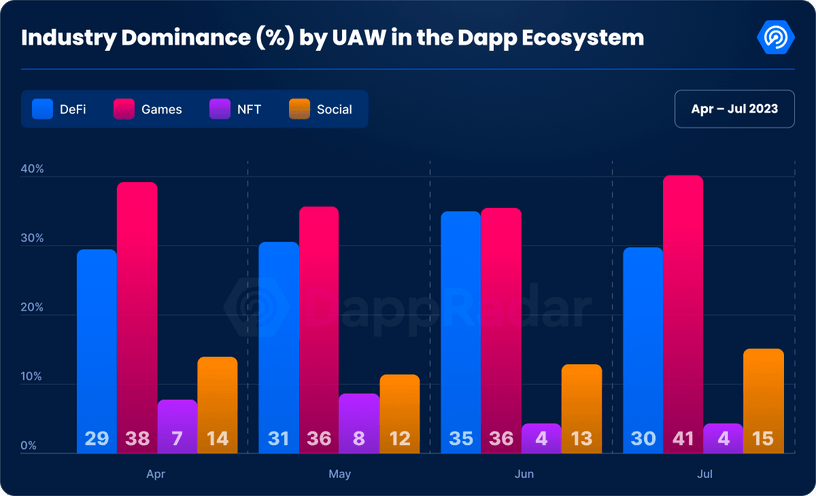 According to DappRadar's report, a majority of the investments, 63% or $187 million, in gaming went toward infrastructure. Meanwhile, games and metaverse initiatives received a combined investment of $110 million. The large investments in infrastructure could mean that investors are bullish about future developments in the sector. Gaming is an established multi-billion-dollar industry. Moreover, with web3 initiatives making their way into the mainstream, the crypto-based blockchain gaming industry could prove to be very lucrative within the next few years.
Which crypto-based blockchain gaming titles are dominating?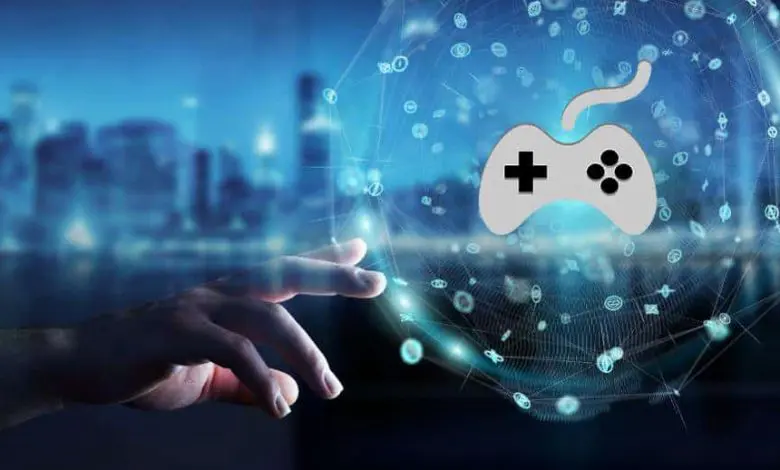 WAX blockchain is still the reigning champion, with 300,325 dUAW in July. The project is known for the popular Alien Worlds game, along with Wombat Dungeon Master and Taco. WAX is followed by BNB Chain with 108,311 dUAW.
One takeaway is the rise in movement-based or fitness games. Sweat Economy leads with 730,000+ monthly UAW (mUAW), showing a revival of move-to-earn. Super Walk, a Klaytn fitness social dapp, hit the top 10 with over 68,000 users in the month. Moreover, Alien Worlds, for instance, has shifted to the second spot, while Splinterlands, Upland, Farmers World, and Axie Infinity have held on to their positions.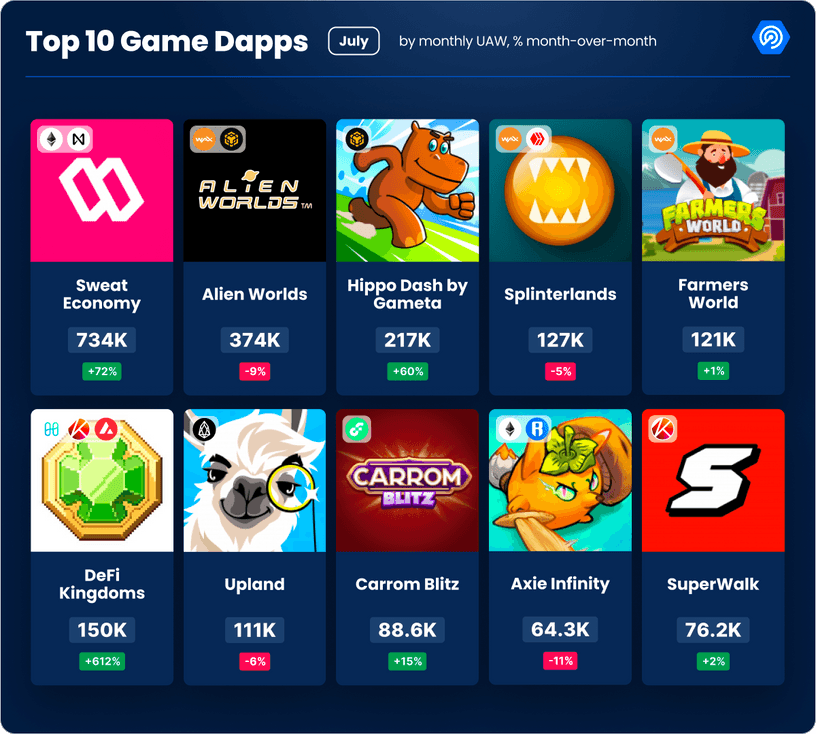 Despite the spike in investments, caution is advised by experts like Carlos Pereira, a Bitkraft Ventures Partner. He suggested not overinterpreting the monthly changes. Pereira noted that investment fluctuations could stem from sample size and timing, possibly overlapping significant deals across months.
Also Read: Blockchain Gaming Continues to Grow as This Network Commits $20 Million
Nonetheless, crypto-based blockchain gaming is probably here to stay. The industry is expected to hit $300 billion by 2030 as the number of gamers in the world constantly rises.