On Thursday, May 25, the European Systemic Risk Board recommended EU authorities curb leveraged bets on crypto asset trading. Doing so will help in maintaining the sanctity of financial stability.
EU watchdog calls for curbing leverage in crypto trading

— unfolded. (@cryptounfolded) May 25, 2023
Until recently, traders from the crypto space were seen exercising caution and steering away from leverage. However, over the past month or so, Bitcoin's Estimated Leverage Ratio has glided up from 0.195 to 0.239. This means that more traders are currently enduring risks by getting into high-leverage derivatives trading. This comes at a time when Bitcoin is trading at around $26k.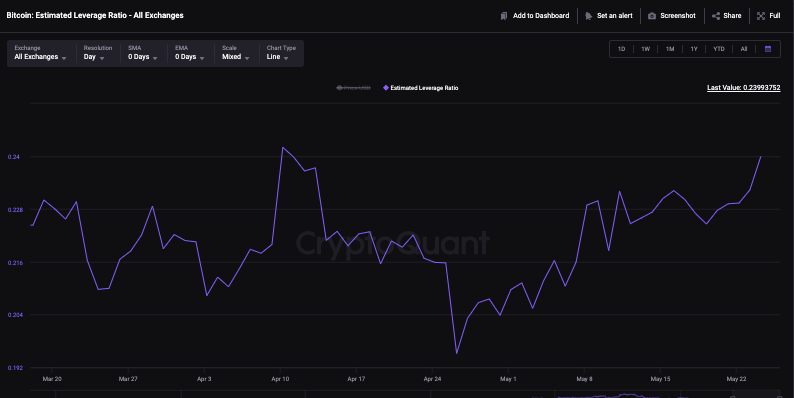 Also Read: IOSCO Presents Comprehensive Crypto Guidelines for Regulation
Chalking out how leverage could be curbed, the report noted that limits could be introduced for investment funds exposed to crypto assets, exchanges, and other firms. Expanding the scope to DeFi, the report noted,
"Limiting the leverage obtainable in DeFi could be achieved by adjusting over-collateralization limits in DeFi lending/stablecoin services. This can be implemented, however, only if governance/regulatory access point issues in the DeFi space are solved."
Also Read: Norway: Central Bank Urges Authorities to 'Move Faster' on Crypto Rules
Crypto could pose risks to financial system: ESRB
The EU watchdog also recommended authorities demand regular reports from all companies involved with crypto assets. In fact, it also advocated the creation of specific rules for large firms in the crypto space.
In addition, the ESRB also called for limiting crypto firms' ability to lend tokens to their clients. Alongside, it also urged authorities to set higher collateral requirements for distributed finance products and stablecoins. The watchdog's suggestions are currently not binding. However, Reuters pointed out that they are "likely to inform the EU's future work on new versions of its markets in crypto asset regulation (MiCA)." Chalking out how crypto could pose a risk to the broader financial system, ESRB's report specifically noted,
"Systemic risks could arise quickly and suddenly. If the rapid growth trends observed in recent years were to continue, crypto-assets could pose risks to financial stability."
Also Read: Crypto: Japan to Enforce Stricter AML Measures From June 1