With every passing day, new countries have been hinting toward the tightening of crypto regulations. A day back, Australia revealed its plan to amplify crypto rules. A few hours back, the incoming Chair of the UK's FCA asserted the need for even further crypto regulations to slash down unwanted risks and curb money laundering.
Read More: Crypto Should be Regulated Further in UK: Ashley Alder
Now, it seems like France has jumped onto the bandwagon. A recent Financial Times report revealed that the said European country is currently under pressure to tighten crypto-friendly regulations.
Reportedly, Hervé Maurey, a member of the Senate's finance commission, has proposed an amendment to legislation to get rid of a clause that would enable registered crypto companies to operate domestically without a full regulatory license until 2026.
The said proposal puts pressure on the government and regulators. Tougher EU rules are set to come into effect in 2024. France, however, is planning to retain its current regime for another 18 months.
Crypto and France
France has maintained a crypto-friendly stance for quite some time. It seeks to make itself one of the most attractive countries for crypto companies. For instance, in Q2 this year, it was reported that Binance will make Paris its European hub after being approved as a Virtual Assets Service Provider in France. Furthermore, the company hired 150 people in Paris in Q3 and planned to hire 200 more by this year's end.
Parallelly, institutions in the said country have been accumulating digital asset-based investment products. Over the past week, US, Sweden, and Brazil noted outflows in the $1.4-$1.7 million bracket, but France registered minor positive flows, justifying the said narrative.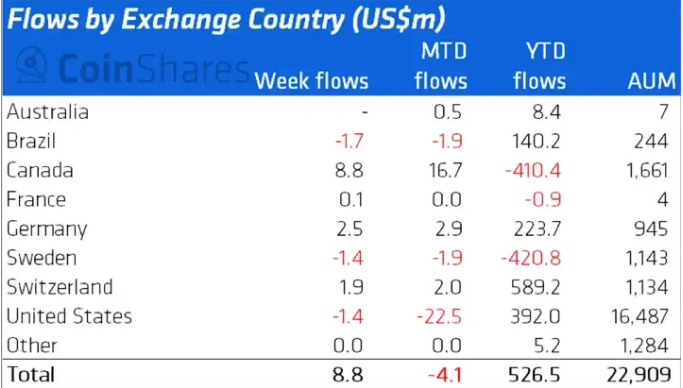 The current regime permitted crypto companies to register in France without gaining a full-fledged license. This means they can operate in the country with minimal checks.
Maurey told the Financial Times,
"The FTX collapse was a detonation [that] contributed to a moment of reckoning and awareness. This led a number of players within the French system to consider that things needed to be supervised more tightly."
Maurey's proposal will compel companies to get a license from the French regulator, Autorité des Marchés Financiers (AMF), from October next year. A license will provide consumer protection, for it requires companies to disclose more information associated with their financial health and systems of control. Financial Times noted that around 50 crypto companies are registered, but none have yet been granted a license.
However, the AMF justified by saying,
"We have always been clear that registered players are very lightly regulated and we have called on investors to be highly vigilant."
The amendment that was adopted by the Senate on Tuesday, will be examined by France's parliament in January 2023.