2022 was a step backward for the cryptocurrency industry. Multiple firms collapsed and the overall trust declined in the ecosystem As a result, the funds flowing into the assets also registered a significant decline.
A recent report from Messari emphasized that crypto funding took a "massive hit" in 2022. The analytics platform noted that the capital inflows shrunk from $8 billion to $1.4 billion last year. In 2022, a total of 112 funding rounds happened, noting an outright dip from 2021's 287.
Data suggests that over the past 30 days, funds have flown into CeFi-related projects. This sector registered an increase in funding by 323% in the timeframe. On the contrary, there was not much interest noted with respect to DeFi, Web3, and NFT projects.
On the 180-day period, DeFi's wounds were the deepest, for capital invested into the space noted a free fall of 91.6%.
Also Read: Cardano DeFi project halted due to 'funding' & 'timeline' issues
Could The Funding Drought Prove To Be Detrimental To DeFi?
Capital inflows into the CeFi sector rather than the DeFi space indicate one thing: Investors and venture capitalists believe that centralized entities can still recover from this point and stand back on their feet.
Decentralization is the central theme of the crypto-verse. However, centralized tangents currently bear more weight as they control a major chunk of the trade volume.
Having said that, it shouldn't be forgotten that DEXes have been stepping up their game and trying to assert their dominance over the past few months.
When compared to September 2022's 6.9%, the DEX:CEX trade volume is already up to 14.1%. In fact, as illustrated below, the reading is currently heading toward its January 2022 and October 2020 highs.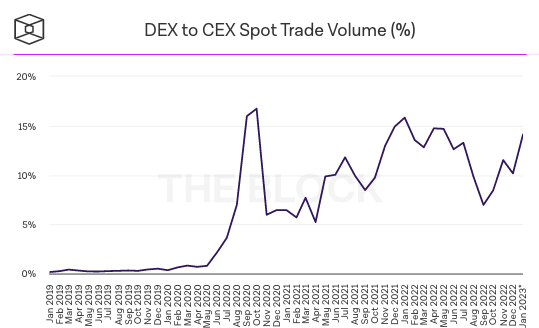 Thus, leaving this space unattended by not funding it—especially at a time when it needs to support the most—could hinder its growth. In retrospect, it could also play spoilsport to the whole 'manage your own key' evolution that is currently in play.
Also Read: Paxful CEO Advises Bitcoin Self-Custody