According to a report by CCData, trade volume on centralized exchanges (CEXs) is at its lowest in over four years. The development occurs in the midst of increasing legislative and regulatory pressure on the crypto industry in the US.
According to the data, the amount of spot and derivative trading declined 15.7% in May compared to April. This is the second month in a row that crypto trade activity has declined.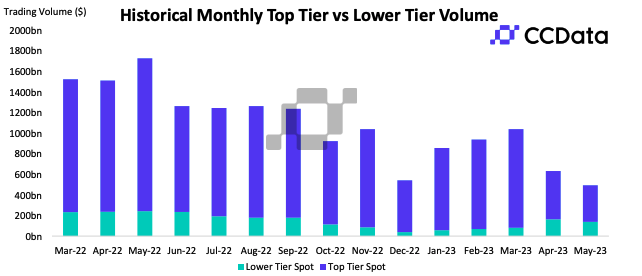 The latest SEC actions against Coinbase or Binance are not taken into consideration because the data is only up to date through the end of May.
Which crypto firms were hit the hardest?
According to CCData, Binance was most negatively impacted by the fall in trade volumes. The firm lost even more market share in the month of May. Its dominance fell from a peak of 57% in February to 43%. Binance's overall market share decreased for the third month in a row during this period.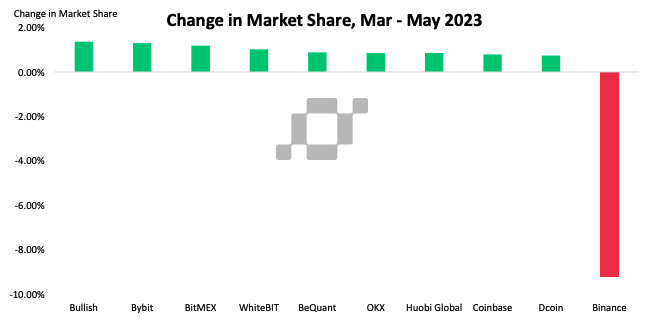 The majority of this fall, according to the research, may be linked to Binance's removal of zero-fee trading for USDT pairs. However, it was also observed that the exchange was undoubtedly under the pressure of heightened scrutiny from U.S. regulators.
The exchanges Bullish, Bybit, and BitMEX benefited the most from Binance's decline in market share. Between March and May, market share increased on average by slightly more than 1% for each exchange.
The SEC filed a lawsuit against Binance and its CEO Changpeng Zhao on June 5 for failing to register as a securities exchange and for marketing unregistered securities. The net outflows from Binance exceeded $778 million in less than 24 hours. On June 6, the SEC filed a lawsuit against Coinbase on similar grounds. The median trading volume among the top three decentralized exchanges (DEX) increased by 444% in the 48 hours that followed.