Crypto asset prices continue to remain stagnant. The global crypto market cap's valuation has been hovering around $1.1 trillion, while Bitcoin and Ethereum continue to move sideways around their current prices. In fact, as shown below, the crypto volatility index reading has noted a steep fall over the past few weeks. From November's peak of 125.6, the index's reading is down on its knees to 57 now, rationalizing the consolidated market conditions.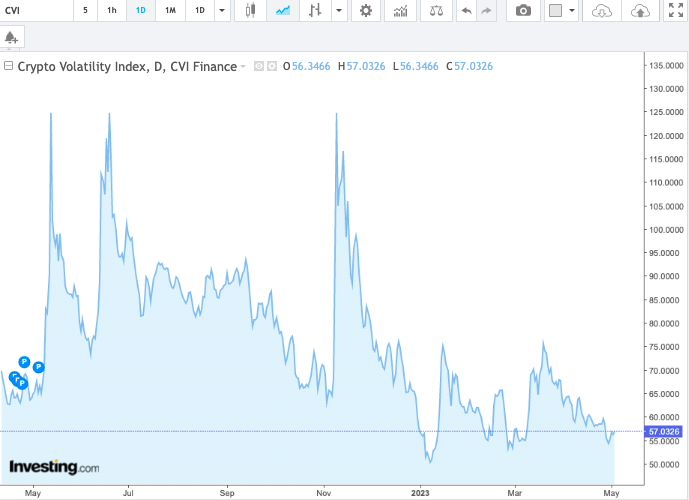 Also Read – MicroStrategy Posts Q1 Profit With Bitcoin: MSTR Up 120%
Until recently, the weekend hype was pretty high. Traders used to brace themselves for volatile non-banking days and Bitcoin used to deliver. Significant crashes and rallies used to stem off during the weekend, and the bias used to be carried forward into the new week.
However, with the volatility suction now in play, the market seems to be at a different juncture. Weekends have been monotonous because of negligible price movements. On the other hand, most long candles over the past few weeks have been registered during weekdays.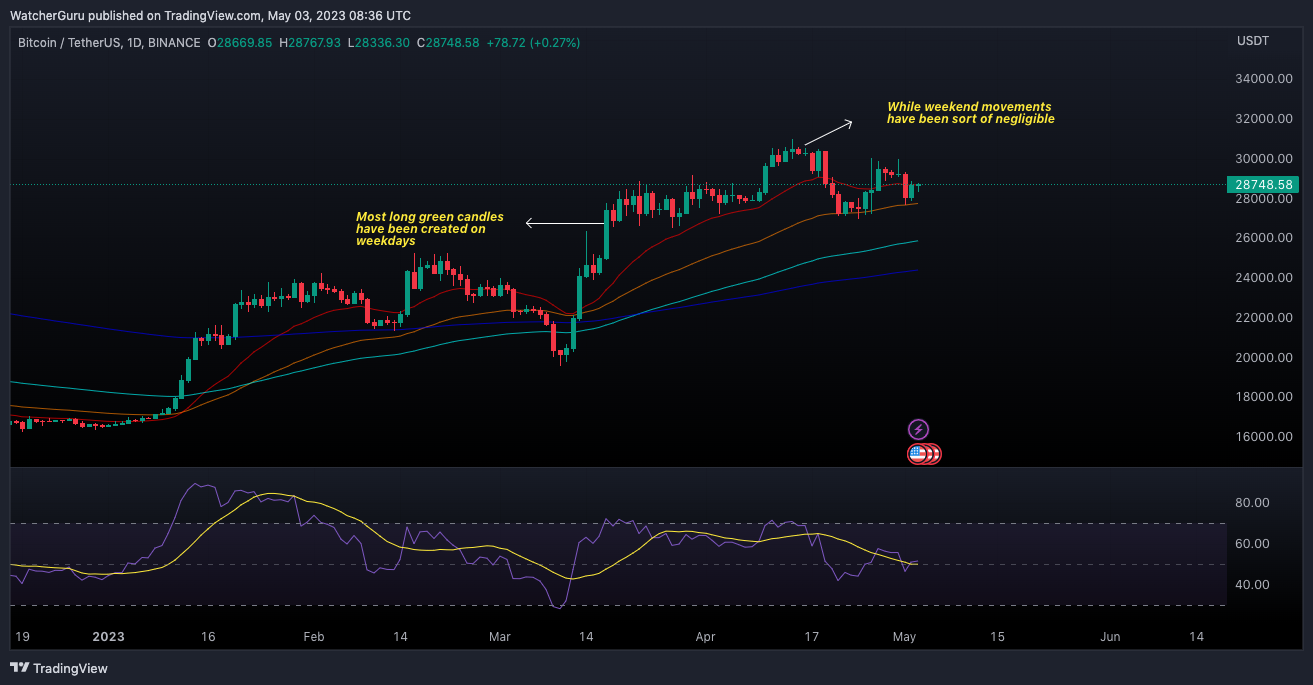 Also Read – Bitcoin Fraud Case: CFTC Pockets Record $3.4 Billion Judgement
Bitcoin Weekend Volume Drops, Weekday Volume Rises
A recent research analysis by Kaiko put things into perspective. As depicted below, the average daily weekend volume has decreased by 10%. Conversely, the average weekday volume has risen by 16% since the closure of the Silvergate Exchange Network [SEN] and Signature Bank's Signet.
As a result, markets have now become "less 24/7," as BTC-USD volume "has shifted to weekdays," according to Kaiko. Arguably, this is an indication of a dynamic change. Elaborating on the same, Kaiko Researcher Conor Ryder said,
"Crypto markets are becoming less 24/7 now, particularly in the U.S. with the closure of SEN and Signet. Market-makers are forced to use more traditional payment rails that mostly aren't open at weekends and so we're seeing more volume take place during the week now. This is one of the indirect consequences of the regulatory environment in the US, and we could see crypto firms who prioritize 24/7 settlement move overseas to friendlier jurisdictions."
Will the thorn poke?
In fact, several members from the industry, including the Author of "Crypto Is Macro Now" newsletter, Noelle Acheson, agree that weekend volumes have slashed down since the closure of SEN, "highlighting how crucial payment rails are for the functioning of a market." She added,
"This 24/7 characteristic of crypto markets, which emerged spontaneously with the early exchanges, will add fuel to the debate around the trade-off between greater agility with always-on markets, and a better work-life balance with an enforced break."
Commenting on how the current situation could spell "weakness" for crypto, Matt Miskin, Co-Chief investment strategist at John Hancock Investment Management, said,
"Liquidity is draining across markets and it's going to show up the most in the most volatile asset classes that rely on liquidity the most. And cryptocurrencies are a place where liquidity is a huge factor. That's something that could spell weakness for crypto as the year goes along."