With people gradually understanding the essence of decentralization, the whole concept of Decentralized Finance—or DeFi—has managed to garner renewed traction. During its initial days, just like any other speculative technology, even DeFi's abilities were doubted and questions with respect to its credibility and sustainability were raised.
With time, nonetheless, DeFi has been able to live up to the community's pre-set expectations, despite several shortcomings. 2020 was quite a significant year for DeFi adoption. The hype, however, fizzled out soon and the dry spell extended until the third quarter of last year. The tables turned within no time trading on DEXes had once again become apropos.
Where things currently stand for DeFi
Well, with the market remaining largely bearish over the past initial four months of 2022, people started sliding away from decentralized exchanges. As a result, the DEX:CEX spot trade volume percentage noted a substantial decline.
The downtrend was, nonetheless, put to a halt by the end of April, and since the beginning of this month, the aforesaid ratio started climbing up, indicating that the activity on DEXes has been getting back on track.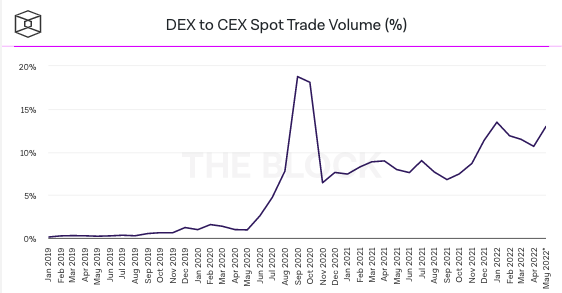 How are individual DEXes faring?
In terms of market share by volume, Uniswap v3 currently leads the race, for it commands more than 40%. Curve and PancakeSwap follow right behind with a respective share of 13% and 10%.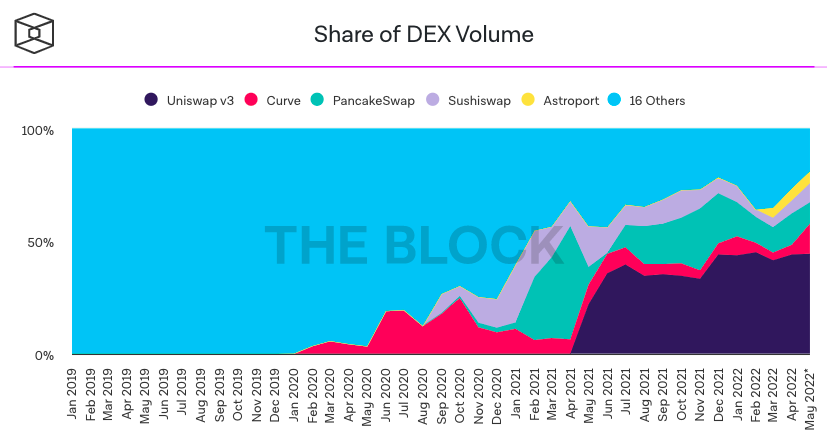 As a matter of fact, the volume peaked at a multi-week high on all three DEXes, on 12 May—the day Bitcoin tumbled to $26.7k. On Uniswap, the trade volume number rose from an average of $1 billion to over $5.4 billion.


On PancakeSwap, the rise was from around $300 million to $1 billion. So, the market being in a fix was sort of a blessing in disguise for DEXes, as market participants flocked en-masse to trade on them.


Going forward, if we witness even more turbulence—in either direction—in the broader market, DEXes can be expected to rise to the occasion with another macro-bullish market. As a result, there are quite high chances of the DEX:CEX trade volume ratio to create a yearly high by the end of May.