2021 was a fruitful year for the DeFi market. The ecosystem witnessed significant capital inflows amid heightened user interest. From January's $15.3 billion, the total value locked on all protocols climbed to a high of $175 billion by November.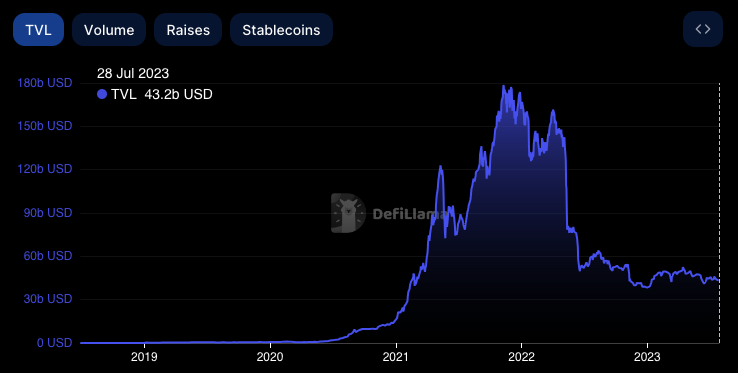 2021 was also one of the best years for the broader crypto market. With Bitcoin creating double peaks, a host of other large and mid-cap assets created all-time highs. Amid the hype and hoopla, around $2.6 billion was invested in around 800 companies. In this article, we will be analyzing how these organizations have been faring.
Also Read: India: BlackRock, Jio to Launch Digital Asset Venture
Are DeFi projects under-delivering?
Crypto venture funding firm Lattice recently published a report highlighting that one-third of the funded companies have initiated a follow-on round of venture funding, while 20% of the projects have shut down or stopped development. Chalking out the hit rate, Lattice's report noted that 70% of projects have at least shipped a product to the mainnet or mainnet equivalent, while nearly 50% have launched a token.
DeFi projects, specifically, have been struggling to raise follow-on rounds. Less than 30% of projects have managed to raise more capital. In fact, the report highlighted,
"Less than 75% of DeFi projects delivered a product to mainnet."
In 2021, the DeFi and Consumer/Web3 sectors received "the most funding." However now, they are struggling at Product to Market Fit. PMF is one of the most recognized concepts related to startups. It means that creators have created a product or service that satisfies a market need. That eventually becomes evident through organic growth.
Amid the ever-changing market conditions, a once-hot project with seeming PMF could suddenly lose its appeal. Building in crypto can feel a lot like "building a house on quicksand," the report contextualized. The DeFi PMF currently stands at 3%. All other sectors, including CeFi, Consumer/Web3, and Infrastructure, have higher rates, hovering in the 4%-11% bracket.
As highlighted at the beginning of the article, the DeFi market registered a boom in 2021 and welcomed several new participants into its arena. However, from a funding perspective, 2021 was perhaps long-delayed. Bringing to light the "wrinkle," the report highlighted,
"2021 might have been too late. If we take the current top 10 DeFi tokens by market cap, all of them were seeded in 2019 or earlier."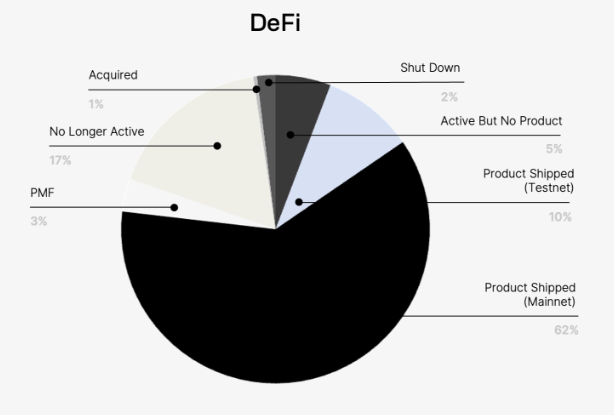 Also Read: Sequoia Downsizes Crypto Fund by 66%: Here's Why
Bottom Line
Even though projects have shipped products at a rate that is at par with startup industry averages, DeFi PMF continues to be on a slippery slope. The depressed VC market conditions will make it demanding for projects to raise follow-on rounds if they have not been able to do so already. Certain narratives are still 'hot,' and could end up burning fingers. Amid the challenging early-stage fundraising market and valuation drops, researchers expect the shutdown percentage "to begin increasing very rapidly." However, there is light at the end of the tunnel. The report concluded by stating,
"Some teams will cut burn enough to hopefully get to better market conditions. We expect more teams to be going to market with bridge rounds in H2 2023."