Just a day back, it was announced that Ripple has started testing Ethereum smart contract compatibility with its XRP Ledger [XRPL] sidechain. Notably, the Ethereum Virtual Machine sidechain is now live on the devnet. Notably, this is just the first step of a three-step process. The next phase will go live at the beginning of next year when the EVM sidechain becomes permissionless. The final phase is scheduled for Q2 2023 when Ripple will fully deploy the software.
Has the community been reacting?
The social metrics associated with XRP have not been portraying rising numbers. As depicted below, the number of social mentions and engagements has dropped of late. In fact, on the weekly, they were down by 29% and 8% respectively.

Over the past day, large participants have been, both, buying and selling. A few hours back, over 64 million XRP tokens were transferred from Bitstamp to an unknown wallet. The same is likely a whale purchase.
On the other hand, before the said transaction, another unknown wallet transferred 60 million tokens to the same exchange.
Participants are clearly divided at this stage. Perhaps that is why the token is up by merely a percent on the daily, despite the positive testing development. After noting a 1.4% rise over the past day, XRP was priced at $0.4769 at press time.
Towards the end of last week, it was reported that NFTs might appear on the XRPL sooner than anticipated. On that day, the token did rally briefly, but the hype was not sustainable. While most tokens have gained on the weekly, XRP is down by 3.4% in the same timeframe. At this stage, it does look like ecosystem developments, other than the lawsuit updates, are mostly acting like non-events for XRP.
XRP Forward Outlook
From mid-September till mid-October, XRP rallied by roughly 71%. As a result, the Sharpe Ratio went on the claim yearly highs. The same brings to light that investors were being fetched with ample returns for the risk borne by them by HODLing XRP.
However, this now paves the path for profit booking to take place. If that happens, then XRP's path to continue climbing will be hindered.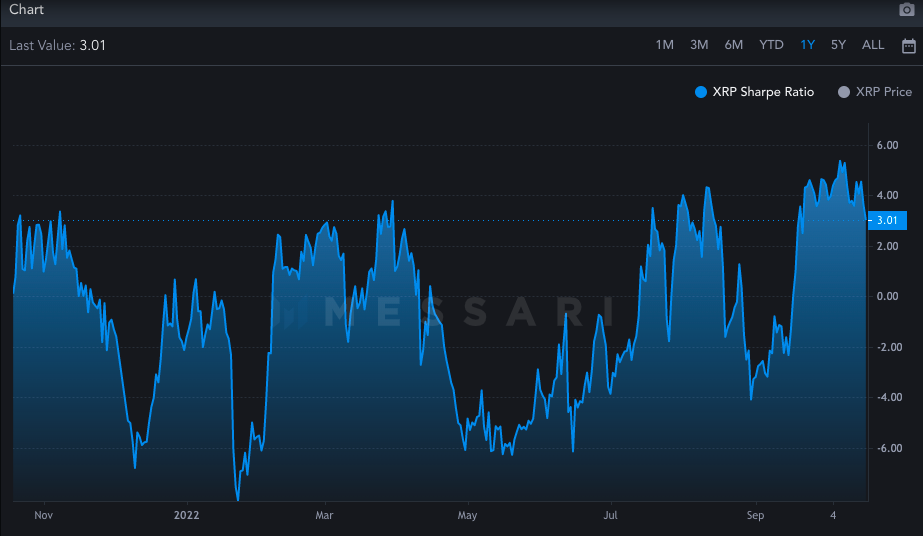 In fact, on-chain activity further painted a bleak picture at press time. The active addresses continue to hover around their lows when compared to the levels noted in the July-August period, making the environment not favorable for a rally.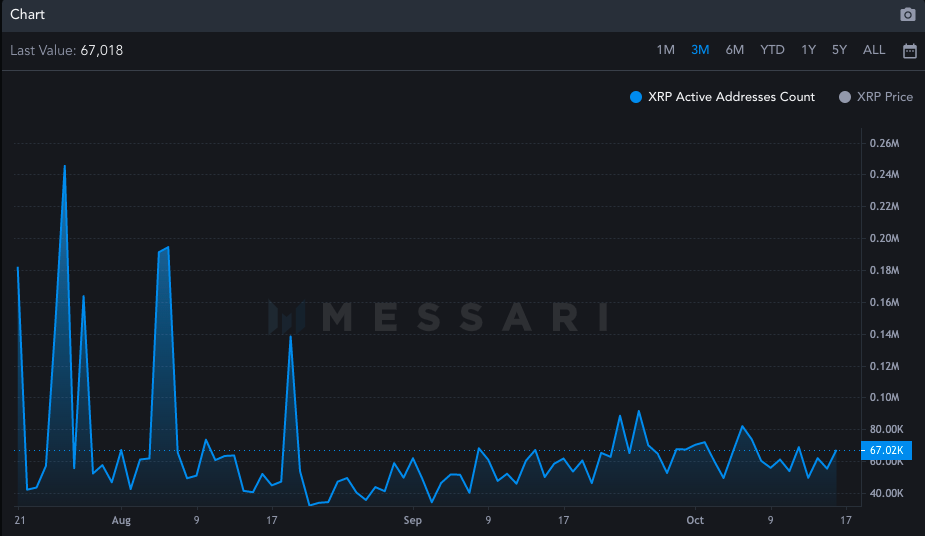 So, if the state of affairs remains to be the same, then XRP can be expected to fall to its MAs on a daily. The drop could extend all the way to $0.38—translating to an 18% depreciation from the current price—over the short term. However, if the market stabilizes this week, then the token can go on to surpass the local highs of $0.5509 created towards mid-September and continue rallying.