El Salvador made history in September of 2021 when it became the first nation to accept Bitcoin (BTC) as a legal tender. Since then the country's "Bitcoin Experiment" has become a model for many other countries that are looking into cryptocurrencies as a legal and viable method of payment.
However, a recent survey conducted by the Institute of Public Opinion of the Central American University, "José Simeón Cañas", has found that a majority of El Salvadorians, 71% of the 1270 people who participated in the polls, did not gain any financial benefit from the crypto law.
Furthermore, in contrast to what many predict on social media, 12.8% of Salvadorans claimed that the Bitcoin Law has given limited economic benefits to their families.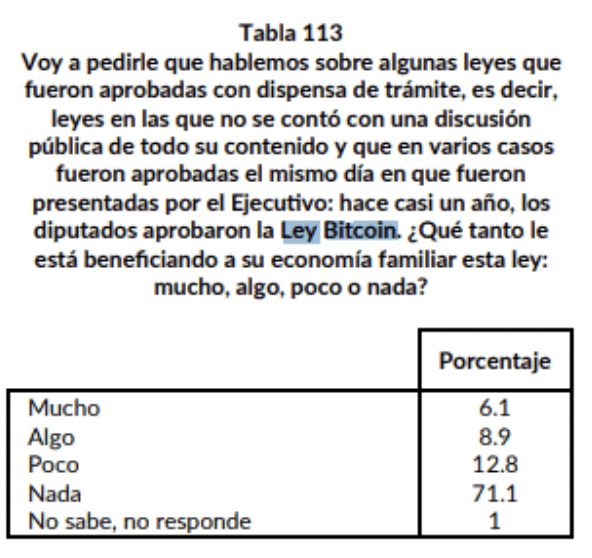 Was the Bitcoin experiment a failure?
3.9% of the people polled perceive the Bitcoin Law and its investments as one of the government's largest failures. Nonetheless, more than half of Salvadorans believe President Nayid Bukele has had no major mistakes in his third year in office.
The displeasure regarding the Bitcoin law could be attributed to the recent downward trajectory of the crypto markets, and the president's use of public funds to invest in Bitcoin, instead of focusing on other assets deemed more important given the country's economic circumstances.
Taking into consideration the $30 in Bitcoin offered as an incentive to individuals who installed the Chivo wallet on their cell phones, 20% of those questioned claimed that their economic status had improved as a result of the government's financial help.
However, according to a study published by the US National Bureau of Economic Research, just 40% of Salvadorans (4 in 10) continue to use the government-run Bitcoin wallet, Chivo, after receiving the $30 Bitcoin (BTC) incentive granted by President Bukele's administration.
Additionally, although the Bitcoin law allows El Salvadorians to pay taxes with BTC using the Chivo wallet, the study found that only 5% have done so.
Although it is too early to tell if El Salvador's Bitcoin experiment was a failure, the country's decision to purchase BTC while the market is down could in fact be a blessing in disguise. Many top analysts have predicted BTC to have its next bull run in 2024, and citizens of EL Salvador might have a change in opinion when that moment arrives.