Investment funds focused on digital assets like Bitcoin and Ethereum saw significant inflows in recent weeks, topping $1 billion year-to-date amid a crypto market rebound in 2023. The data from CoinShares signals renewed institutional interest after last year's steep declines.
Bitcoin products led inflows with $240 million last week, pushing 2023 inflows to $1.08 billion. Short bitcoin funds saw minor outflows, pointing to positive sentiment.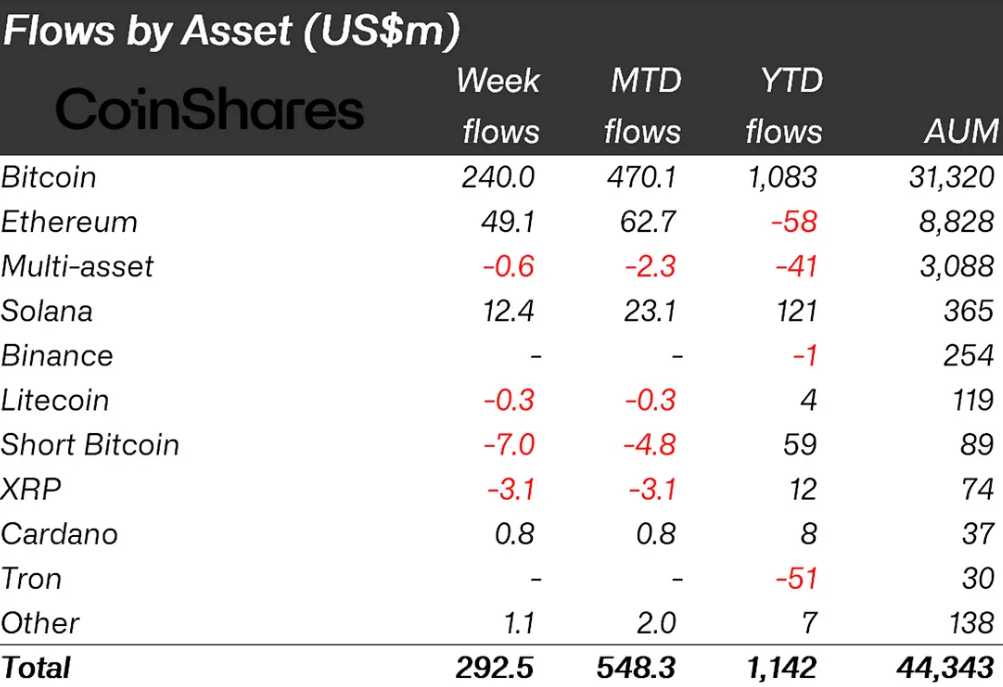 Ethereum saw largest inflows since August 2022
Ethereum saw its largest inflows since August 2022 at $49 million. Investors are likely encouraged by a recent spot Ethereum ETF listing application in the U.S.
Blockchain equity ETFs took in $14 million, the most since July 2022. Their year-to-date flows turned positive at $11 million.
Also read: SHIB Army Keeps Burning Despite Price Dip, 374M SHIB Destroyed
Industry analysts highlight robust participation from fund investors amid the crypto comeback. Bitcoin's trading volumes on trusted exchanges from ETPs hit 19.5% recently, far above 2020/21 levels.
The data shows institutional players are returning to digital assets after last year's crash. Total AUM has nearly doubled since January as crypto prices rebounded. Many funds failed in 2022, but survivors are now seeing assets grow again.
Crypto market sentiment has clearly shifted in 2023 after a brutal bear market. While risks remain, investors are lured by potential bottoms in major cryptocurrencies like Bitcoin and Ethereum.
But fund inflows can be fickle and quick to reverse course. The crypto sector's extreme volatility gives many institutions pause. Questions around assets' fundamental value persist.