The downfall of Terra and its founder Do Kwon has been widely discussed all across the industry. After months of fleeing the law, Kwon was finally arrested in Montenegro. While he is currently being charged with passport forgery in the region, the United States and South Korea have been seeking extradition.
All eyes are on the Montenegro government as its decision can permanently alter the Terra founder's life. As the country makes this choice, the community was seen having great fun foreseeing Kwon's fate. Polymarket, a prominent prediction platform, had several people betting on the country that Kwon would possibly be extradited to. Individuals must spend 67 cents to wager on Korea, compared to 35 cents for the United States.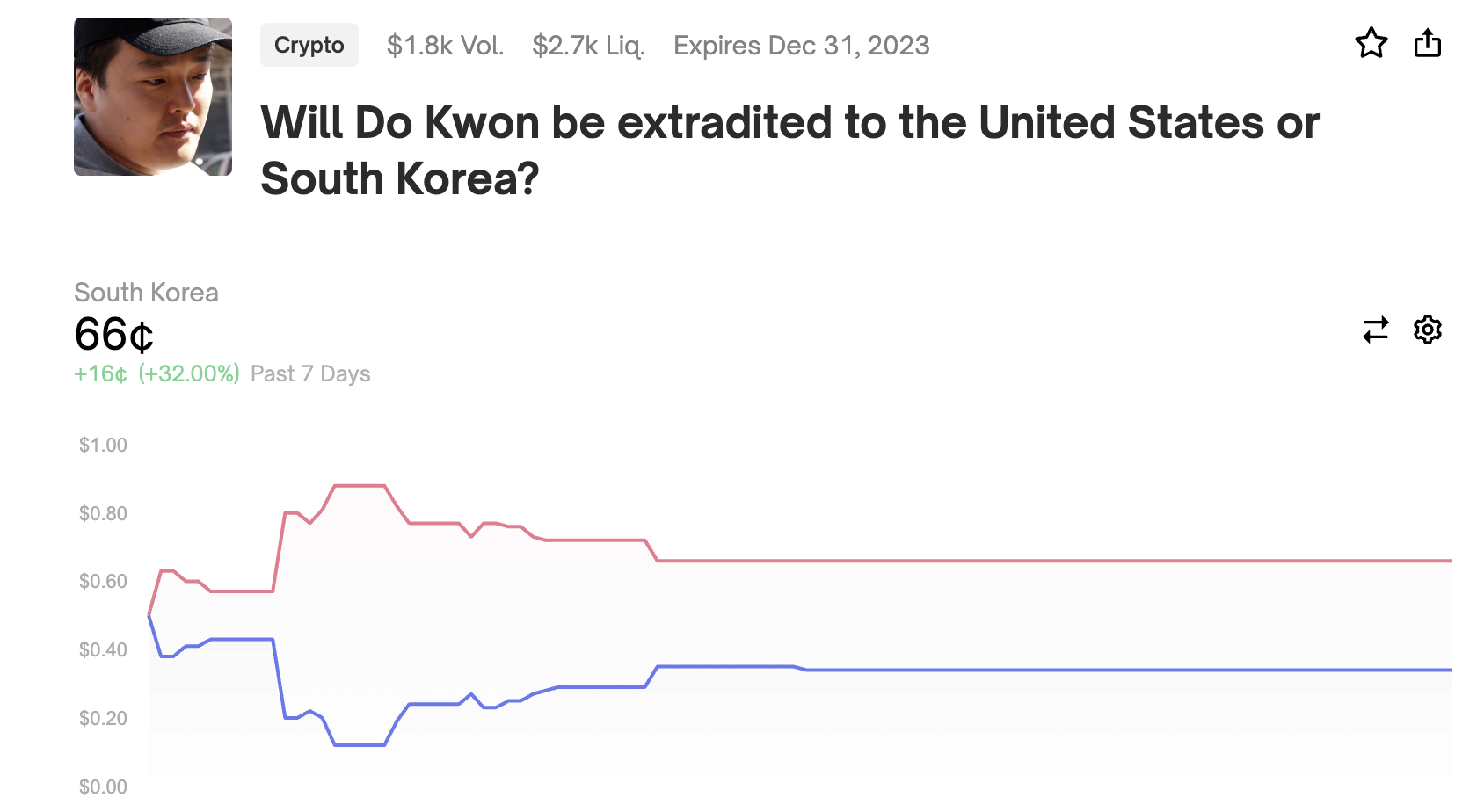 If Kwon is returned to the U.S., this market will resolve to "United States". The market will resolve to "South Korea" if Kwon is extradited to the Korean country. However, if Kwon is not extradited to either of the countries by December 31, 2023, 11:59:59 PM ET, the market will settle to a 50-50 split depending on which nation Do Kwon is extradited to first.
At press time, the highest ask or sell for the U.S. was a whopping $1,618. The highest bid or buy for the country was $164.46. On the contrary, the largest bid for South Korea was $1,280.
U.S. or South Korea: Which country will be worse for Do Kwon?
Do Kwon, who co-founded Terraform Labs and created the TerraUSD and Luna cryptocurrencies, has been accused of two counts each of securities fraud, wire fraud, commodities fraud, and conspiracy in the U.S.
Kwon, a South Korean national, is expected to be prosecuted there, as Terraform Labs headquarters was based in the country. Additionally, South Korean law enforcement has been looking for those responsible for the platform's collapse. Elaborating on the same, Terra whistleblower, FatMan tweeted,
He further believed that the U.S. will be "incredibly harsh" leaving Kwon no chance to weasel out. However, Korea could be rough on him as well considering the harm the Terra founder did to the country.