Altcoins have been collectively rallying over the last couple of days. On the weekly, most of the top alts have managed to pose double-digit return figures. However, one particular alt that had been living under the shadow of the alt king Ethereum, has been stealing the limelight of late.
While the likes of Cardano, XRP, Solana, and Dogecoin had their 7-day RoI capped under 20%, the #22nd ranked Ethereum Classic, has climbed up by 77%. The token has managed to pull off a 180-degree flip over the past 9-odd weeks and is currently trading around the same price as it was during the end of May.
Ethereum Classic, at the moment, stands at a critical juncture. As illustrated below, it has broken past its strong resistance at $25.5 [yellow], which is an optimistic sign. So, if the bullish thrust persists in the market, traders can consider $28.5 and $30.75 as short-term ETC targets.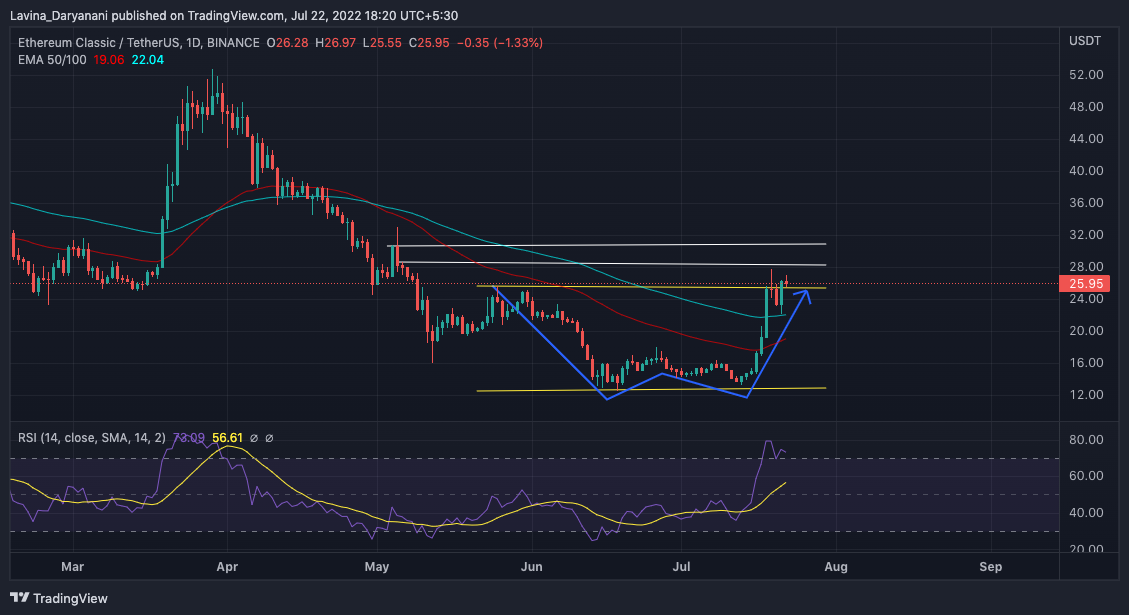 Ethereum Classic's yearly low twins
The state of Ethereum Classic's metrics, however, remains to be quite gloomy. Let's consider the case of the transaction transfer count first. The reading of this metric currently stands at 37.49k, and as illustrated below, the same is at its lowest point this year. This essentially means that Ethereum Classic is currently not fostering transactions on its network like before.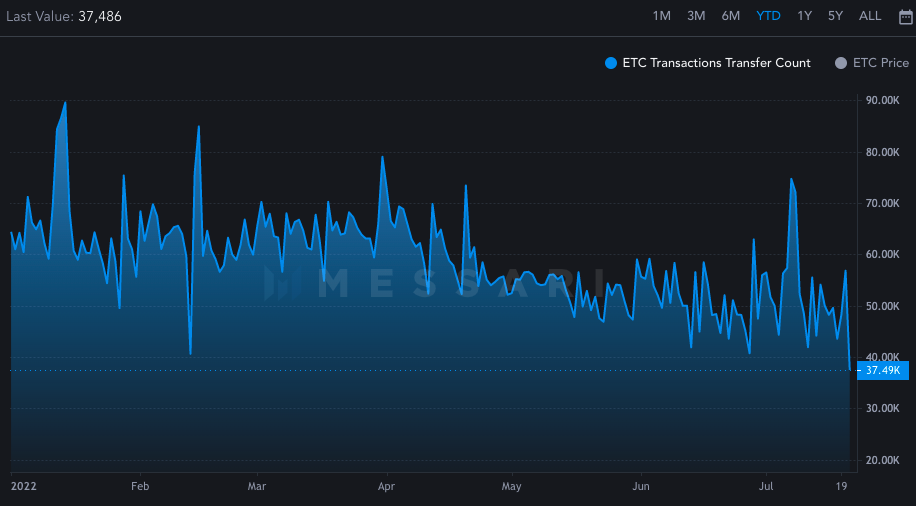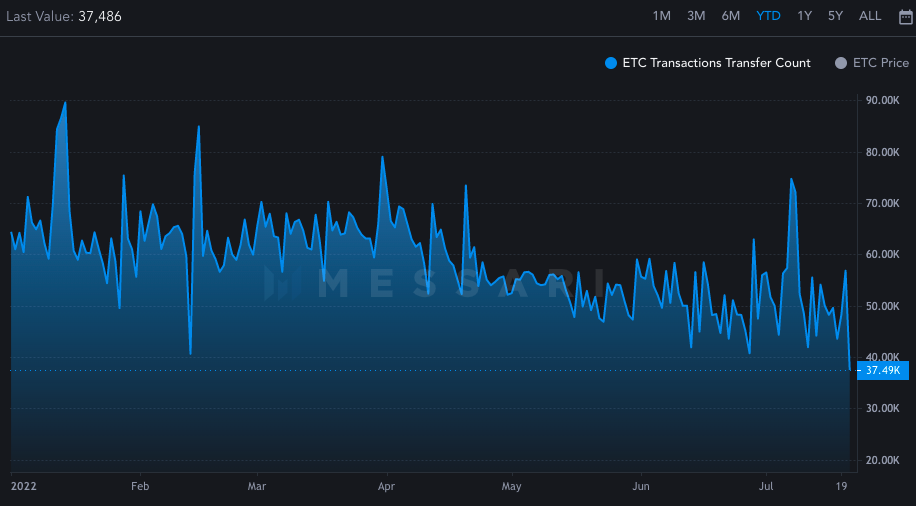 Alongside, the state of the address activity also painted a similar picture. Per Messari's data, only around 20.75k addresses were active on Friday as opposed to 7 July's 47.5k. The current figure is, again, quite close to its yearly low at 20.4k, making it another red flag.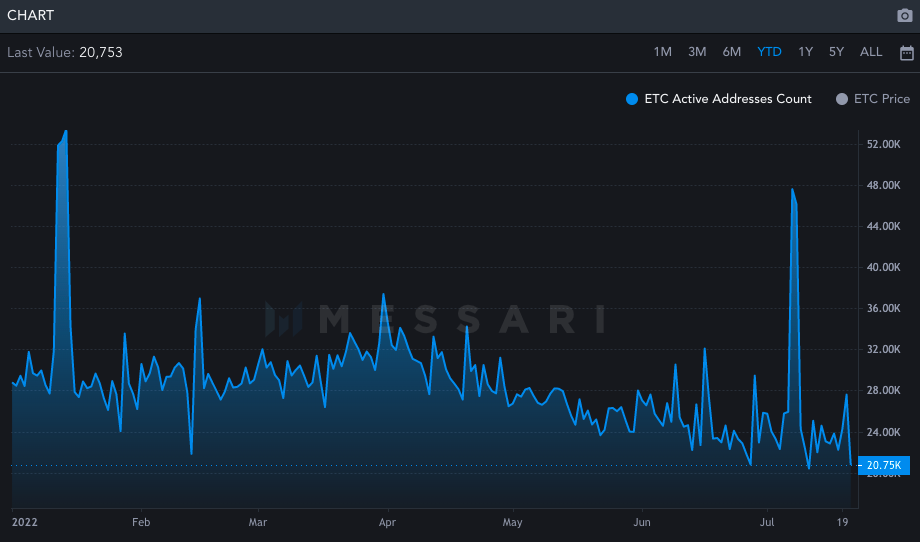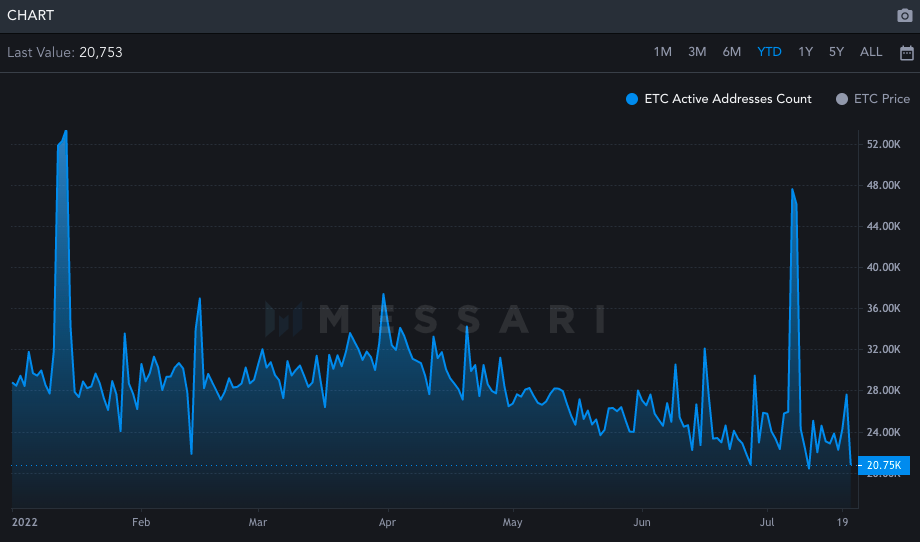 Self-sustainability at stake?
Now, it's a known fact that during past bullish/bearish phases, Ethereum Classic has always tagged along with Ethereum. But now, their correlation is not that high. Per data from Cryptowatch, the weekly correlation of the two forked tokens stands only around 0.56. This basically means that if ETC has to continue rallying, it will have to remain self-sustainable.
Keeping the current state of the on-chain metrics in mind, it likely won't be a cakewalk for ETC to continue its rally. Also, its market is currently overheated and is primed for a correction. So, if the bearishness indeed intensifies, then the alt might end up falling below its afore-highlighted resistance. In such a case, it would likely find solace at either of its EMAs around $22.04 and $19.06.