Getting listed on exchanges is usually associated with pomp and excitement. More often than not, it is an epoch-making event for, both, people associated with the project and the ones interested in it. Ask Shiba Inu supporters, they have been trying to get SHIB listed on Robinhood for weeks right now. The following update might not have been what they were hoping for but will it be a blessing in disguise?
Buckle up! Uphold is listing SHIB on…
Uphold, a commodity trading/crypto exchange platform has revealed its plans to list a bunch of new cryptos including SPELL and CVX in January.
However, people from the space are awaiting SHIB's listing on its platform. As per a recent Finbold report, the platform has stated that it would be listing the second-largest meme-coin by 15 January.
The aforementioned announcement succeeds the recent rise in SHIB's popularity and social media activity. Additionally, the number of SHIB HODLers has been on the rise despite the ongoing macro bloodbath – another positive sign.
Event or non-event – What to expect?
Well, crypto-centric events never fail to surprise people from space. Cardano's much-anticipated Alonzo hardfork, for instance, was expected to act as a catalyst and boost the coin's price post-September. However, the same proved to be a non-event.
Shiba Inu is however cut from a different cloth and the nature of the upcoming event is also quite different in this case. Consider this – In the recent past after major listings, SHIB's trade volume has more or less peaked and created local highs. During the Coinbase and Binance.US listing earlier last year, substantial spikes were noted on the coin's volume chart.
Goes without saying that the same had caused SHIB's price to massively pump in the short run.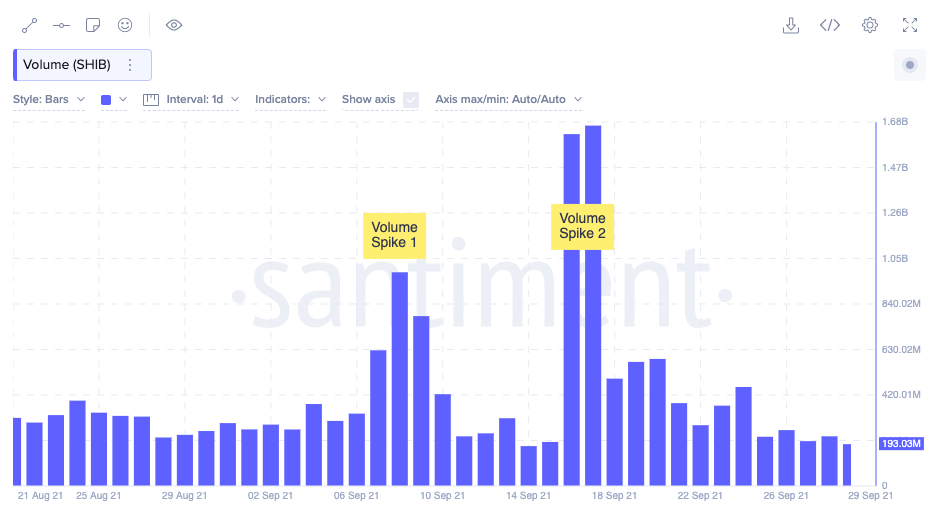 SHIB's price is currently quite sluggish. At press time this coin was seen trading at a price that was 27% down when compared to its local 27 December peak.
So, in and around Uphold's SHIB listing date, market participants can expect the coin's price to witness an uptick. However, there's no surety about how prominent the rise would be this time because, unlike Coinbase and Binance.US, Uphold's social traction ain't very high.