Dogecoin is a popular meme coin that has inspired many other animal-themed cryptocurrencies. DOGE paved the path for the numerous cats and dogs that are flooding the meme coin realm. Meme coins were primarily developed as a joke, as their name suggests. Meme coins, however, have been incredibly popular recently with the rise of Pepe Coin and LADYS.
The latest data from IntoTheBlock has revealed that Dogecoin miners have cut down their DOGE reserve since March's end.
Also read: Floki Inu Makes Strides with Three Fresh Exchange Listings, Stirring Price Fluctuations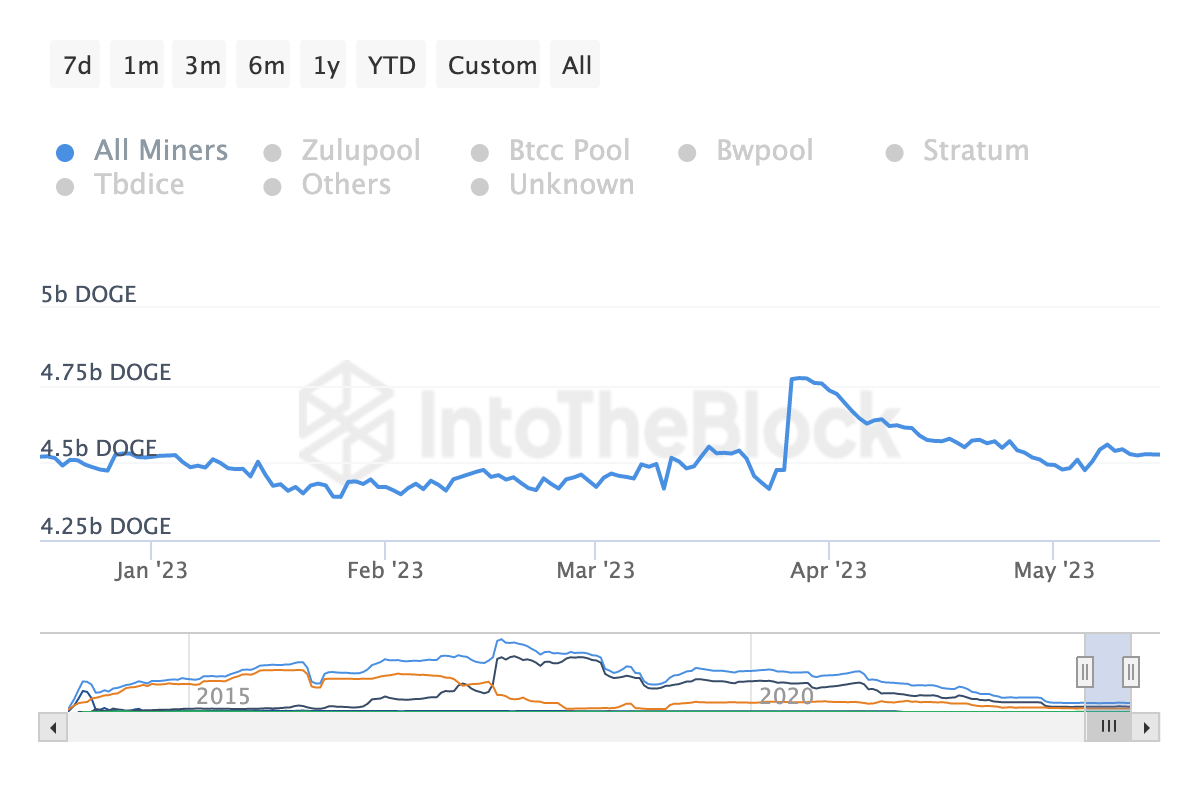 Dogecoin miners dump DOGE holdings
March registered the highest holding of DOGE by Dogecoin miners in 2023. In comparison to the data from March, the miner holdings are currently 240 million less and stand at 4.53 billion DOGE.
Also read: European Union Passes Law Requiring Identification for All Crypto Transactions
Even though in terms of market cap it seems smaller, it represents 5% of all Dogecoin miners' reserves. This number indicates unusual dumping. DOGE has dropped its value by 19% in the last 30 days. DOGE is trading at $0.07204, with a 1% drop in value over the last 24 hours.

IntoTheBlock data also reveals that DOGE holders making money at the current price stand at 49%, while those holding at a loss stand at 48%. 4% of the holders are currently in a neutral state. Even though the cryptocurrency realm is witnessing a meme coin frenzy, major meme coins, including Dogecoin and Shiba Inu, haven't put on a bullish rally.