Dogecoin's MVRV ratio has been on an uptrend for the last few weeks. From a low of 0.73 registered in mid-June, this ratio is on the verge of claiming 1. At press time, it flashed a value of 0.95. A rising MVRV indicates that the market cap is outpacing realized cap. During such phases, the motive to sell in the market picks up pace.

Also Read: Shiba Inu: Shibarium Team to "Renounce" BONE Contract
In 2023, Dogecoin's MVRV has sustained above 1 thrice. Two such instances were recorded in Q1, while one took place in Q2.
Jan. 21 to Feb. 9: Even though the market conditions were fairly bullish during the initial few months of 2023, Dogecoin's price registered a downtrend when its MVRV hovered above 1. The price depreciated by 11.2% during this period.
Feb. 16 to Feb. 21: After the first phase concluded and the sell-pressure cooled down, Dogecoin saw a momentary recovery on the price front. However, that did not last for long. When the ratio started hovering above 1 again, DOGE dropped by 7.9%.
April 4 to April 20: DOGE noted its largest MVRV-triggered drawdown in April. With the MVRV revolving above 1 for more than 2 weeks, the asset's value recorded a net drop of 25.5%.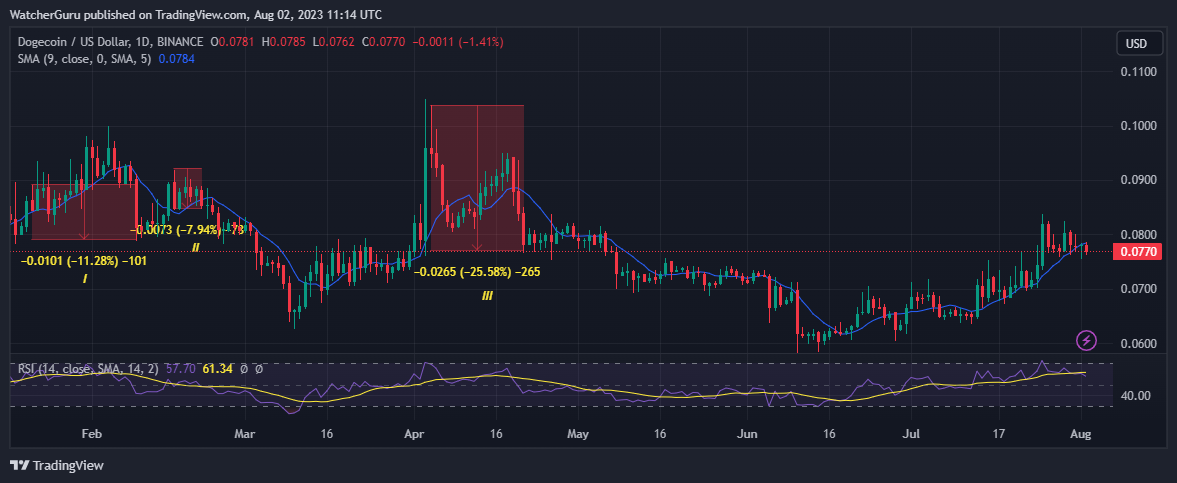 Also Read: Shiba Inu: Will Elon Musk Attend Shibarium's Launch Event?
Dogecoin Market Conditions
So, if the ratio re-crosses 1, the market conditions will start becoming appealing to sellers. If the bearish pressure rises consequentially, there are high odds of DOGE following the footsteps of its past precedents. At press time, bears were seemingly in control of the market. Except for the 1-hour period, the sell orders eclipsed the buy orders. On the 6 and 12-hour timeframes, the sell side weighed more by over 55 million tokens. So, if this dominance increases, then DOGE might face strong corrections.

Also Read: Shiba Inu Forecasted To Rise 300% & Reach $0.00003: Here's When