Dogecoin, a cryptocurrency inspired by internet meme culture, has garnered considerable interest and led to the emergence of numerous other animal-themed coins in the crypto market. Initially created as a playful jest, these meme coins have surprisingly attracted widespread attention in recent times.
In the early stages, early adopters and investors in Dogecoin saw substantial returns, with some achieving notable financial successes. However, the present situation for DOGE presents some challenges.
Also read: Bitcoin ETF Approval More Likely, Bloomberg Analysts Suggest
Now, according to the latest data from IntoTheBlock, the largest meme coin is inching closer to a milestone with five million active addresses.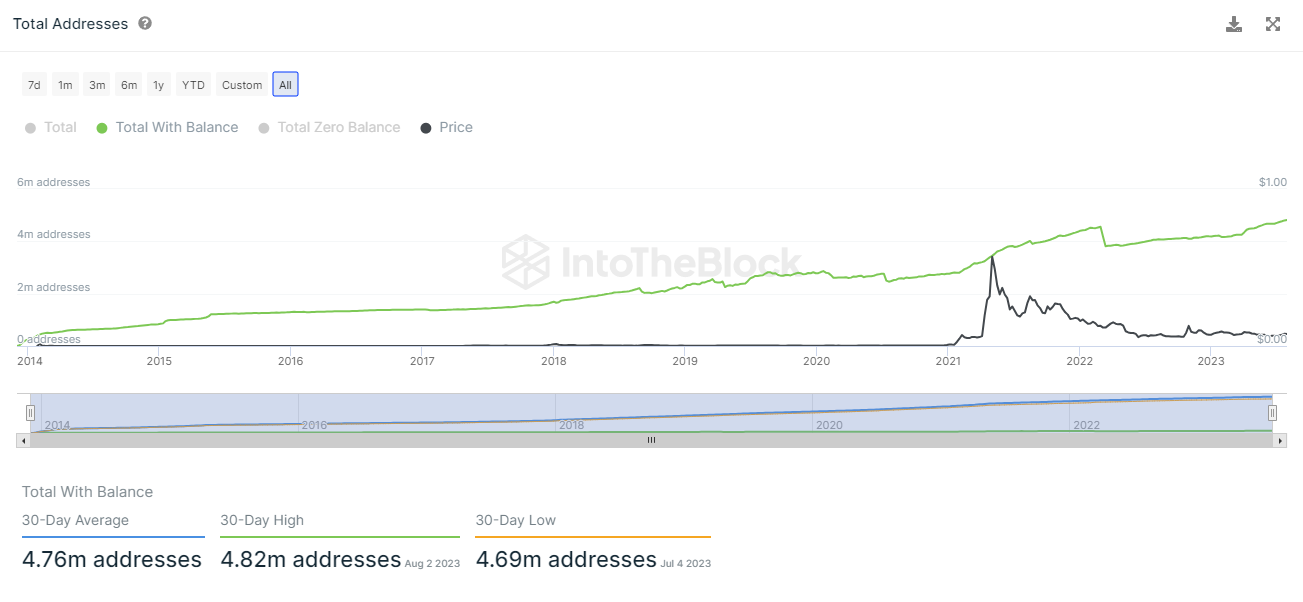 Dogecoin to soon hit 5 million address milestone
The milestone, which is not too far away, will be a record for the meme coin. It will be a testament to the growing user base and trust in Elon Musk's favorite cryptocurrency. However, DOGE is not in its best shape in terms of price. According to CoinMarketCap data, Dogecoin is trading at $0.0734, with a 4% drop in value over the last 24 hours.
One thing that could fuel DOGE's price is its real-world utility. Apparently, there have been rumors of the meme coin being incorporated into Twitter. However, there haven't been any positive tweets from Musk regarding that matter.
Despite the silence, one positive tweet from Musk can still drive Dogecoin's price higher. However, DOGE is 90% down from its all-time high and has a long way to go to breach that.