With the cumulative crypto market cap rising by 3% on the daily to $943.10 billion, all major tokens from the crypto market were trading in the green on Friday. Dogecoin was one among the said set of tokens.
Priced above $0.060 at press time, the largest meme token had noted a 3.3% incline over the past 24 hours. In fact, on both the daily and the weekly timeframe, DOGE had fetched its HODLers the highest gains when compared to its counterparts like Shiba Inu, Dogelon Mars, and Baby Doge Coin.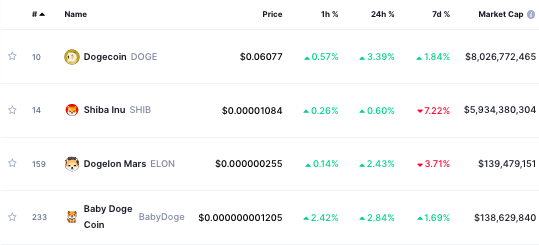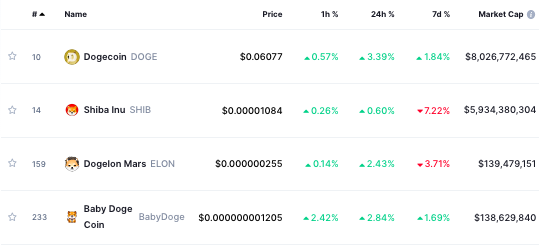 All hail the new Dogecoin whales
Crypto analyst Ali Martinez brought to light that the addresses HODLing 100 million to 1 billion DOGE tokens had noted a 5.13% rise over the past week. In fact, 6 new whales have joined the Dogecoin network and have amassed roughly about 620 million tokens.
It is a known fact that meme-tokens are quite receptive to whale actions. So, the recent incline in Dogecoin's price can be speculatively attributed to their actions.
In fact, on the whole, also, buying pressure was seen marinating at press time. On the one-hour, three-hour, six-hour, and twelve-hour timeframes, the buy trades exceed the sell trades by millions of tokens, as depicted below. The same opens the doors for Dogecoin to continue appreciating in value.


Dogecoin price
On a daily, DOGE has been trading within a descending channel [yellow]. From the end of August to the beginning of September, the asset's price remained grounded towards the lower trendline. Of late, however, it has been attempting to break above the same. On 10, 11, and 12 September, it did create wicks that broke above the ceiling of the said bearish channel, but there was not enough momentum from the bulls to help Dogecoin sustain above the same.
Over the last couple of days, the asset had held onto the $0.057 support level. On Friday, however, it directly opened at $0.059 and was trading at $0.060 at press time. Hereon, if the bullish momentum persists in the market, Dogecoin should be able to break above the channel and pose a quick 8.46% rally to $0.6587, where it will be tested by its 50 and 100 MA [red and blue].
On the flip-side, however, if the broader market dumps, or bears end up over-ruling the bulls in the DOGE market, then the most recent $0.057 support level will come into play again.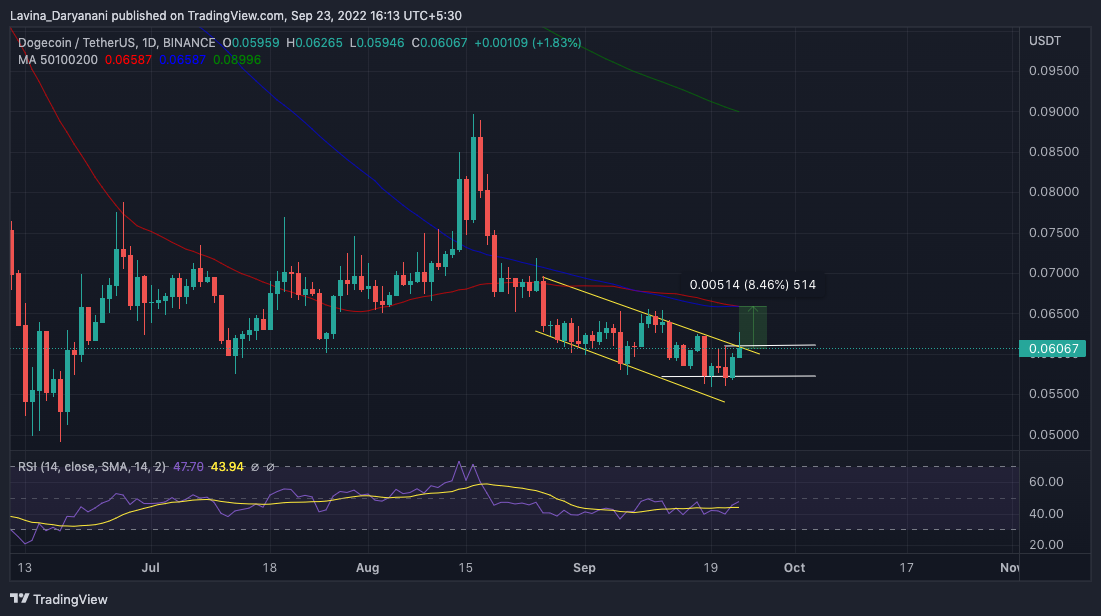 In fact, on the network activity front also Dogecoin has been faring quite well. Per ITB's data, the new addresses on the network have risen by 10.72% over the past week, making the environment more favorable for an uptick than a retracement for the largest meme token.