According to CoinMarketCap, the price of Dogecoin (DOGE), the largest meme coin, has dropped by more than 12% in the last 24 hours. The token is on the verge of exiting the top-ten cryptocurrencies. Dogecoin is currently valued at $18.7 Billion USD, just ahead of Avalanche's (AVAX) $18.5 Billion USD. 
DOGE saw a surge in its price after Elon Musk's Twitter deal went through. The news saw DOGE prices rise by up to 20%, with its market capitalization reaching $20.40 Billion USD. However, it now would appear that once gains were made, investors were quick to jump ship with their profits. 
Dogecoin, in most likelihood, will play a pivotal role in Twitter. Musk is a big proponent of DOGE, and has never lost a chance to praise the token. Musk has already mentioned the possibility of allowing Twitter Blue members to pay using the popular memecoin. Furthermore, he stated that it would be "nice" if it were possible to send tips using Dogecoin.
The Twitter deal, on the other hand, turned out to be more of a "buy the rumor, sell the news" scenario for Dogecoin. Musk has yet to assume control of the powerful social media site. The deal is likely to be completed later this year. 
Is it Surprising for Dogecoin?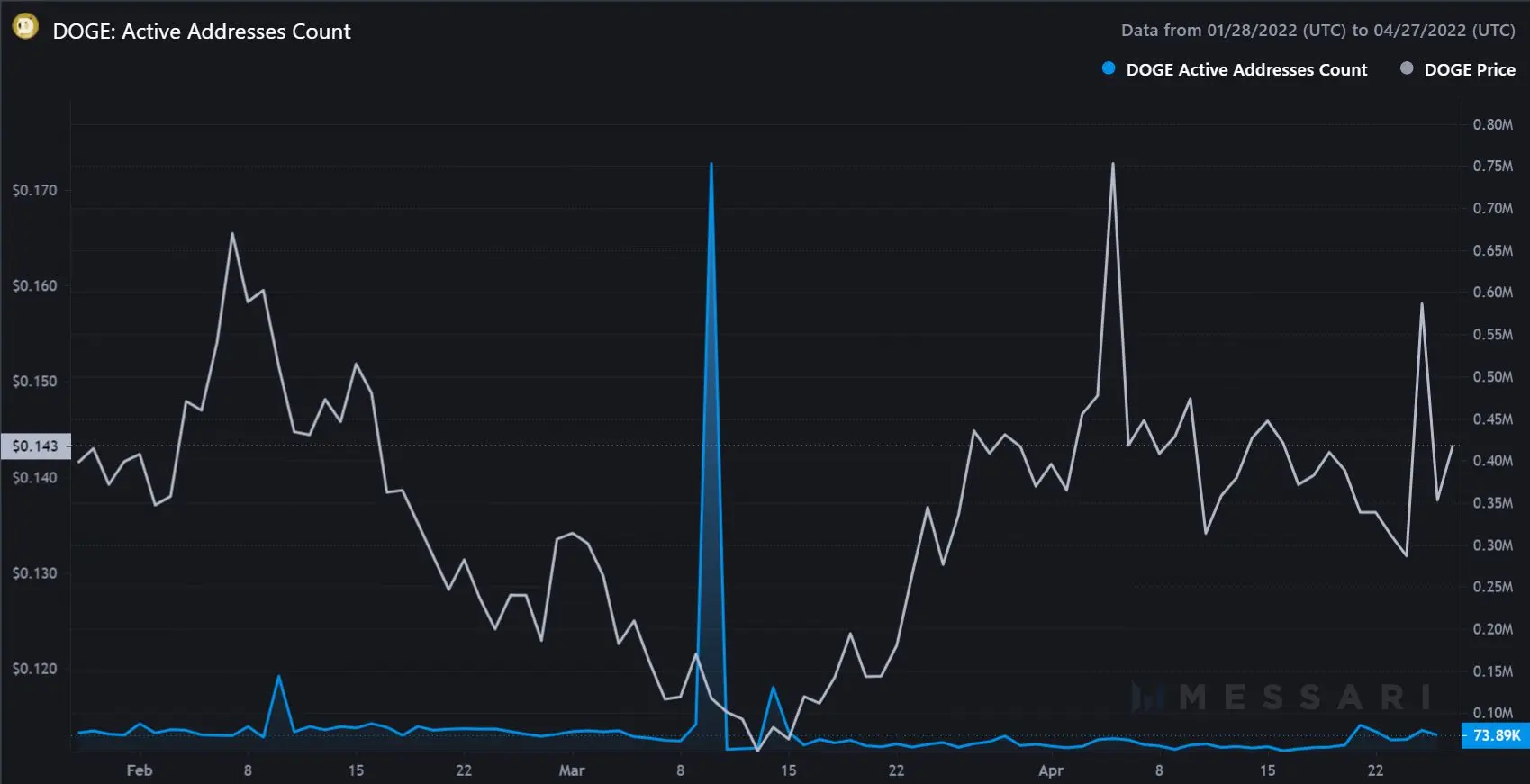 Dogecoin's recent demise after Twitter is hardly surprising considering the fact that the memecoin has rarely indicated any significant developments over the past few months. Since the beginning of 2022, its active addresses have remained minimal, suggesting low on-chain activity. The price spike was solely sentimental and leveraged traders possibly pumped it temporarily and pulled their profits after reaching their short-term targets.
At the time of writing, Dogecoin remains the greatest laggard among the top cryptocurrencies, but the rest of the market is also in a correction phase. Bitcoin (BTC) is hovering around the $38k mark, but it had breached the $37k mark yesterday. Terra (LUNA) and Cardano (ADA), respectively, are down 8% and 6.5%. 
After the most recent sell-off, the overall cryptocurrency market value has dropped to $1.77 trillion. At press time, DOGE was trading at $$0.1412, down 1% on the 7-day chart, and up 2% on the 14-day chart.