Dogelon Mars opened in the red on Monday after failing to extend its short-term rally above the 4-hour 20-SMA (red). Going forward, broader market pressure was expected to drive ELON back to $0.000000500 support, leaving bulls with a tall mountain to climb. Its best chance at an immediate rebound came via a double bottom setup at its immediate support. At the time of writing, ELON traded at $0.000000720, down by 5.3% over the last 24 hours.
Dogelon Mars 4-hour time frame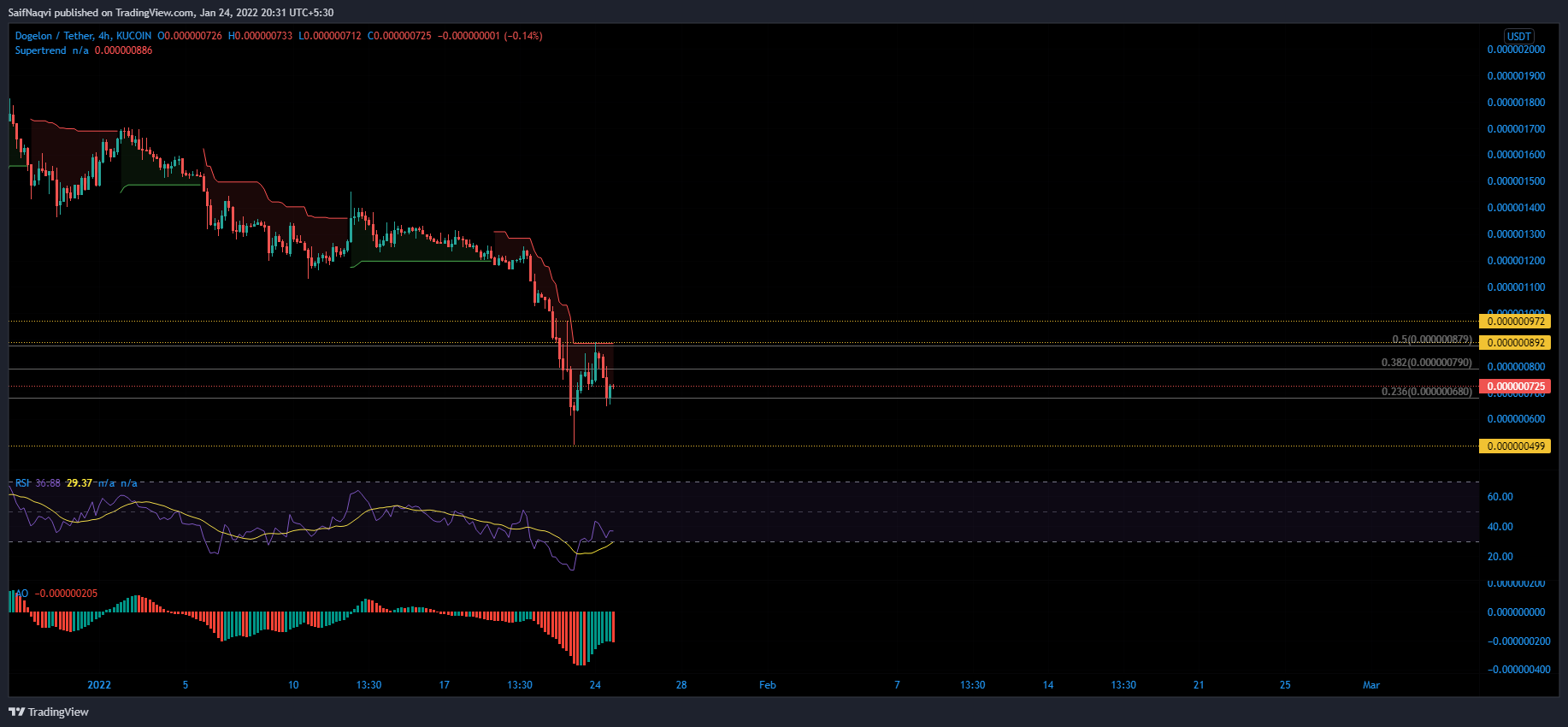 Dogelon Mars was yet to fully recover after tapping a 60% sell-off between 20-22 January. A period of gains over the last 48 hours did reward bulls with a 42% profit, but sellers remained firmly in control after ELON's progress was halted at the 20-SMA (red) and 50% Fibonacci level.
Unless Bitcoin pumps alts back to life by a recovery above $40,000, ELON would most likely continue to see more trading outflows as investors reduce their meme coin exposure. A double bottom at $0.000000500 could delay another sharp decline but ELON would have to climb above $0.000000972 to reinvigorate any bullish arguments. Conversely, a support region around $0.000000348 would become active if ELON slips below its immediate defense.
Indicators
The SuperTrend indicator was unimpressed by ELON's short-burst and continued to flash a sell signal. Stop-loss was placed at the 50% Fibonacci level. Meanwhile, more downside was likely on the RSI as it was yet to break away from a series of lower highs. Any long trades should maintain a tight stop-loss until the RSI recovers above 55.
Conclusion
Dogelon Mars was preparing for another southbound move in the coming sessions. Although the 23.6% and $0.00000050 support regions could prevent an immediate decline, ELON had to close above $0.000000972 to make the most out of a bad situation.