The market cap of key cryptocurrencies fell by roughly 20% while the value of top cryptocurrencies plunged by double digits on Saturday. Bitcoin (BTC) plunged to a 2-month low of $42.848, with a market cap of less than $1 trillion. Ethereum (ETH) also fell to a monthly low of less than $4,000. El Salvador has however, decided to use this change to buy more Bitcoin.
El Salvador Turns Loss Into Gain
The crypto market slaughter today may have wreaked havoc on traders. However, it provided El Salvador with an ideal opportunity to buy another dip. President Nayib Bukele took to Twitter to reveal the news. Amid the current market fall, the small Central American nation purchased 150 additional bitcoins at an average price of $48,670.
El Salvador was the first country to make Bitcoin legal tender in September. Since then the country has made it a tradition to purchase Bitcoin Dips. Since September, the country has made a series of 150 BTC acquisitions, with President Bukele nailing the market bottom in most instances. This time, though, he missed it by seven minutes, as the BTC price momentarily dipped to $42,874 before rising beyond $47,000.
READ ALSO: Crypto Exchange #Bitmart Reportedly Hacked For $200 Million
 El Salvador bought its first dip in September when the price of Bitcoin was hovering around $40,000. Many cautioned President Salvador Allende of market instability and potential losses to the national coffers.
President Bukele, on the other hand, nailed the market bottom in October, virtually doubling the investment as BTC touched $69K. El Salvador is now putting the proceeds from Bitcoin into building schools and hospitals.
Bitcoin's price fell on Saturday morning, plummeting about $10,000 in less than an hour to a brief low of $42,000 before rebounding to $45,000.
Over the last 24 hours, Bitcoin has fallen about $15,000 in value and is now trading at $46,764.78. Ether, the second most valuable cryptocurrency by market value, declined approximately $1,100 in the same time frame.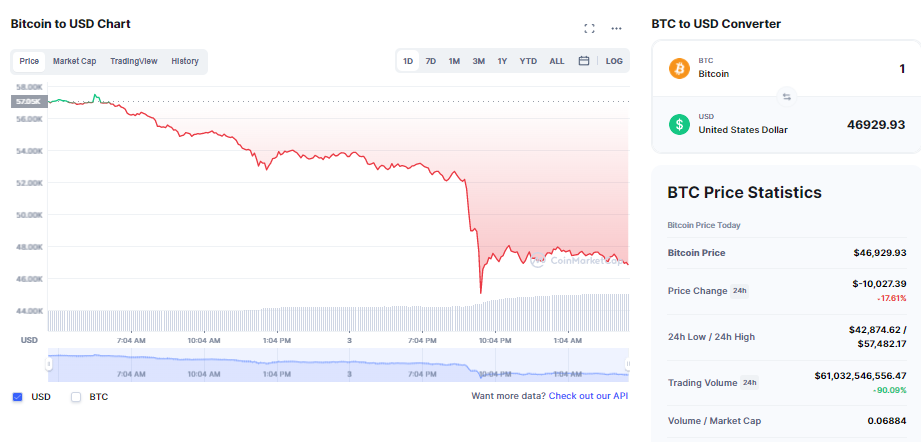 The Cryptocurrency Market Most Significant Liquidation in 15 Months
The bloodbath on Satoshi Street resulted in the largest crypto market liquidation event since September 2020. Over the last hour, nearly a billion dollars worth of cryptocurrency has been liquidated. Bitcoin is leading the way with nearly $650 million, followed by Ether with $292 million.
READ ALSO: SEC Rejects WisdomTree's Application for a Bitcoin Spot ETF
Many people were surprised by the market meltdown because market experts had expected a positive fourth quarter, with firms like Plan B predicting a $100,000 Bitcoin price objective. October was one of the most bullish months in recent memory, with BTC and numerous other altcoins reaching new all-time highs.
The market sentiment has shifted from "greed" to "fear" as December begins on one of the gloomiest notes.