Dave Vegas, the sports betting consultant is bullish on EOS.
Vegas took to Twitter predicting that it's the only coin he believes will take off during the next crypto bull run and reach a new all time high (ATH).
Vegas confirmed that he only holds EOS and no other crypto asset and tweeted, "EOS. This is the only coin I hold. This can be $20-$50 by the blow off top."
The last time it breached $20 mark was when it reached its all time high of $22.71 on April 29, 2018. It has dipped -78.8% from its ATH.
Space X founder Elon Musk tweeted in May that Tesla won't accept Bitcoin as payment. As a result, the coin that was hovering around the $12 mark during May 2021 plummeted to new lows.
EOS Dipped Since May 2021
Musk's tweet made Bitcoin slip -60% within two days and dragged every other coin along with it. EOS, from $14 fell straight to $6 and then again fell to $5 between May to July, 2021. It has finally found resistance levels at $4.
Despite the drastic dip, EOS stands tall and strong in the crypto market. It touts its use-case- software applications to businesses that can use to host, develop and run programs. The cryptocurrency is also used as a payment system that communicates between dApps and the internet.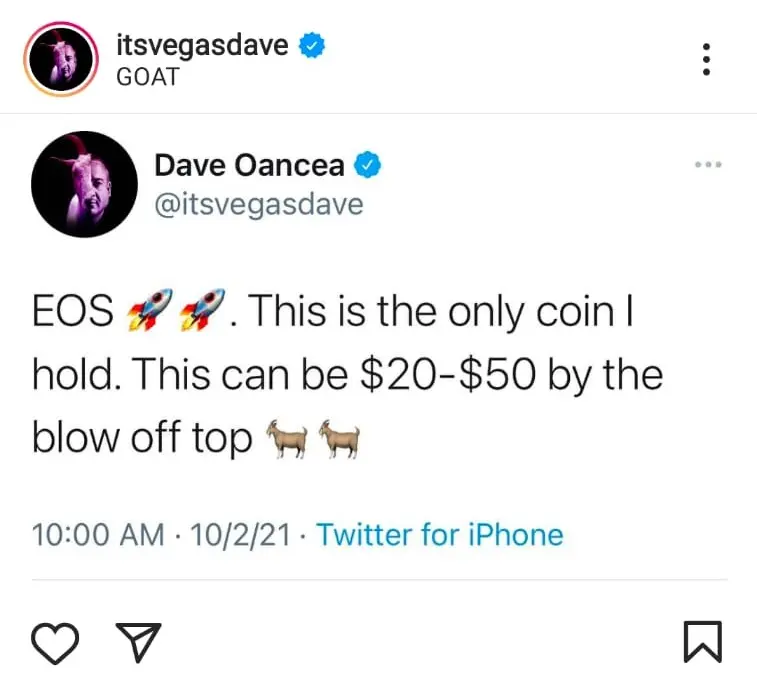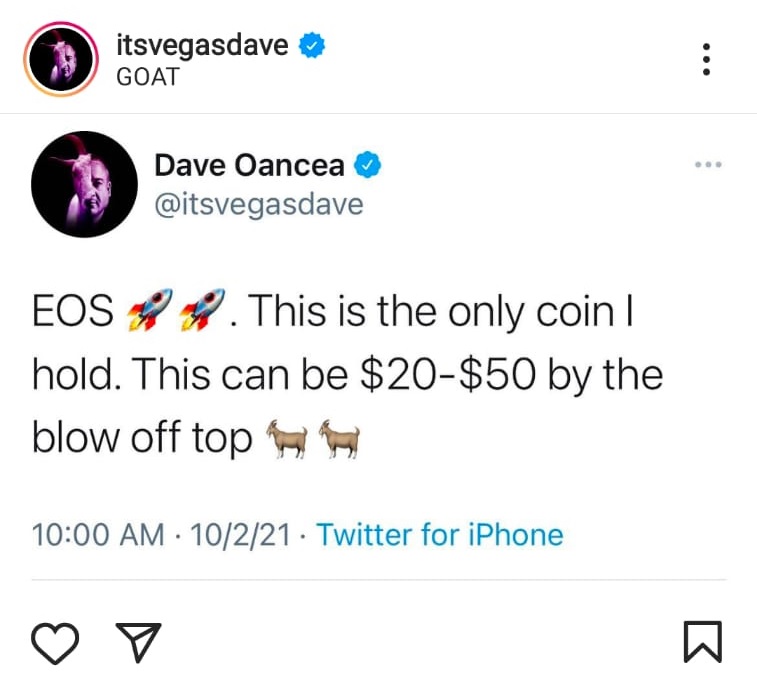 Several investors believe that EOS is currently underpriced and are making use of the dip by buying large amounts of coins. Investors hope that it could return to its previous glory and deliver all the richness in the long run.
However, the relative strength index (RSI) for EOS indicates that the coin could slump further in the coming weeks. Its trading volume is relatively low and stands at $1.1 billion, which is average. Its scalability depends on larger trading volumes. Also, if its trading volume decreases in the next coming weeks, its price will gradually slip down.
Bears have made the most out of its dip as it showcases a downside momentum. An increase in trading volume can propel the coin to bounceback from the $4 chains that it's currently tied to.
How Different Is EOS From the Other Coins In The Crypto Market?
EOS positions itself as a direct competitor to Ethereum (ETH). It has ambitious goals to be the best payment provider in the market. While Ethereum handles 15 transactions per second, EOS in its statements have revealed that they are working towards making millions of transactions per second.
At present, EOS does 6,000 transactions per second and is way ahead of its competitor Ethereum. However, reaching the milestone of millions of transactions per second is yet to be a reality.
EOS at the time of publishing was trading at $4.88 and is up +8.2% in the days trade with a current trading volume of 1,213,337,293.