The last couple of days has been characterized by Altcoin rallies. Right from old and prominent names like Cardano, Solana, and Zilliqa to comparatively newer ones like Lido DAO and Gala, a bunch of them managed to grab the limelight turn by turn. Daily returns over the short term have fetched investors gains in the 30%-80% bracket.
As a result, crypto media is starting to get flooded with tweets and mentions including the terms like "Alts," "Altcoin," "Altcoins," and "Altcoinseason." With assets rallying, "Altcoin FOMO" is taking off in the market. According to Santiment, this is more like a precautionary warning.
Pointing out why it isn't an ideal time to step into the market, its analysis report noted,
"… when we see altcoins being mentioned as prices are rising, it usually means the crowd has recognized that altcoins are pumping and are trying to FOMO in. The result is usually that a top forms… at least until the crowd starts doubting that altcoins can rise again."
It further elaborated,
"With the mainstream chiming in to proclaim it's time to buy altcoins, this likely means the time has expired for now."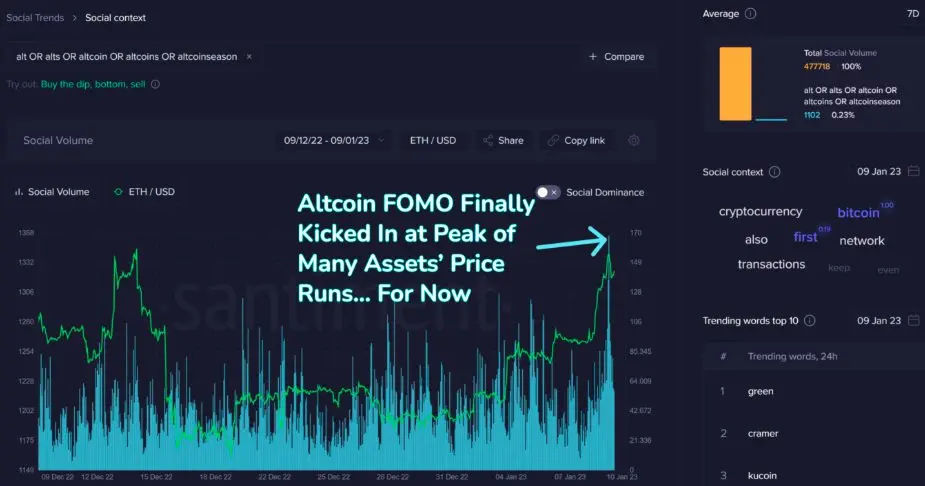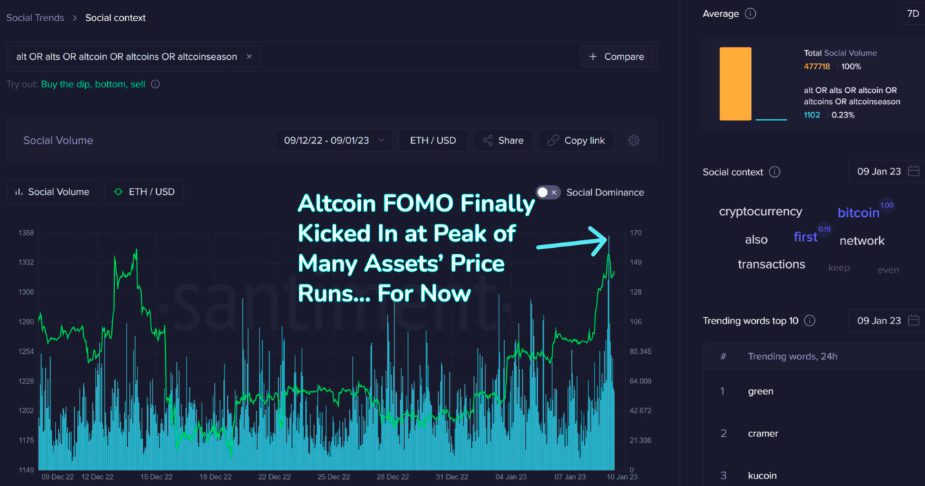 Also Read: Cardano, Solana, Lido Rally 30-80% In Hours
Alt Season Not In Sight?
Data from Blockckahincenter further confirmed that "It is not Altcoin Season." An Altcoin season transpires when 75% of the top 50 coins perform better than Bitcoin over the past 90 days. As illustrated, readings closer to 25 indicate that Bitcoin is still majorly in control. Conversely, numbers around 75 imply Alts are collectively in command.
The Platform's Altcoin Season Index has been hovering in the range between 23-34 since the beginning of this year. So perhaps, the ongoing surge phase is just the warm-up to the macro-recovery rally that's likely to unfold going forward in 2023.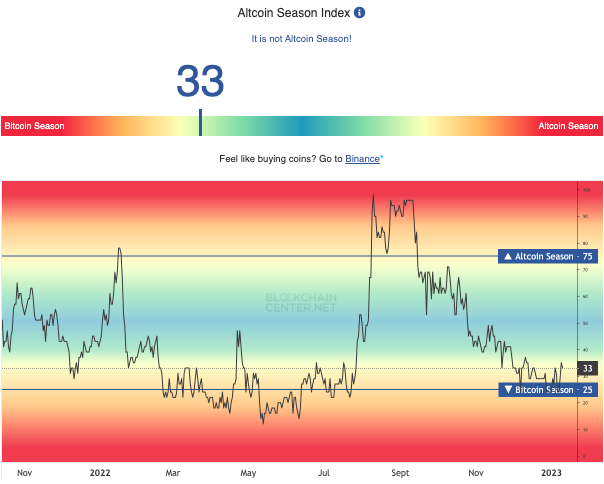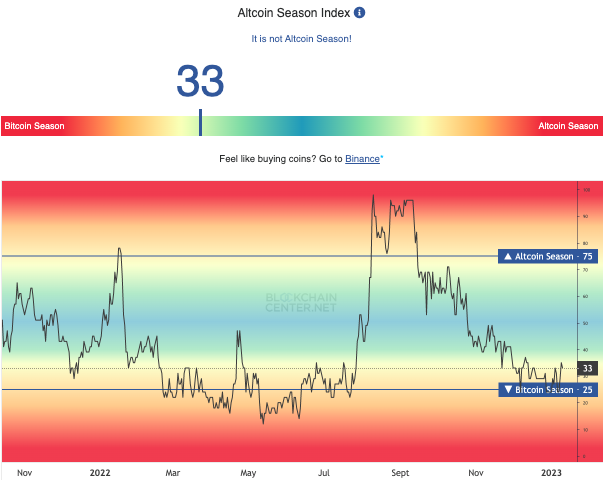 Also Read: Ethereum Founder Rekindles Revival Hope for Solana
However, according to a Twitter poll conducted by Santiment, a majority of respondents feel that the prices will reverse and enter corrections. Revealing what to expect next based on the responses, Santiment said,
"… these doubters could very well still be right. But when you see results like these in our polls, you can be pretty confident that FUD is ripe to be countertraded."
It added,
"With just under two-thirds of voters here expecting that altcoins would fall back, it goes with Santiment's mantra that prices move in the directions of the crowd's unlikeliest expectation."