Ethereum blockchain's non-forked aka original version — Ethereum Classic (ETC) experienced an overnight hike in price after Antpool invested $10 million into the ETC ecosystem. Following the Antpool news, Ethereum Classic was up by 15.50% in a 24 hours window.
While Ethereum is moving to a proof-of-stake (PoS) consensus mechanism, the dominant DeFi blockchain's miners are nearing becoming obsolete. In light of this, Ethereum Classic, which still operates on proof-of-work (PoW) came under the spotlight as PoW Ethereum miners' only hope of employment.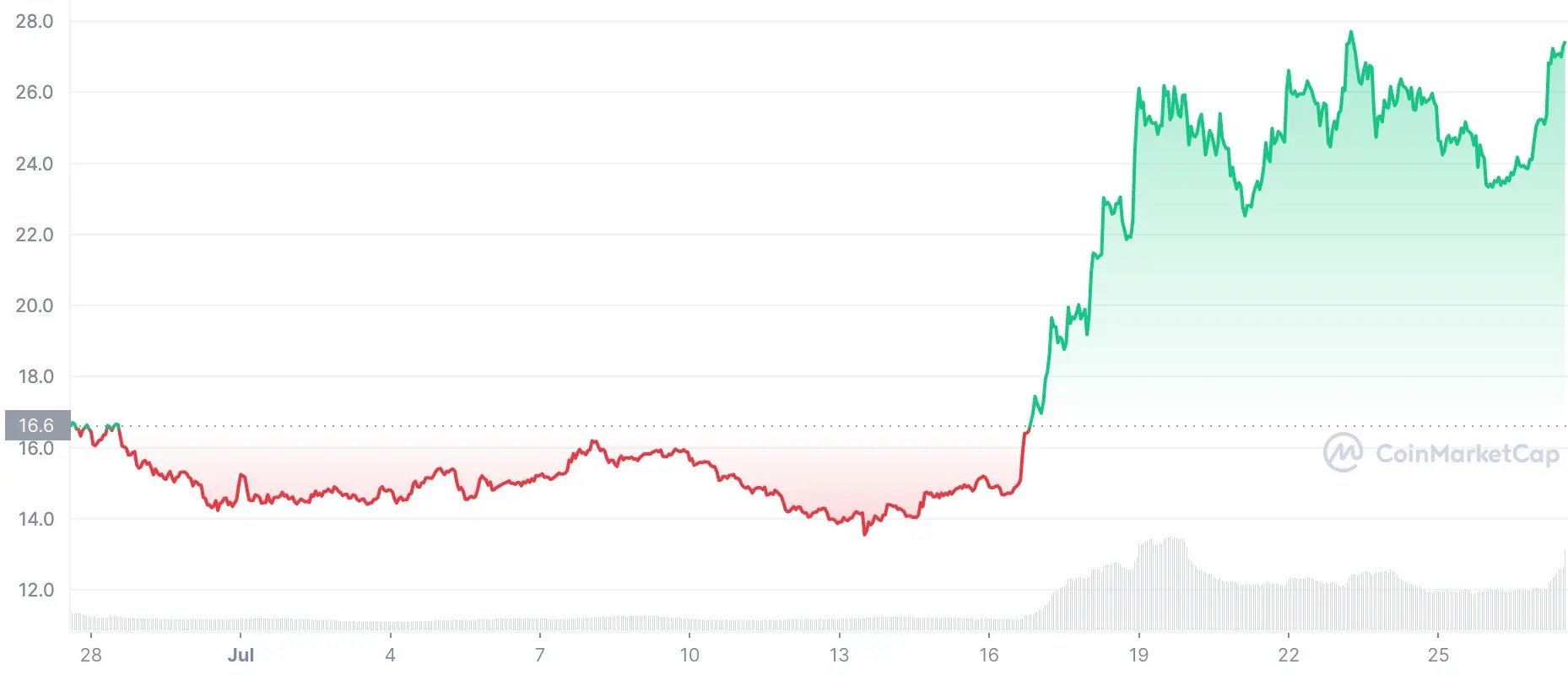 Amid the ongoing bear, ETC experienced an isolated green trajectory. However, Ethereum's non-forked version is still down by over 84% from its all-time high (ATH) of more than $176 last May. On 20th July, Thursday, while speaking at the annual Ethereum Community Conference (EthCC) in Paris, Ethereum co-founder Vitalik Buterin extended his support for ETC, calling it a "totally fine chain" and "the original Ethereum." He added that "If you like proof of work, you should use Ethereum Classic."
Ethereum Classic Price May Correct Itself Post FOMC Meet
Earlier this week, Bitcoin and Ether, along with other major cryptocurrencies dipped ahead of the Federal Open Market Committee (FOMC) meeting on July 27. The Fed meeting is expected to increase its benchmark interest rate by 0.75%, which will be the largest hike in about three decades. Given the response by the rest of the crypto market, ETC is also expected to face correction post the meet.
Historically, the FOMC meetings have either served as a de-risking event for the crypto market or triggered sell-offs. Following much speculation, the crypto market turned green last December, when the Fed left interest rates unchanged. However, this July when the Fed implemented hiked interest by 50 bps (basis points), all risk-on asset classes including the crypto market felt the heat. While the crypto market was already bleeding by the time Fed implemented the hiked interest rate, the 50 bps was priced in regardless.