Ethereum [ETH] and its big shift to the Proof-of-Stake [PoS] realm is a highly anticipated update. The entire community has been following all the developments that lead to the same. While a majority of the industry seems to be hoping for a smooth transition, a few of them were awaiting another delay.
It was previously announced that the Merge would occur sometime between the 10th and 20th of September. Earlier today, Vitalik Buterin, the co-founder of the network took to Twitter and gave out the actual release date of the Merge.
Buterin announced that Ethereum would transition into proof-of-stake around next week.
He further went on to urge the community to update their clients to streamline the transition. In addition to this, the Ethereum network was prepping for the Merge with the Bellatrix hard fork that is expected to occur today.
What is Bellatrix and why is it vital?
The Bellatrix update for the Ethereum network is expected to spruce up the Epoch value. It would reportedly surge to 144,896 on the PoS chain. It should be noted that one epoch is the time the network takes to mine 30,000 blocks.
This upgrade is considered to be highly important for the Merge to occur without a glitch. Additionally, Bellatrix is the final upgrade before the Paris Upgrade that is scheduled to take place following the Merge. Ethereum's Paris upgrade will reportedly erase the face of miners in the ETH chain.
It seems like the community was well prepared for this upgrade as 73.5 percent of the Ethereum nodes were categorized as "Merge ready." The Ethereum Foundation noted that these nodes fell into this category after updating their consensus layer clients prior to epoch 144896 on the Beacon Chain.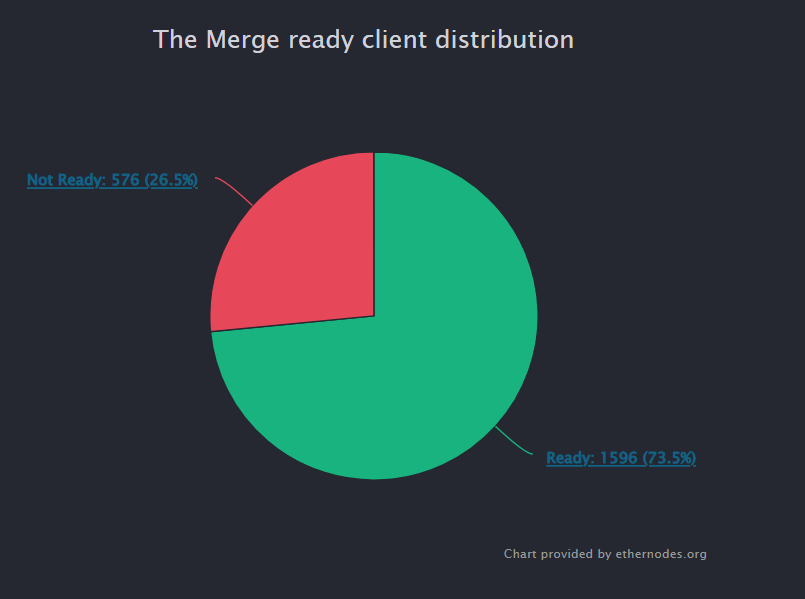 As seen in the above image, only 26.7 percent of the nodes were marked "not ready." These were mostly found on the geth client. The nodes were yet to upgrade to Geth v1.10.23 or a higher version.
Therefore, core developer Tim Beiko and as mentioned earlier, Vitalik Buterin was seen urging the community to prep for the Merge.
Ahead of the Merge, Ethereum witnessed a 4.55 percent daily pump and was trading for $1,642, at press time.