The Ethereum market cap has reclaimed $215 billion, according to CoinMarketCap. The cryptocurrency is currently the second-highest currency by market value.
After the announcement of its upcoming Merge upgrade in September, the coin's cap made a steady jump over the past week, rising over 6%. The Ethereum [ETH] network is all set to transition into Proof-of-Stake [PoS] from Proof-of-Work [PoW] next month.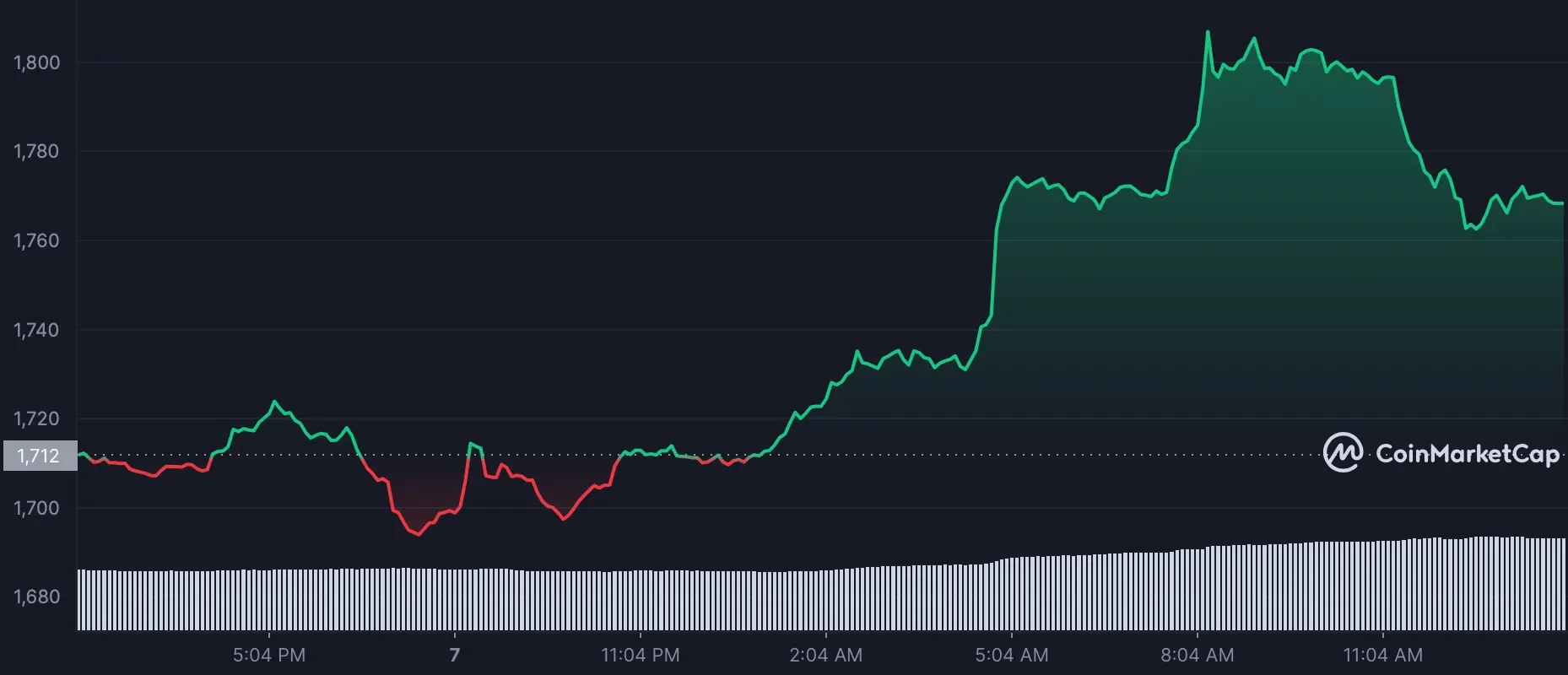 Ethereum is currently trading at $1,801, up 5.48% in the last 24 hours and 6.78% across the previous week. It has added almost $70 billion to its total worth in the last month, according to data retrieved by CoinMarketCap, climbing from $1,214 on July 10 to $1,801 on August 8.
The Ethereum market cap has seen a steady profit rise since the Merge announcement, despite mixed reactions from Cryptocurrency experts. Many are against the Merge and are even proposing a hard fork to maintain the existing PoW. Ethereum's second-largest mining pool, f2Pool, has also acknowledged ETH Proof-of-Work era is coming to an end, as reported by Crypto expert Colin Wu.
"Whether to support the Ether fork or not is no longer important. We will let the mitner community decide. However, we acknowledge that the era of ETH PoW is at its end, and let us move on to the new Era of PoS," f2pool said.

Colin Wu, Twitter.
Will Ethereum Trade Value Reach $2000?
As we inch closer to September, Ethereum holders are questioning whether to hold onto their coin until Ethereum possibly hits $2000 in trading value. With the current pattern in Ethereum's charts, it is possible we will see a small drop in value in the next session, especially with the proposed fork. However, the $2000 trade value does seem imminent.
Ethereum co-founder Vitalik Buterin, however, argues that there won't be another huge decline due to the fork of the upcoming Merge. "I don't expect Ethereum to really be significantly harmed by another fork," he stated at ETHSeoul, downplaying the potential effect of any future hard forks on the blockchain.
While it's hard to predict if Ethereum will soon reach $2000 in trade value, ETH bulls are hoping that sustained buying pressure will make this happen in the coming weeks and that the Etherium Market Cap will grow even more.