Ethereum registered an appealing 12% pump during the weekend. From a local low of $1488, ETH rallied up to $1664. However, as soon as the Asian markets started trading on Monday, the alt registered a streak of 6 red candles on the hourly, translating into a 10% dip.
After visiting lows of $1498.95, Ethereum was back to consolidating above $1500 at press time. Over the last couple of hours, ETH has been trying to break past $1530 but has been rejected several times.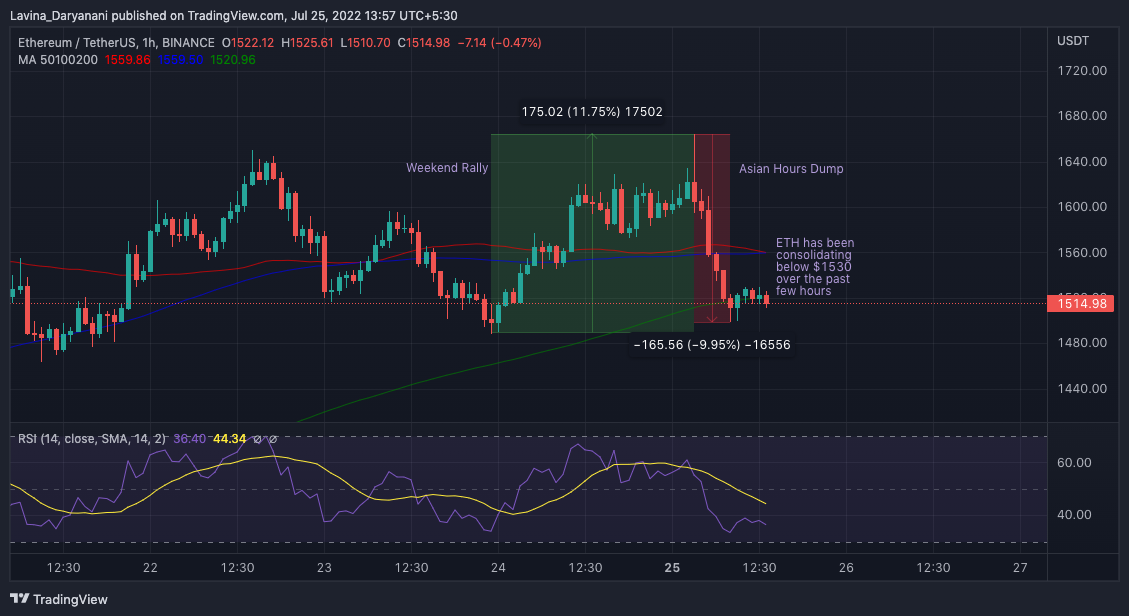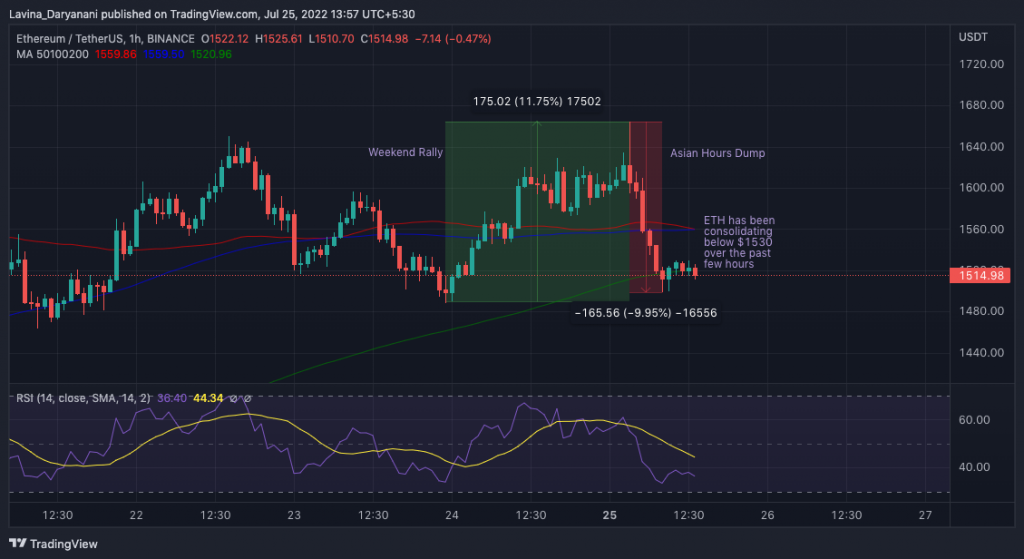 Ethereum's rejection is more than a coincidence to the Asian hours' dump
The current price band around which Ethereum has been trading has been quite an attractive buy-zone for HODLers in the past. Per ITB's numbers, from $1528 to $1571, a whopping 4.5 million ETH tokens have been purchased. As illustrated below, Ethereum faces the most vigorous resistance here. And perhaps, that's why it has not been able to break past the psychological $1530 hurdle on the hourly since morning.

So, over the subsequent few trading sessions, even if Ethereum rises, the said market participants' [704.6k addresses] positions would gradually become profitable. Resultantly, they'd be tempted to book profits. And, if the trigger is indeed pulled, then ETH's short-time frame misery would be extended over the mid-term.
Lack of bullish thrust
Yesterday, Ethereum-related net-flows on exchanges were positive [56k ETH], indicating that more participants sold ETH and sent them to exchanges relative to the ones who bought ETH. Today, buyers have been amassing the dip and have a slightly upper hand [negative flows of 14k ETH]. However, as illustrated below, the same is relatively meager compared to most other days, indicating the low bullish pressure induced.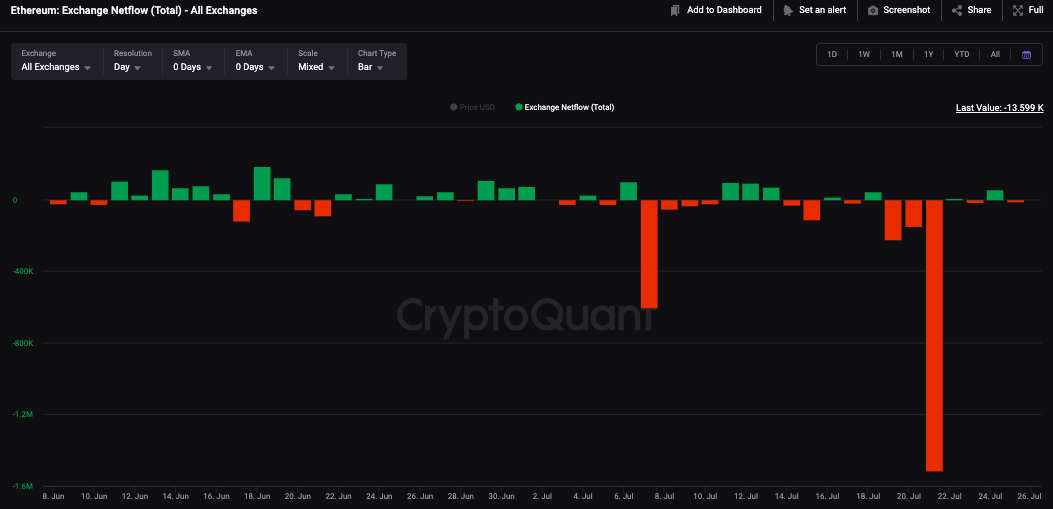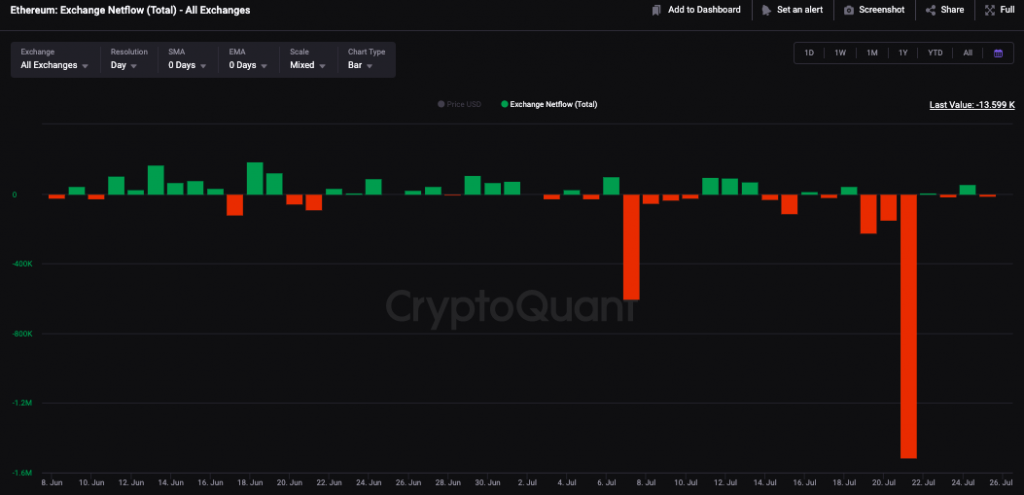 Alongside, it should be noted that the crowd sentiment remains negative, paving the way for another Ethereum meltdown. The weighted sentiment was back to the "severe negative" territory. The same indicates market participants are not convinced that ETH will continue to rally. Asserting the same, one of Santiment's recent tweets asserted,
"The trading crowd continues to not believe the hype, and is expecting prices to fall…"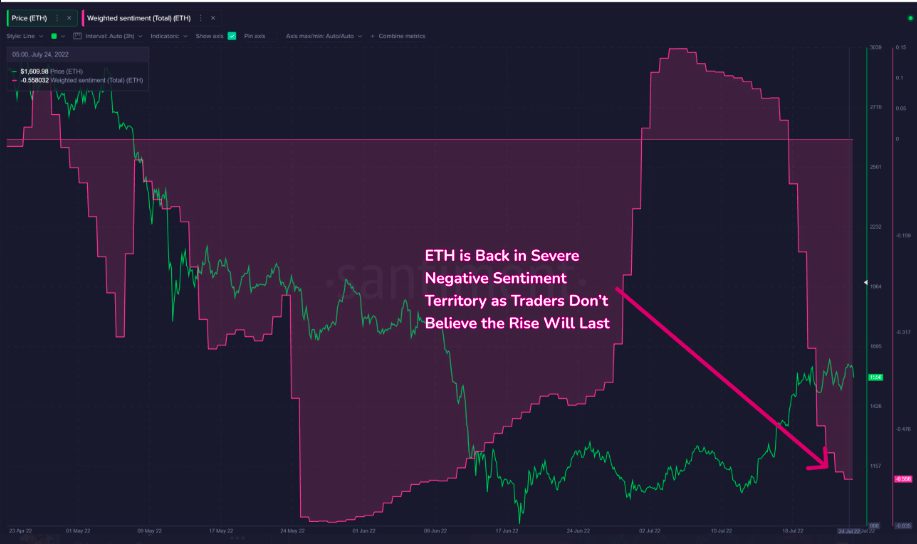 The number of shorts has also started piling up late, re-emphasizing the said narrative. Per Coinglass's data, the long: short ratio has been <1 in 7 out of the past 8 hours. So, if the collective trader outlook doesn't change, a drop to $1341, $1295, can be anticipated. If the micro-markets state worsens, and if bulls do not rescue ETH, then $1062 will come into play next. As economist trader Alex Kruger pointed out, this "should be a very volatile week."