The past few months have been characterized by high inflation number reports and headlines suggestive of continued macroeconomic uncertainty. Resultantly, countries are being pushed into a 'technical' recession.
In fact, such has been the case with most other European countries. The numbers for Italy were out recently. Per the same, the rate of change of the Italian consumer price index for the whole nation was +0.3% on monthly basis and +8.9% on annual basis [from +8.4% in August]. The same remained to be unchanged from the flash estimate.
Read More: At 8.9%, Italy's inflation reaches 37 year high
Simultaneously in Germany, inflation reached 10% in September, the highest in more than three decades. The rate had increased substantially when compared to August's 7.9%. and inflation in the said nation has remained above 7% for seven months now.
Read More: Germany Inflation climbs to 10% in September
Eurozone Inflation Peaks
Owing to the current choppy conditions in individual member nations, Eurozone inflation numbers have noted a sharp incline. Per the latest released data, the numbers have peaked to an all time high level of 9.9% when compared to August's 9.1%. The same is, however, slightly lower when compared to the flash estimate of 10%.
Chalking out the inflation contributors, the officially released document noted,
In September, the highest contribution to the annual euro area inflation rate came from energy (+4.19 percentage points, pp), followed by food, alcohol & tobacco (+2.47 pp), services (+1.80 pp) and non-energy industrial goods (+1.47 pp).
The ECB recently admitted that Eurozone is facing 'severe risks' to financial stability. In an unprecedented warning, the institution told banks to prepare for financial turmoil caused by huge falls in investments and potential disaster in the housing market.
The Euro has simultaneously been weakening. The currency had plummeted to a 20-year low recently. Despite the slight recovery noted over the last couple of days, it continues to remain below $1.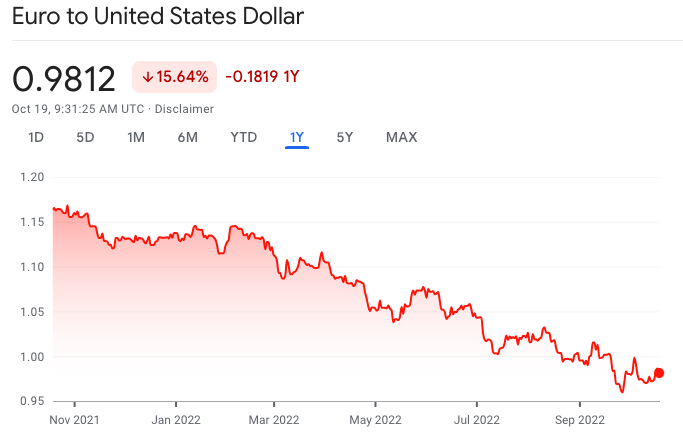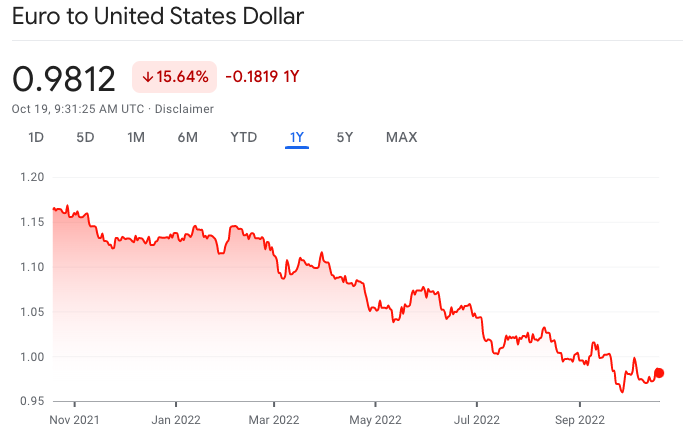 Despite uncertainties looming across the board, crypto companies have been veering into the European region. Coinbase announced on 22 September that had registered with the central bank of the Netherlands, De Nederlandsche Bank. As per the said registration, the firm is now touted as a legal crypto service provider in the region. It should be noted that Coinbase is one of the very first prominent exchanges to garner a DNB registration approval.
Read More: Coinbase receives regulatory compliance in the Netherlands