Fantom Coin has grabbed a head start amongst in peers after extending its bull into 2022. Its chart highlighted a near 100% increase in value between 20 December and 2 January. The price is now challenging a crucial supply zone and could trade sideways over the coming sessions. Once the RSI and MACD overcome some near-term hurdles, FTM is expected to register a 20% hike and tag 8 November's swing high of $3.17.
Fantom Hourly time frame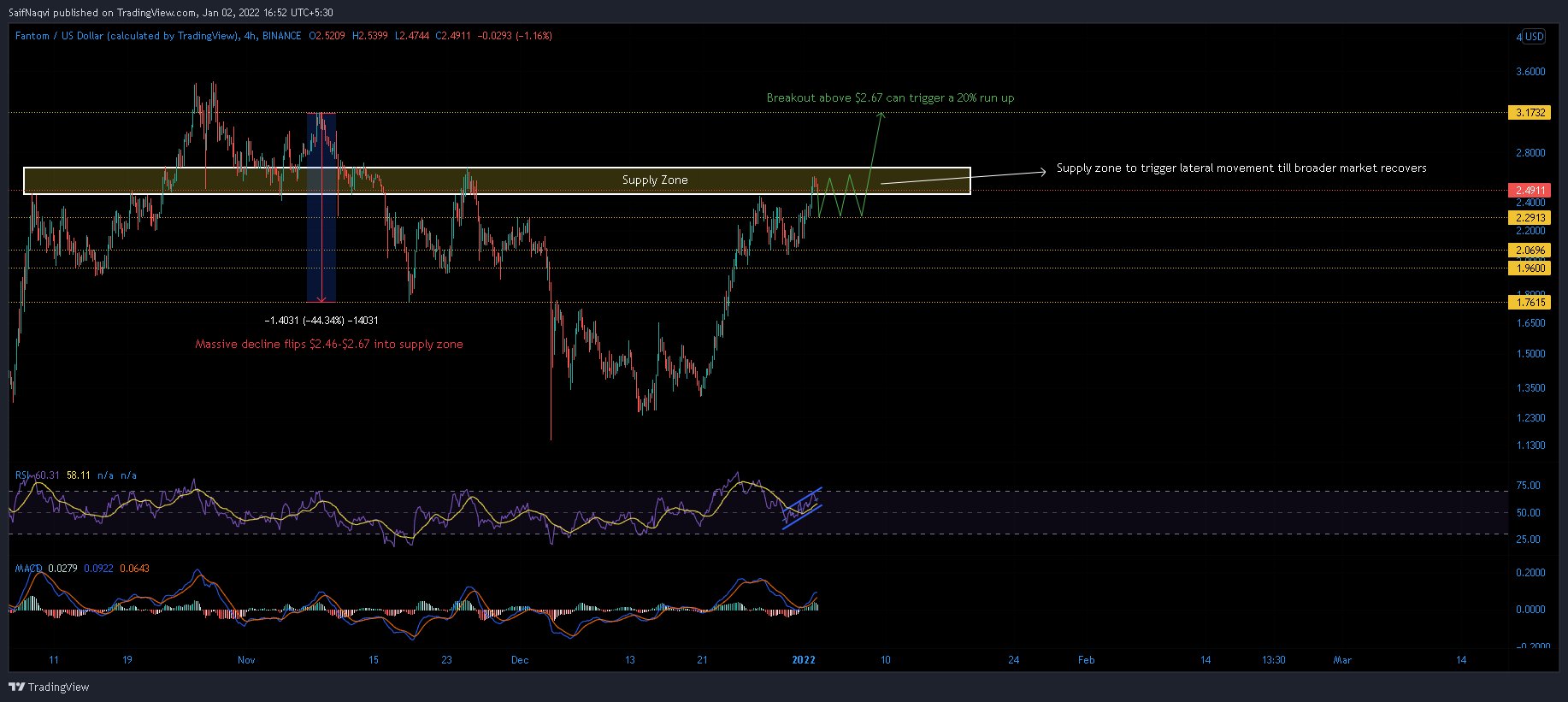 Fantom's price currently sits within an important price region after a 25% surge was recorded over the last four days. Bulls now have to overcome selling pressure between $2.47 to $2.67 to register another 20% jump. The aforementioned region earlier served as a demand zone but flipped to resistance after FTM suffered a 44% decline during mid-November. Overcoming this zone would not be an easy task considering the lack of a broader market rally.
READ ALSO: After already rising by 50%, will $3.5 be Fantom's next stop?
Hence, expect FTM to trade sideways over the near term as sellers contain FTM's rally. Support lines at $2.29 and $2.06 would be called upon if any counterpressure is applied.
Once bulls overcome the upper end of the channel at $2.67, expect a run-up to 8 November's swing high of $3.17. If the breakout is timed correctly, FTM investors can bag an immediate 20% profit from their investments. On the flip side, a close below the $2-mark would negate such predictions. A support region around $1.77 support would then become FTM's best bet at a recovery.
Indicators
The hourly indicators backed near-term woes for FTM. The RSI moved within an up-channel – a pattern that generally triggers a downside move. As long as the index holds around 45-50, FTM's bullish predictions would stay intact.
READ ALSO: How to Buy Fantom (FTM)
Although the MACD was on a bullish course, the histogram suggested that momentum was actually receding. Since FTM was trading within a supply zone, a bearish crossover on the MACD was a potential threat.
Conclusion
FTM could trade between $2.60 and $2.29 till the broader market recovers. Observers can go long once FTM overcomes its supply zone and closes above $2.67. Such an outcome would trigger an immediate 20% hike to $3.17, from where bulls can target a fresh ATH.