In 2022, a crypto contagion was in play, and companies from the ecosystem were falling one after the other. Now, in 2023, banks have become the new casualties. Leaving aside Silvergate, Silicon Valley Bank, and Signature Bank, it seems like another financial institution is now biting the bullet.
First Republic Bank's stock was down 55% during the pre-market hours on Monday, March 13. The bank, notably, has around $212 billion in assets under management.
On Friday, FRC closed at $81.71, after depreciating by 14%. However, the stock's price was down on its knees to $36.32, post the pre-market decline on Monday.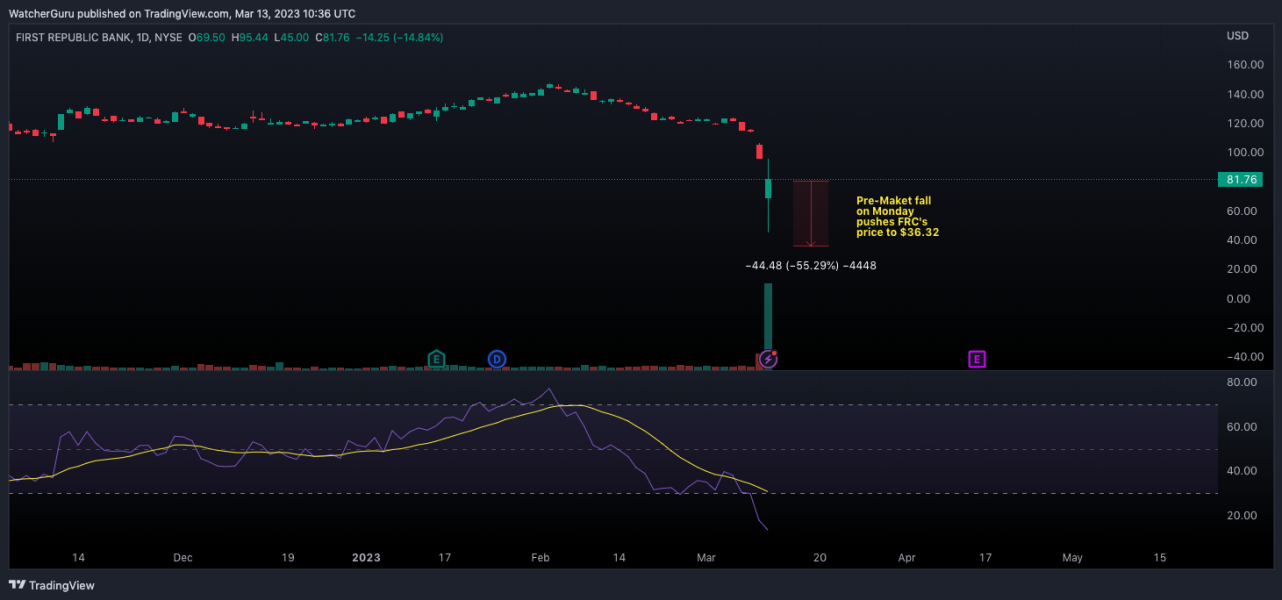 Also Read: HSBC Acquires Silicon Valley Bank's UK Arm for £1
First Republic Bank has 'unused' liquidity worth $70 billion
In a statement released on March 12, the bank revealed that it allegedly had more than $70 billion in unused liquidity to fund operations. The figure is up from the $60 billion that it earlier revealed. However, the bank clarified, that the new amount did not include the funding, it is qualified to receive under BTFP.
For context, the Federal Reserve recently revealed a new Bank Term Funding Program [BTFP]. This was one of the measures taken post the Silicon Valley Bank episode. The new lending program will allow banks to take advances from the Fed for up to a year by pledging treasuries, mortgage-backed bonds, and other debt as collateral. So, by allowing banks to pledge their bonds, banks can meet customer withdrawals without having to sell them at a loss.
First Republic went on further to disclose that it has "further enhanced and diversified its financial position" through additional liquidity from JPMorgan Chase and the Fed. Elaborating on how the injection strengthened its liquidity profile, the bank's statement noted,
"The additional borrowing capacity from the Federal Reserve, continued access to funding through the Federal Home Loan Bank, and ability to access additional financing through JPMorgan Chase & Co. increases, diversifies, and further strengthens First Republic's existing liquidity profile."
Assuring customers about the state of its business, Chairman Jim Herbert and CEO Mike Roffler, said,
"First Republic's capital and liquidity positions are very strong, and its capital remains well above the regulatory threshold for well-capitalized banks."
Also Read: Coinbase Holds $240M in Signature Bank: Expects to "Fully Recover" Funds