Floki Inu and Shiba Inu are both Pup Coins that are inescapable. You could be forgiven if you got these dog-themed currencies confused, as they both cost a fraction of a dollar. While they don't compete or come against each other as much as we'd expect. There is some unspoken brotherly rivalry between the two.
Shiba Inu (2020) and its community came first. And shortly after, it received the title ' the dogecoin killer' after it overtook the DOGE in popularity.
So, for some time now, the hype has been more about Shiba taking on Dogecoin- and less of FLOKI. But things are about to change. As Floki Inu, the younger token, has been cooking up a move that could make it equal or greater than the 'big' dog.
The Floki Partnership
'The People's Cryptocurrency,' Floki Inu has announced a new partnership with Chainlink less than 24 hours ago. Floki Inu has now integrated Chainlink Price Feeds on its ETH & BSC blockchains.
"Our integration of Chainlink Price Feeds is an important step in FLOKI's DeFi journey. We now have access to high-quality pricing data, helping us to facilitate essential integrations that will support FLOKI's DeFi utility." — MrBrown Whale, Core Strategist at FLOKI.
Chainlink is a leading and decentralized oracle infrastructure that provides intelligent contract developers with access to a reliable source of real-world data; to power their unique use cases for DeFi and beyond.
What Does the Partnership Mean for Floki Inu?
Through this partnership, the Floki ecosystem will receive access to high-quality, tamper-proof price feeds needed to read an accurate on-chain price. Hence, facilitating essential integrations that will help it bring DeFi to the masses.
The integration with Chainlink Price Feeds will provide Floki's users with stronger assurances that they're receiving tamper-proof, up-to-date, and precise market data.
This partnership will also help secure Floki's longevity in the crypto space while secure its users investments. Floki Inu (CCC:FLOKI-USD) has been for some time now steadily gaining in price. And by coming out to end the year by unveiling this major partnership, many see it as a power move.
Competitive Advantage
With accurate price prediction, consumer confidence will shoot up. This will drive more users into Floki's territory. And that is why Floki Inu might catch up and overtake the current pupcoin leaders- Shiba Inu (CCC: SHIB-USD) as well as Dogecoin (CCC: DOGE-USD). At the time of writing Floki is trading at $0.0001519 and SHIB is trading at $0.00003749.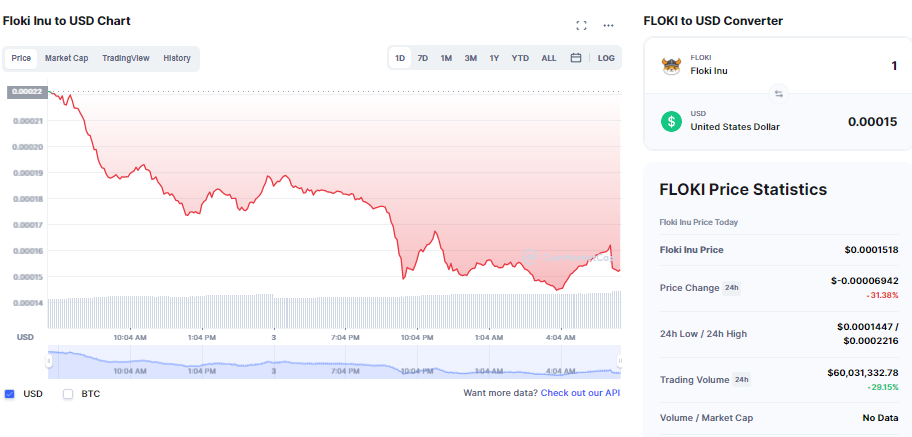 The project is about to disrupt Floki's competition by providing reliable utility while leveraging the power of memes to ensure mainstream appeal and adoption.
Floki Inu is also building on its marketing strategy. It started by securing advertisements in London's underground train facilities. And now, apart from this Chainlink venture. It is also partnering with not one but three professional soccer teams. The teams are from Italy, Spain, and India.
Shiba Inu has no choice but to look over its shoulder.
Conclusion
Floki Inu is currently a shining example to many crypto coins. Its collaboration with Chainlink is not only demonstrating the teamwork spirit within. But also concern for its investors by working to secure their funds while sustaining a platform for future generations.