Elon Musk's Twitter acquisition deal garnered all the possible reactions on the reaction meter. On one hand, Elon supporters took social media to highlight the rosy side and 'great win,' while people belonging to the other extreme side of the spectrum did not shy away from bringing to light the fallacies.
Payment company Ripple's CTO David Schwartz, step foot in the latter boat and claimed that Elon Musk would continue to make people "dumber" about the freedom of speech philosophy.
The Ripple CTO also added,
"My issue with Musk is over his terrible takes on freedom of speech and freedom of the press and his ignorance about how social media works."
Well, the Tesla executive essentially calls himself a "free speech absolutist," but people from the space feel that his stance is biased. His "we will defeat the spam bots or die trying!" comment only managed to add fuel to the fire.
Cross-questioning Musk, Ripple's CTO tweeted,
"Huh?! Do you think that speech becomes illegal if people use automation to speak? Isn't that the same awful argument people who said freedom of speech doesn't extend to the Internet made?"
Then, after exclaiming, "this whole argument is really too stupid to take seriously," Schwartz dropped the dots and left it for people to connect them.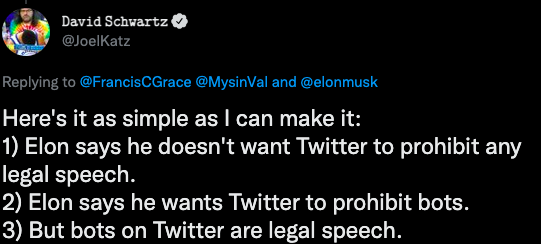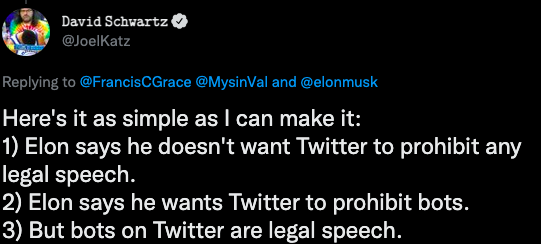 Outlining other controversies
Well, the freedom of speech laws aren't the same throughout the world and essentially differ country-wise. Game-development consultant and founder of New World Notes—the longest-running metaverse news/culture site—Wagner James Au brought to light that merely 25% of US Twitter users are protected by the First Amendment.
As such, the first amendment deals with and guarantees freedoms concerning speech, expression, and press among others. The number for Japan, the UK, Brazil, Canada, and other nations stood much lower.
In such an environment, the biggest question mark that still lingers is how would Musk be able to single-handedly guarantee freedom of speech while ticking the n number of regulatory boxes.
Well, apart from Ripple CTO and James Au pointing fingers, several other accusations have followed post the acquisition. NBC News' senior reporter Ben Collins, highlighted how some Twitter users noticed massive follower fluctuations yesterday.
He brought to light,
"Apolitical users fled. Right-wing users joined."
Well, a host of high-profile accounts indeed lost thousands of followers post the takeover news. Former US President Barack Obama—the most followed user on Twitter—whose number had increased every day in April, lost more than 300,000 followers after Monday's announcement.
In fact, pop star Katy Perry—the third most followed user on Twitter—lost more than 200,000. Taylor Swift too, for that matter, lost 100k followers.
Curiously, some accounts on the political right, including that of Rep. Marjorie Taylor Greene, R-Ga., saw their follower counts pump. Greene, whose account had 539,000 followers the day before news of Musk's takeover, already had 646,000 followers at press time.
The trend extended its roots outside America as well. Brazilian President Jair Bolsonaro, a right-wing populist, gained almost 90,000 followers on the day after Musk's announcement.
Bringing to light the said discrepancy, Rep. Matt Gaetz, tweeted:
Interestingly, Dogecoin's creator Billy Markus too noted a substantial jump. He tweeted out that his follower numbers witnessed a "crazy" jump from 6.4k-6.5k to 29.3k.
In an official statement, the social media giant, however, asserted that all activity w.r.t. follower fluctuations was "organic."
Well, this is just the beginning, and there's chaos and accusations all across the board. Musk hasn't yet been able to make a strong statement supporting his stance. Will he release a new roadmap for Twitter chalking out how he intends to achieve all his assertions or will he directly roll out an amended Twitter policy as an answer?
Perhaps time can only answer that.