In the newest revelation of the ongoing bankruptcy, Sam Bankman-Fried's parents reportedly received $16.8 million in FTX-stolen customer funds, according to a new lawsuit from FTX. Moreover, the parents of the crypto exchange founder received an additional $16.4 million worth of property in the Bahamas, the country where the exchange was based.
Subsequently, the now-bankrupt FT exchange is suing both parents of co-founder Sam Bankman-Fried. Moreover, the lawsuit is connected to manipulation accusations levied against both Allan Bankman and Barbara Fried. Manipulation and lobbying by the couple reportedly led to the massive sum of capital they received from the company.
Also Read: FTX Gets Court Approval to Liquidate $3.4 Billion in Crypto Assets
SBF's Parents Received More Than $30 Million in Assets from FTX Customers
The fall of FTX is certainly one of the darkest days in the digital asset industry's history. Yet, the collapse has preceded a host of uncoverings related to the fraudulent activity that took place. Bankman-Fried is set to face a criminal trial in October, and the bankrupt exchange is now suing his parents.
Specifically, FTX has filed a lawsuit against Sam Bankman-Fried's parents, who received $16.8 million in stolen customer funds. Moreover, the couple had been given another $16.4 million worth of real estate in the Bahamas. The island region was the location of the exchange's headquarters.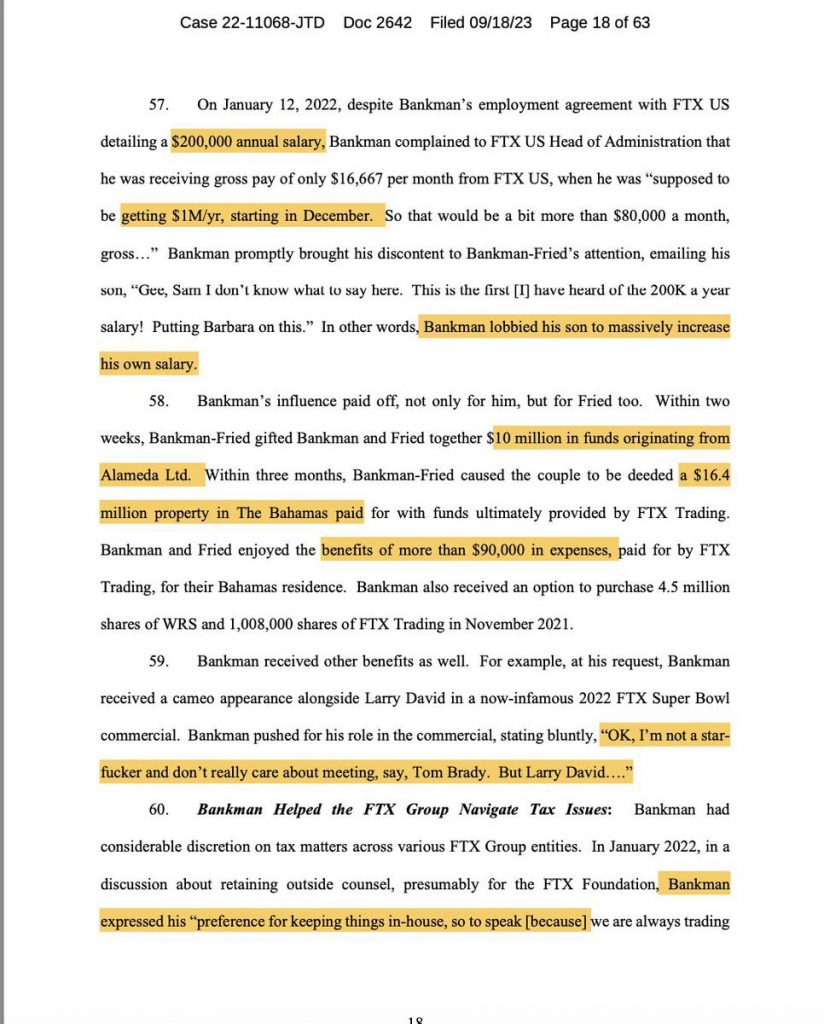 Also Read: FTX Co-Founder Sam Bankman-Fried Denied Release by Judge
The lawsuit states that both Allan Bankman and Barbara Fried manipulated their access to the company to enrich themselves. Moreover, this activity took place after the closure of the exchange in November of last year. The court filing documents some of the interactions taking place between Bankman and the company.
Specifically, the lawsuit alleges that Bankman contacted the FTX US Head of Administration regarding his annual salary. Indeed, Bankman alleges he was "supposed to be getting" $1 million per year in reported correspondence. Additionally, the filing states that "within two weeks, Bankman-Fried had gifted Bankman and Fried together $10 million in funds originating from Alameda." Subsequently, those assets were connected to the overarching fraud occurring at the exchange.