The impact of FTX's collapse was much bigger than expected. The hack that followed suit disrupted the market as well. While the details behind the hack remain uncertain, the stolen funds were being moved. Over the last couple of days, huge amounts of funds from the stolen $447 million were on the move. Further persisting this pattern, the hacker went on to move some more funds.
As per recent data from Etherscan, within a period of 4:11 to 4:17 PM UTC a whopping 180,000 ETH was moved. The hacker split this across 12 wallets that were newly created. Each of these wallets received a total of 15,000 ETH.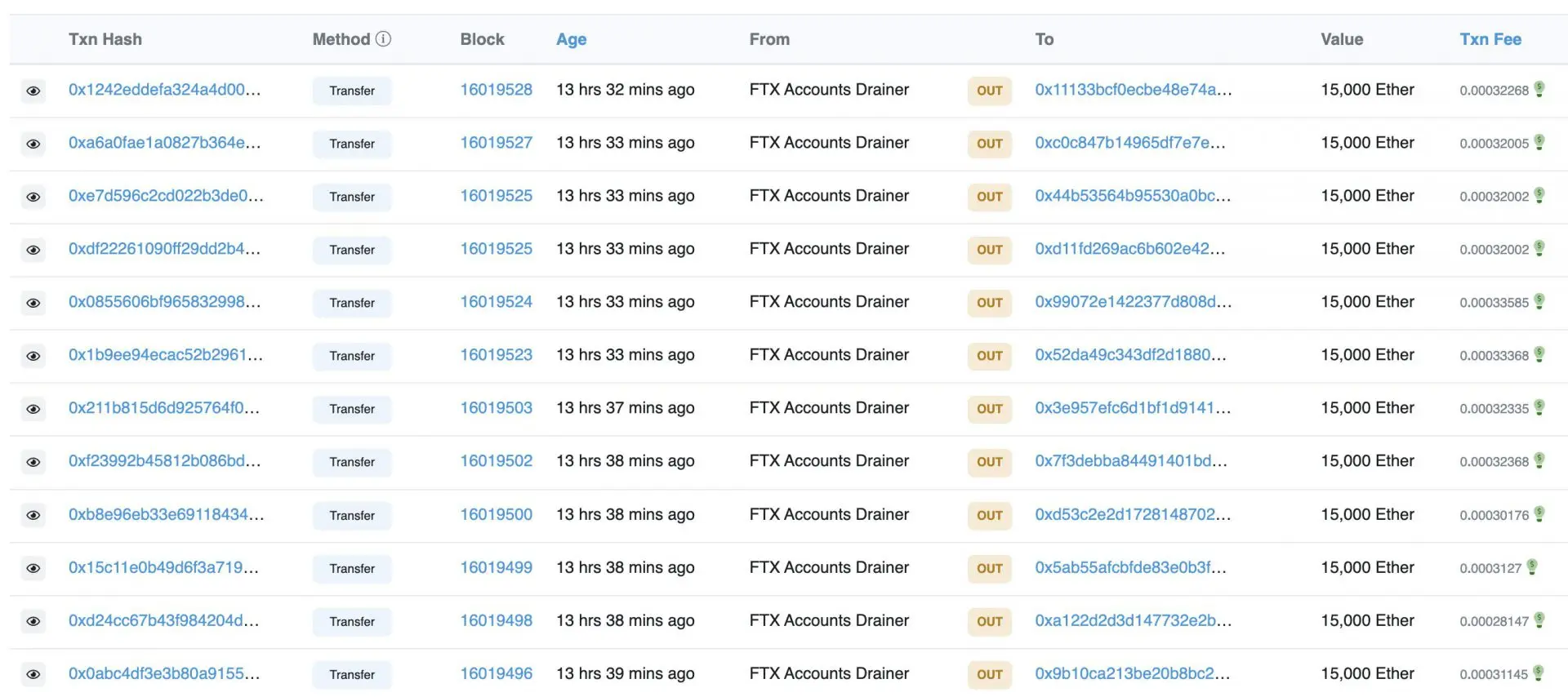 As seen in the above image, all the wallets entailed a total amount of $199.3 million together.
This move certainly seemed to have confused the entire ecosystem. Several were speculating that the FTX hacker was trying to confuse the investigators that were overseeing the hack. A few others assumed that the hacker could be employing a mixing service sometime soon.
Just yesterday, the hacker transferred 15,000 ETH worth $16 million to a brand new address. This was later converted into 684.6 renBTC, an ERC-20 version of Bitcoin. Throughout last week, the hacker exchanged 400 billion Shiba Inu [SHIB] for 2,346 Ethereum [ETH]. Following this, the hacker converted the same to $48.2 million worth of DAI and $41 million worth of Binance Coin [BNB] was converted into ETH.
Community reaches out to FTX hacker
An array of theories about the hack have been coming to light. While some believe it's an inside job, a few others suggest that the government urged Sam Bankman-Fried to do it. Amidst this, several Ethereum users were seen urging the hacker to share the funds with them.
One user registered in the Ethereum Name Service [ENS] domain sent about 12 transactions of 0.0001 ETH into the hacker's wallet along with a message.

The above message reads,
"Please send me 100k~, I have medical bills to pay and visit the USA this coming December. I can't walk properly and have aggressive muscle issues. Please help! I lost most of my money on FTX."
Another user sent about 0.000001 Ether around 21 times in order to grab this hacker's attention. While the community witnessed the unfolding of the whole FTX fiasco, the hack was garnering immense attention as well.