GameStop had laid off another round of employees. Neda Pacifico—SVP, Ecommerce at the company—posted on the business and employment-oriented online service platform,
"Tough day today as we let go a number of wonderful, talented, collaborative folks across product, engineering, marketing, operations…and others."
Daniel Williams, Lead Software Engineer at GameStop confirmed the same by posting that another "big round of layoffs" was in progress.


Crypto Wallet Engineers Impacted
Will Helms, a Software Engineer at the company went on to share that he was a part of the layoffs. Nevertheless, he added that it was a pleasure working with "the best team" he'd been a part of.
Helms also chalked out that it was "so fun" to work on a particular "super strong product" in the GameStop mobile app.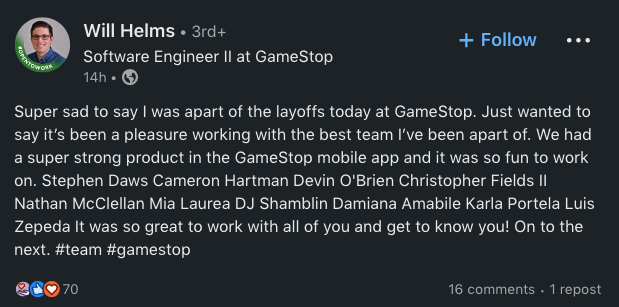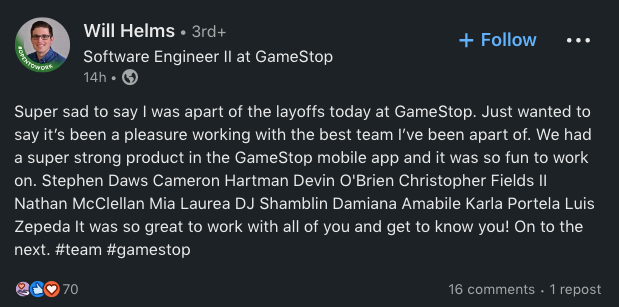 One unnamed source from the company told Axios the team building GameStop's blockchain wallet was heavily impacted. In fact, Blockchain and iOS Engineer Brandon Jenniges posted on LinkedIn that he was affected by the company's decision. He added that he had a "great time" deep-diving into Ethereum and learning "many new things" in the crypto space.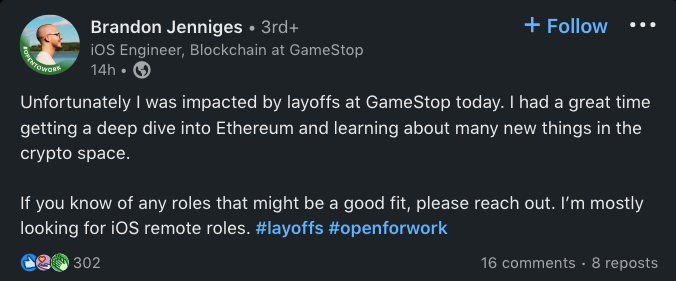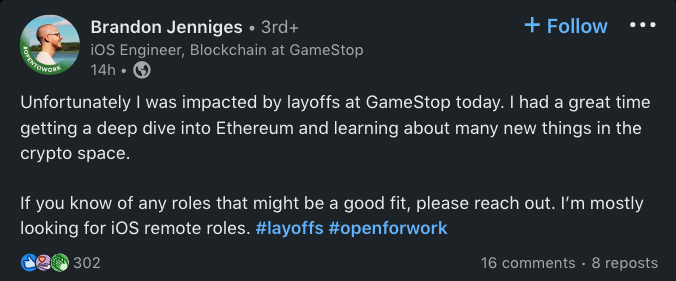 According to gaming publication Kotaku's Senior Reporter Ethan Gach, GameStop CEO Matt Furlong wrote an email to staff stating the firm was "emerging from the rebuilding phase of its transformation." The executive added,
"We've recently completed several projects that were part of the initial phase of our transformation and enable the business to operate with increased efficiency. In addition, we've continued to gain clarity regarding the right level of corporate staff needed to achieve our profitability and growth goals. These two factors informed the decision that were taken across the organization."
Furthermore, Furlong stated that the call to lay off people was a "difficult" decision and blamed "high inflation" and "weakened consumer confidence" for the same.
Also Read – Crypto: Bybit to slash 30% workforce again