Bitcoin, the market's largest crypto asset, shed more than 11% of its value over the past day. At press time on Thursday, the king coin was seen exchanging hands at $16,315.48—a level last seen in Q4 2020.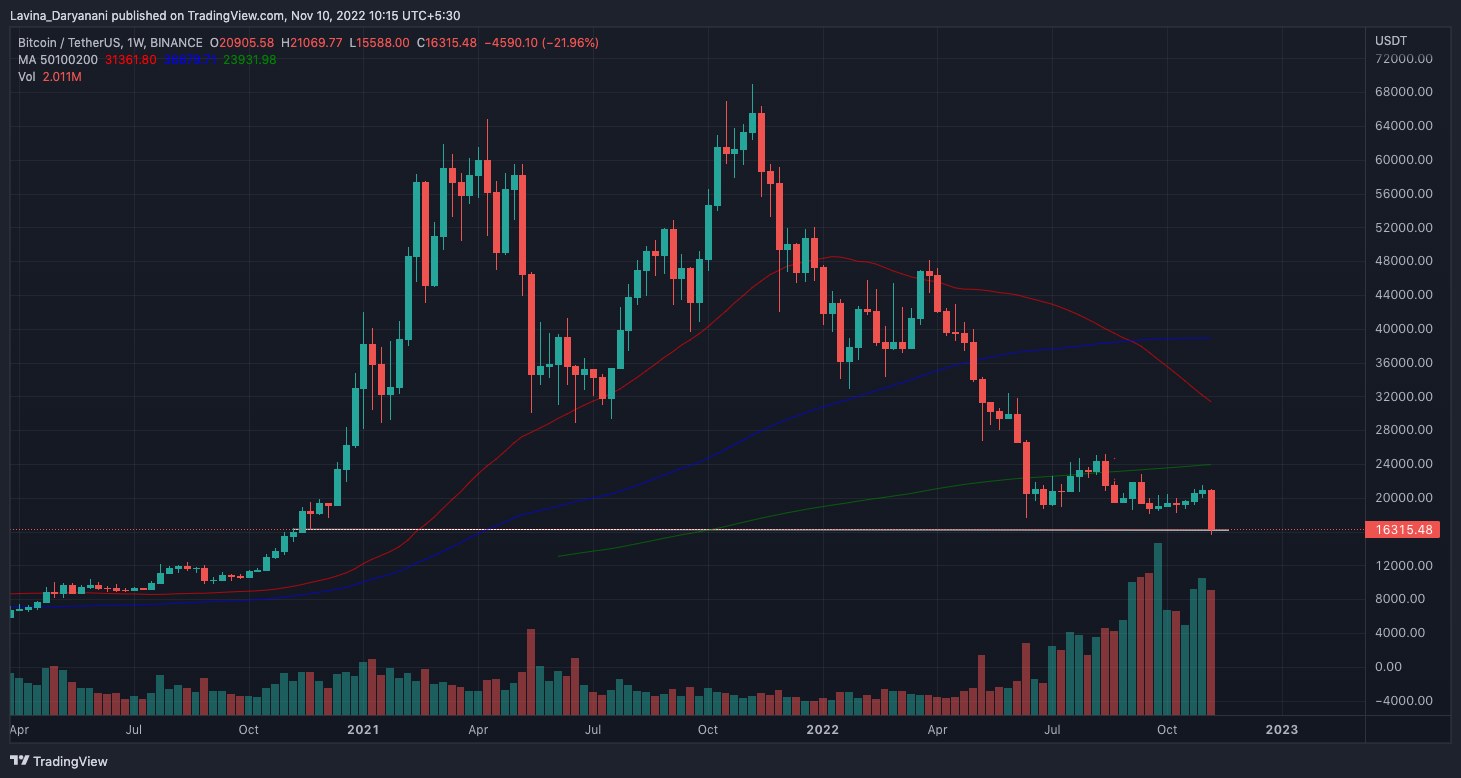 Grayscale Bitcoin Trust Discount Widens
Just like Bitcoin investors, even investors of Grayscale's flagship Bitcoin Trust have been suffering losses lately—for the RoI has consistently remained negative. GBTC shares, as such, provide investors exposure to BTC, without the need to actually buy and HODL the asset itself. Conventionally, institutions prefer this kind of investment route more because of the passiveness offered.
Grayscale Bitcoin Trust shares' discount just hit rock bottom. At press time, it was standing at its all-time low level of 40.73%, with one share priced at merely $8.79.

Grayscale, on its part, has been trying to convert its Bitcoin Trust into an ETF to reverse the tides back in its favor. Towards the end of June, however, the SEC denied its conversion application. As a result, the company sued the agency over the same.
Also Read: Bitcoin: Grayscale pins SEC over 'special harshness' to spot ETFs
In fact, other Grayscale funds were also in a similar state. The negative premium of ETH trust stood at 32.6%, while for ETC it was at 62.8%. BCH and LTC-associated fund discounts also stood at 16.09% and 43.43% respectively.
Institutional Interest
Institutional sentiment, at this stage, seems to be mixed. Crypto and other digital asset-related investment products saw outflows totaling $15.6 million last week, making it a "bad start" to the month with outflows summing up to $19 million.
On one hand, companies like Purpose and 21Shares noted inflows. ProShares and 3iQ, On the other hand, reduced their exposure to digital assets. Per CoinShares, "most of the negative sentiment" was directed towards Bitcoin, with outflows totaling $13m for the week. The report also chalked out,
"…the flows activity remains very low relative to history, with this doldrum period lasting 8 weeks now."