The past week has been pretty monotonous for the sixth largest crypto asset. Post noting a negligible 0.89% incline, XRP's price has been stuck around the same level where it was 7-days ago.

Contrastingly, Bitcoin and Ethereum have rallied by 6.2% and 18.5% on the weekly. Dogecoin, on the other hand, has appreciated by a whooping 101% in the same time frame.
On the on-chain front, XRP was the sixth most active chain at press time. All the other networks of the aforementioned cryptos, along with Cardano and Litecoin, stood higher than XRP.
After more than $430 million in volume on its blockchain over the past 24 hours, XRP made $431 via fee. The number was around double for Litecoin, while others reaped even more.

Alongside, the number of active XRP addresses have also been hovering around a level as low as 50k. Simply put, an address is considered to be active when it becomes a direct participant in a successful transaction. The said metric, evidently, shares a direct correlation to the price, and its current underwhelming state is perhaps one of the reasons why the asset's price has not been able to take off.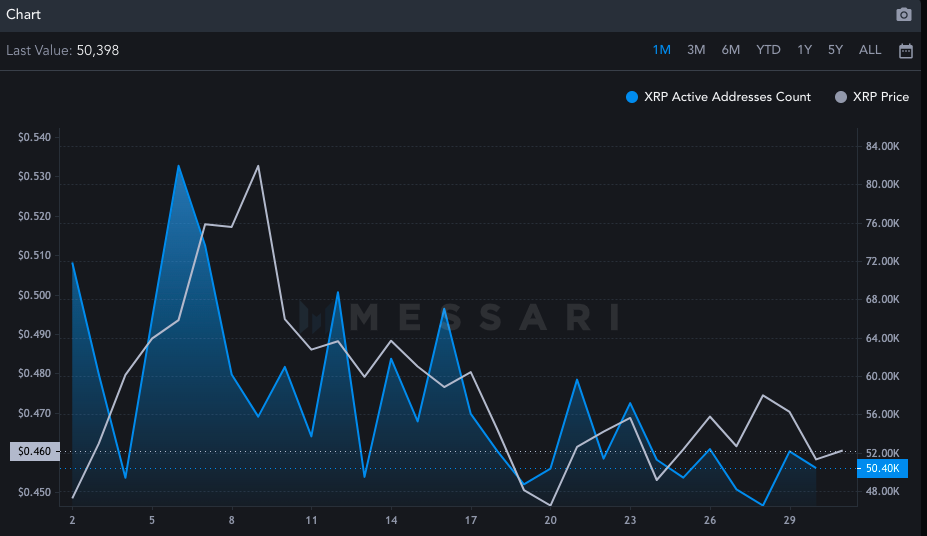 Also Read: Ripple controls less than half of XRP's supply: What does it mean?
Ripple CTO reverts to 'XRP price is a disgrace' claim
Recently, a user went on to claim on Twitter that the token's price was a "disgrace." However, the protocol's Chief Technological Officer—David Schwartz—contended that such was the case only if one cherry-picked timeframes.
Schwartz further went on to highlight that Bitcoin, Ethereum and XRP were trading at $47k, $3.7k and $0.85 at the beginning of year. From the said levels, the respective assets' prices are roughly 56%, 57%, and 45% down, leaving XRP in a comparatively less devastated state.
Also Read: XRP Latest News Today: Price Analysis, Updates & More