Floki Inu has just announced via Twitter that its first phase of upgrades for transitioning to a DAO will be beginning soon. Floki has worked with their exchange and DeFi partners to ensure that this upgrade is well supported, and they will be making their own announcements soon. The Floki team is awaiting final confirmation from one of their major partners in order to simplify the timeline, following which they will make a formal statement detailing the DAO update.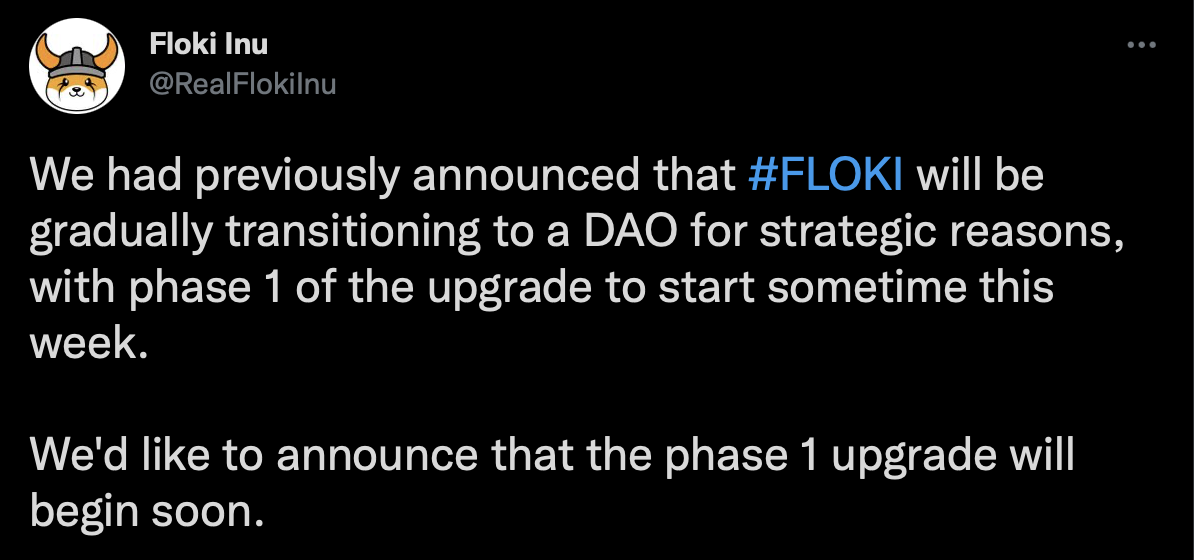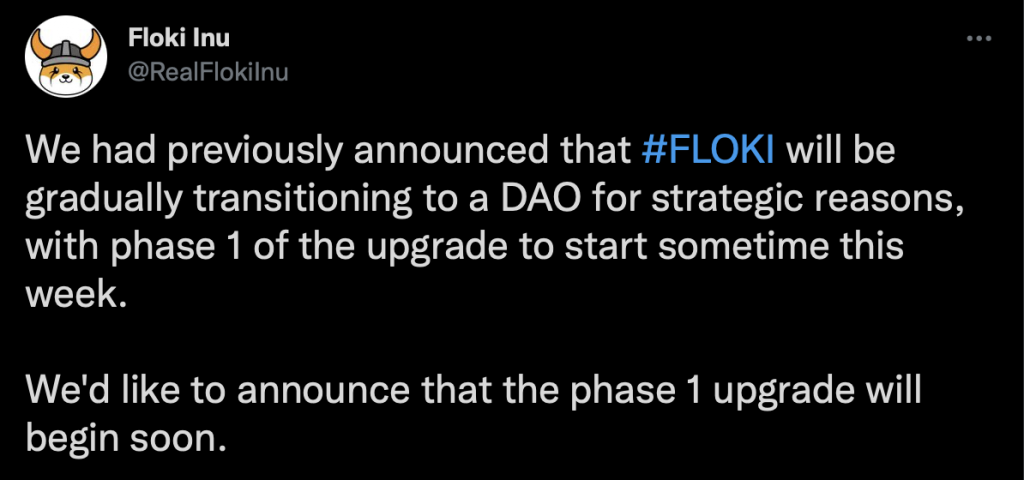 The official announcement regarding Floki's transition to a DAO was made on the 9th of January, 2022. WatcherGuru already has an article regarding the initial announcement.
How is transitioning to a DAO better?
The transition to DAO will mean that Floki Inu becomes completely autonomous and transparent. Smart contracts would establish the ground rules and carry out the agreed-upon decisions. In fact, the underlying code may be audited by the general public. All this makes Floki more decentralized and secure. Decentralization is a core principle of the crypto-verse, and Floki's decision is eagerly welcomed.
This shift would be phased, with HODLers being able to vote on major issues with their tokens after the transition is complete. This is a defining moment for the project and all of its participants, including the 'Vikings' community. This step is almost certainly going to accelerate the project's growth and adoption.
According to the Tweet, Floki's transition to a DAO would be seamless, and users wouldn't have to do anything. The Floki team has asked its HODLers to hold on to their Floki tokens and relax.
Floki Inu NFT's
Floki has also teased the release of certain *extra special* NFTs that grant access to an exclusive #FLOKI club. In due time, we will have further information on how to qualify for this. This move has already excited the community, and fans are keenly waiting on the hopes of being one of the few lucky ones.


Keep an eye out on this space for more updates.