Shiba Inu, which was launched in August 2020 had a phenomenal run in the indices and delivered stellar returns to early investors. The dog-themed token traded at a modest price of $0.000000000972 (nine zeroes) during its early days in August 2020. The point to be noted is that, just two months after its launch, SHIB fell drastically and added an extra 'zero' in October 2020. It traded with 10 'zeroes' for 3-months straight from October to December 2020.
However, the year 2021 was a game-changer for Shiba Inu and it skyrocketed in price and shed 'zeroes' along the way. News about how an Average Joe made millions with SHIB was all over the place and this kick-started Shiba Inu's run. Read here on how a truck driver made millions by investing a mere $650 worth of SHIB in 2020.
Read More: Bitstamp Pauses Shiba Inu Listing Due To Regulatory Issues?
How Many 'Zeroes' Shiba Inu Deleted From May 2021 to 2022?
In January 2021, Shiba Inu saw 'winds of change' as its price headed north and deleted two 'zeroes' in the same month. From 10 'zeroes' in December 2020, it traded with just eight 'zeroes' the very next month. The acceleration in price brought new investors into its fold and it started its 'zero' deleting spree.
In March 2021, SHIB deleted another 'zero' and began displaying extreme bullish sentiments. This is when top news outlets began noticing Shiba Inu and the token entered the mainstream news cycle. At this point, SHIB was trading with seven 'zeroes' in the indices.
The very next month in April 2021, SHIB deleted two more 'zeroes' and sealed its place in the news cycle thereon. The token was trading with five 'zeroes' in April.
Read More: After El Salvador, These Countries Could Make Bitcoin Legal Tender Next
Coming to May 2021, SHIB was on the verge of deleting another 'zero' but fell short in achieving its goal. It traded close to $0.00000928 and started dipping in the indices from there.
Fast-forward to May 2022, Shiba Inu, has deleted only one 'zero' from May 2021 up until today. It deleted a 'zero' in October 2021 when it went parabolic in price and shot up +1,000%.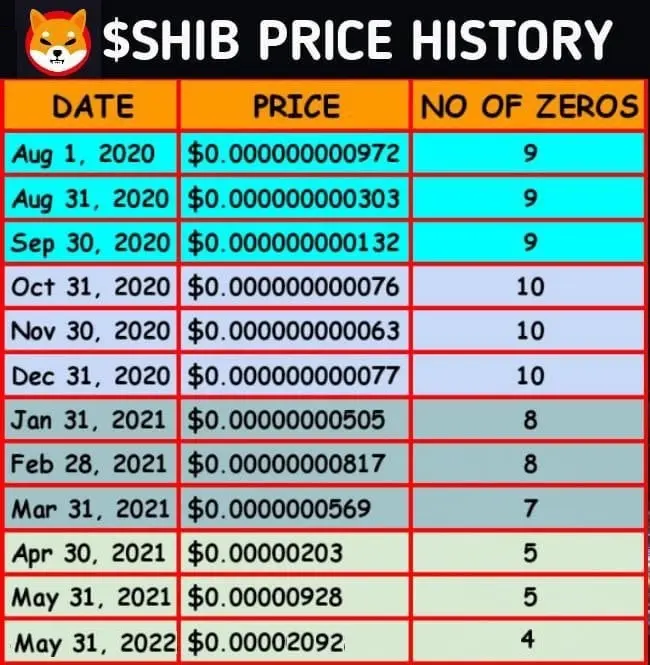 At press time, Shiba Inu was trading at $0.00002092 and the token is up +0.02% in the 24-hours day trade. It is also up +1,003.1% over the last 365-trading days.