Investment bank and financial services company Jefferies had recently altered MicroStrategy's shares label to "underperform" from "hold." Various factors played a role in Jefferies's decision to downgrade the business intelligence company's stock. And, its risky bet on Bitcoin did have a fair say in the same.
Per the investment bank, MicroStrategy is a "tale of two cities." One being Bitcoin and the other being its core business intelligence business. The company currently holds around 129,200 BTC, and due to falling prices, they're underwater.
Bitcoin, as such, accounts for 52% of the company's enterprise value at $2.8 billion. This means that MicroStrategy now has roughly $1 billion unrealized loss on its $3.97 billion investment.
Regarding MicroStrategy's core business, Jefferies noted that it would be more difficult for the company to put large-scale BI deployments to sea in the near term due to the more challenging macro backdrop. Per the investment bank's analyst Brent Thill, the company's "execution surrounding the cloud transition has been sub-par," The same gave the bank another reason to downgrade the company's stock.
MSTR had inclined by 86% on its charts in the fortnight extending 5 to 20 July. However, it closed last week on a bearish note and then kickstarted this week, too, with the same negative momentum. The downgrade news further worsened things for MSTR. And now, compared to Friday's highs of $298, MSTR currently stands 21% down at $237.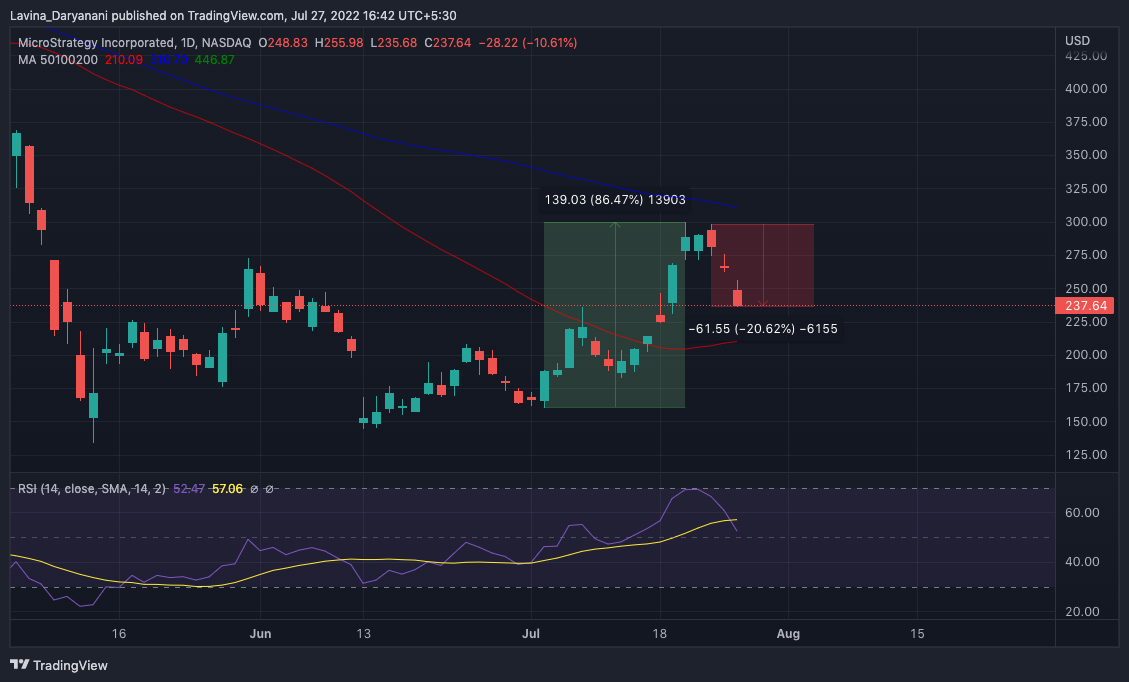 With the Bitcoin card open, what the path ahead looks like for MicroStrategy?
The company's Q2 results are expected to be released on 2 August. Thill is eying a revenue growth of 4% compared to the average Wall Street estimate of 3%.
Nonetheless, one of Seeking Alpha's contributors, Juxtaposed Ideas, believes MicroStrategy will announce another miss for Q2 "given the destructive effects of the crypto winter and the CEO's doubling down on Bitcoin."
Per Jefferies note, MicroStrategy has been a "visionary" on Bitcoin and has established itself as a "thought leader" in the industry. However, the company had recently increased leverage on its balance sheet and issued new shares for more Bitcoin investment. The management is now expected to provide an update on the company's intent to continue investing in BTC during the quarterly result announcement.
Before concluding, it should be forgotten that there had been speculations that MicroStrategy was silently dumping its Bitcoin holdings last week. However, per Jarvis Labs and other analyses, that supposedly is not the case.
So, with MicroStrategy's holdings likely intact, the company not refraining from buying dips, and Michael Saylor's hell-bent conviction, the company's renewed/upcoming HODL strategy would be unlikely to ditch Bitcoin. This means that until crypto winter persists, the company's HODLigs will bear the brunt, and the same will likely be passed onto the shareholders indirectly.
Read More: Microstrategy loads up on 480 more Bitcoin; Details