Decentralized liquidity protocol THORChain set in motion its killswitch a few hours back. The support of BEP-2 and ERC-20-based altcoin variants of the RUNE token is revoked in stages.
The team announced yesterday that the upgrade would go live at block 6500000. It additionally highlighted that 1:1 exchange rates would "linearly tick down" to 1:0 over the next year.
Put, the variants—BNB.RUNE, and ETH.RUNE—will be swapped for the native, upgraded RUNE token now. This means users' tokens' on exchanges will automatically transition to the new RUNE. However, a manual upgrade will have to be made for the tickets lying in private wallets.
Making the said tokens irrelevant with time is intended to stimulate the adoption of the unified variant of RUNE. The same would eventually improvise things on the asset interoperability and decentralization front.
People from the community have started opining that RUNE is "growing stronger each and every day," thanks to its growth on the developmental front.
The altcoin rallies
On the charts, RUNE managed to pull up its socks by >16% on the daily timeframe at press time. Resultantly, it was one of the top gainers.
On Monday alone, the altcoin rallied by almost 23% and claimed $2.68. On Tuesday, however, the hype was fizzling out, as the token was priced slightly lower at $2.58. Despite the weakening, if RUNE clings onto $2.5, the odds of it rallying to the $3.3-$3.5 band would intensify. On the other hand, if the altcoin's price cannot hold HODL onto the said level, then $1.7 and $1.4 would come into play.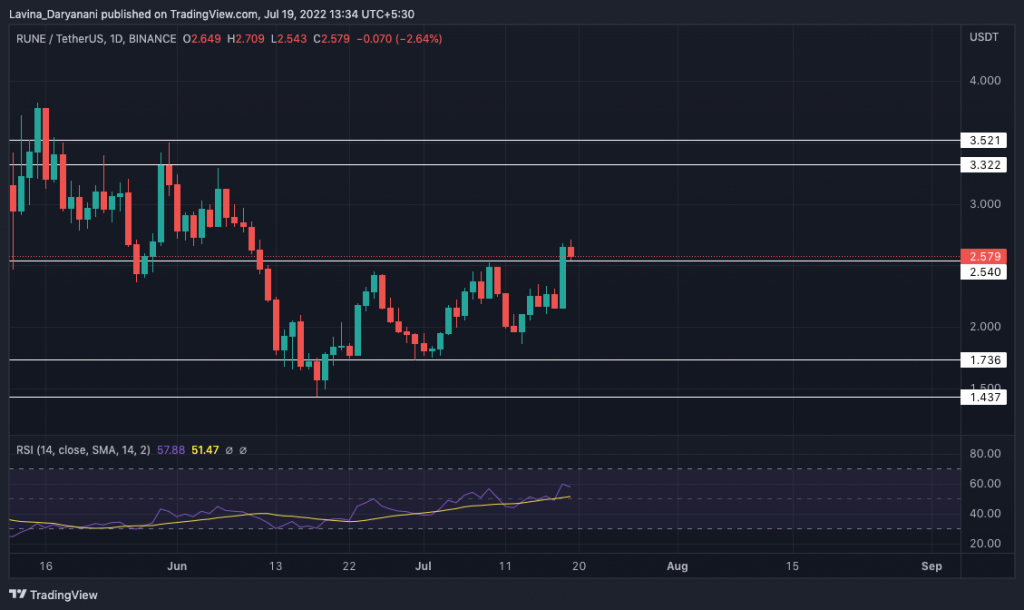 Due to the recent price action, RUNE has strengthened itself among the top DEX-centric altcoins.