Coinbase, a prominent cryptocurrency exchange, has often demonstrated that its listings have a substantial influence on the market. Tokens that have been listed on the platform have shown to generate significant gains time and time again. While several sided with this narrative, a few others noticed listings on the exchange had begun losing credibility. Earlier this week, the exchange welcomed an array of cryptocurrencies into its system. However, several contested this notion as most of the assets were allegedly scammy projects.
The US-based crypto exchange announced the listing of several assets through a blog post that emphasized how Coinbase was veering into transparency. This, however, took a different turn after Cobie, a notable member of crypto Twitter, shed light on the listings. In his latest tweets, Cobie had discovered an ETH wallet that made massive purchases of the tokens that made it to Coinbase literally 24 hours later.
While this may have been brushed off as a coincidence, the user only purchased tokens that were on Coinbase's radar at the time. As the wallet's trading activity was public, the community became suspicious that Coinbase was engaging in insider trading.
The assets that the wallet purchased were Indexed [NDX], Kromatika [KROM], DappRadar [RADAR], RAC [RAC], DFX Token [DFX], and Paper [PAPER]. The user spent a minimum of $20k on PAPER and a maximum of a whopping $88k on KROM.
Most of the assets seen in the above tweet were on an uptrend. The assets were up by nearly 30-40 percent following the Coinbase listing. This ETH wallet is speculated to have pocketed the most gains through the listing.
Accusations on Coinbase continue to pour in
To further bolster this argument of Coinbase's alleged insider trading, Twitter users began flooding the space with similar tweets. Another user revealed that there were more coins on the list. A related address reportedly purchased assets like XYO, FOX as well as RGT prior to the announcement.
The pattern continued as several began scooping transactions details pertaining to the assets listed on Coinbase.
In the meantime, another narrative began taking a walk on social media. OpenSea, the largest NFT marketplace recently bid adieu to its product head, Nate Chastain. Chastain was accused of carrying out insider trading. He reportedly went on to purchase NFTs even before they were displayed to the public. As a result, he went on to resign. Soon after this, Coinbase onboarded Chastain.
Therefore, people began rolling out speculations about how he was behind the alleged mishap.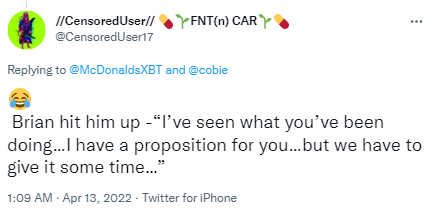 With all of these allegations at bay, Coinbase is yet to onboard the aforementioned assets. All of them were reportedly being considered and weren't ready to trade on the exchange yet.