The crypto market has been gradually recovering. Over the past day, the aggregated market cap of all the assets rose by 1.7% to claim $1.14 trillion. However, a few crypto assets like HEX have been shedding value. A recent tweet by Santiment brought to light that the "polarizing asset" has fallen by 72% in 7 weeks. Nevertheless, the asset remains to be the "top trending keyword" in crypto. In fact, HEX-related address activity is currently at its highest level since January 2023. Santiment pointed out,
"The 16-month high activity spike is a mix of both panic sells & dip buys."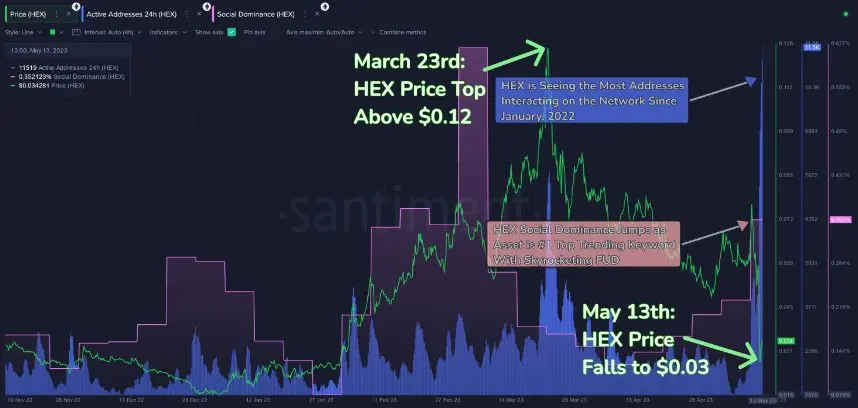 State of HEX investors
At this stage, it is interesting to note that the PulseChain blockchain and its native DeFi swap PulseX went live on Saturday, May 13, 2023. However, the project's native token PLS is yet to debut. As Watcher Guru recently reported, HEX turned green right after the PulseChain blockchain launch.
In fact, the launch also managed to trigger excitement within the HEX community. As pointed out earlier, this development has unfolded after a span of nearly two years. The community has been celebrating on social media. HEX, nevertheless, couldn't sustain a positive rally. At press time on Monday, May 15, the crypto was down by almost 1%, trading at $0.0318. Consequentially, market participants, seem to be in a distressed position.
The asset's Sharpe Ratio did make strides in the positive territory recently. However, it noted a downfall over the last couple of days and dropped back into negative territory. At press time, it reflected a value of -0.94, suggesting that investors aren't necessarily being compensated fairly for the risk borne by them for holding the asset.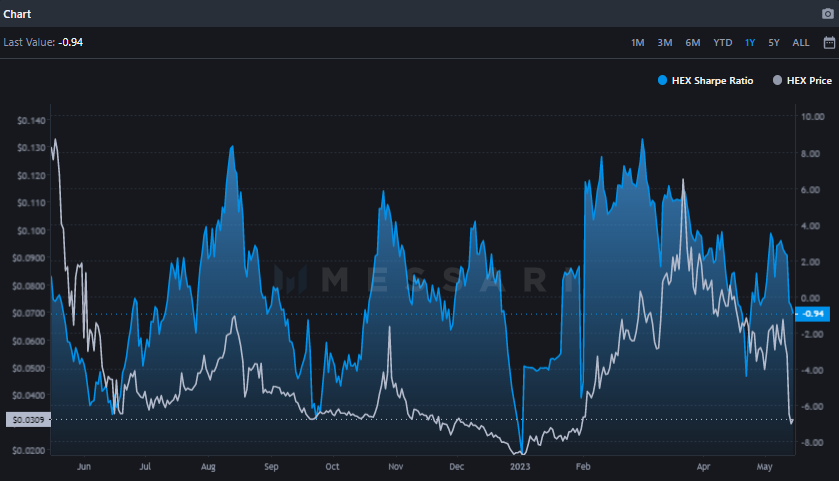 Also Read: PulseChain Mainnet and PulseX Goes Live