After a pretty dormant weekend, price movements of most top coins contrastingly looked crisp on Monday. The deviations, despite being negative, had already plunged to the 3%-7% bracket from the raw-boned 0.01%-2% range. Ethereum, the alt leader, was one among such coins. At the end of the day, some movement is better than no movement because it gives a clear picture of the directional bias present in the market.
After noting a 3% dip over the past 24-hours, ETH was seen exchanging hands at $3174 at the time of press.
The macro Ethereum buy trend
At the moment, Ethereum's 10 largest non-exchange addresses HODL 3.93x more than what the top-10 exchange addresses. The HODLings gap between the said addresses, as can be seen from the chart attached, has grown to its largest gap of all time.
The rise of this metric to new highs throws light on the fact that big Ethereum HODLers are accumulating in full swing. Highlighting another implication of the same, Santiment's tweet noted,
"This climb continues pointing to a greater proportion being kept away from exchange sell-off risk."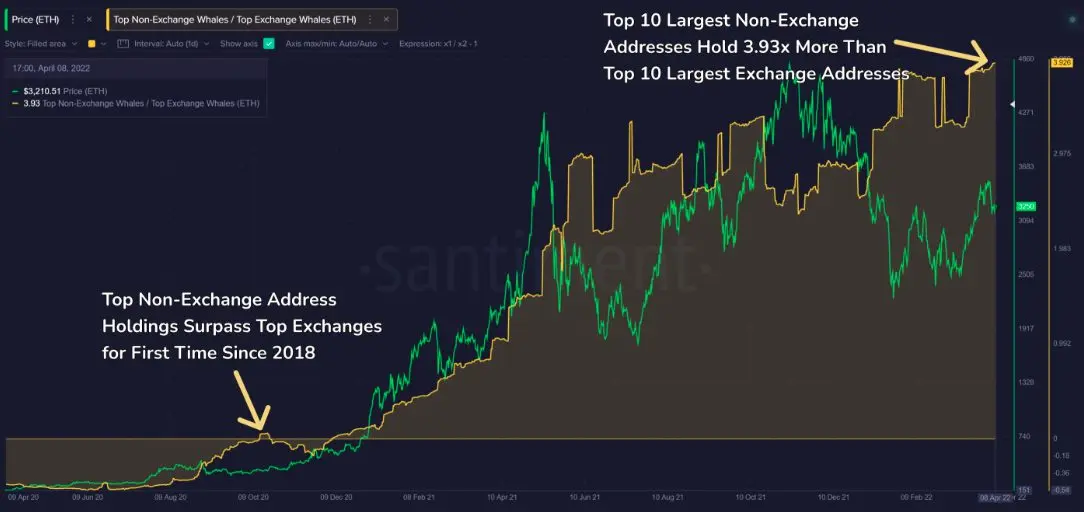 The exchange withdrawing addresses also has started flashing a change in trend on its charts. As can be noted below, the said metric has witnessed an inclination of approximately 2k new addresses over the past day bringing the total tally now to 71.3k from its multi-day low of 69.2k.
Even though the spike is not one of the largest noted of late, the change in trend shouldn't be taken for granted. More so, because rising values on this front indicate that more investors are withdrawing for the purpose of long-term HODLing.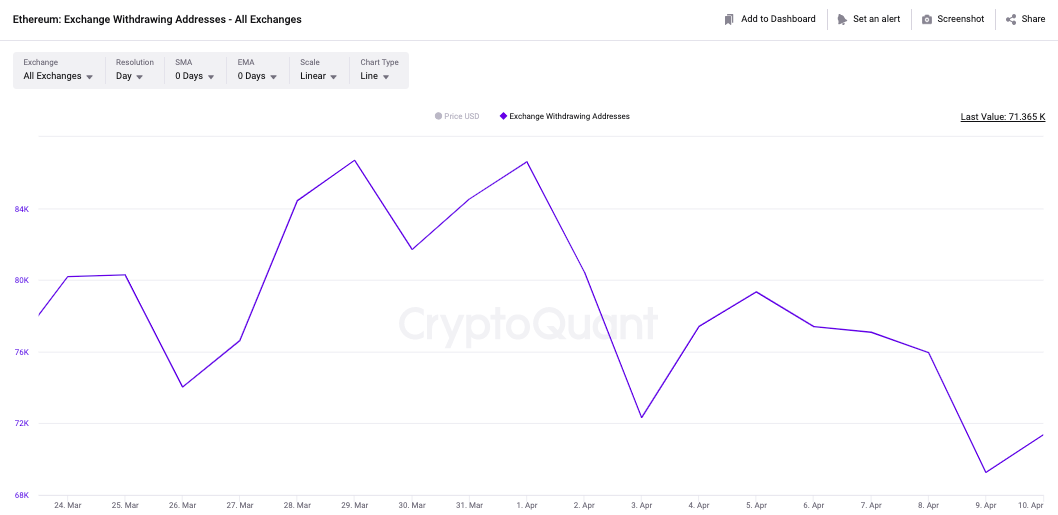 So, the rise in the exchange withdrawing addresses implies that hint towards the fact that other investors have started following the footsteps of the top non-exchange addresses. In all, looks like the macro-buy trend has started taking concrete shape, and has the power to rub off positively on the asset's price going forward.